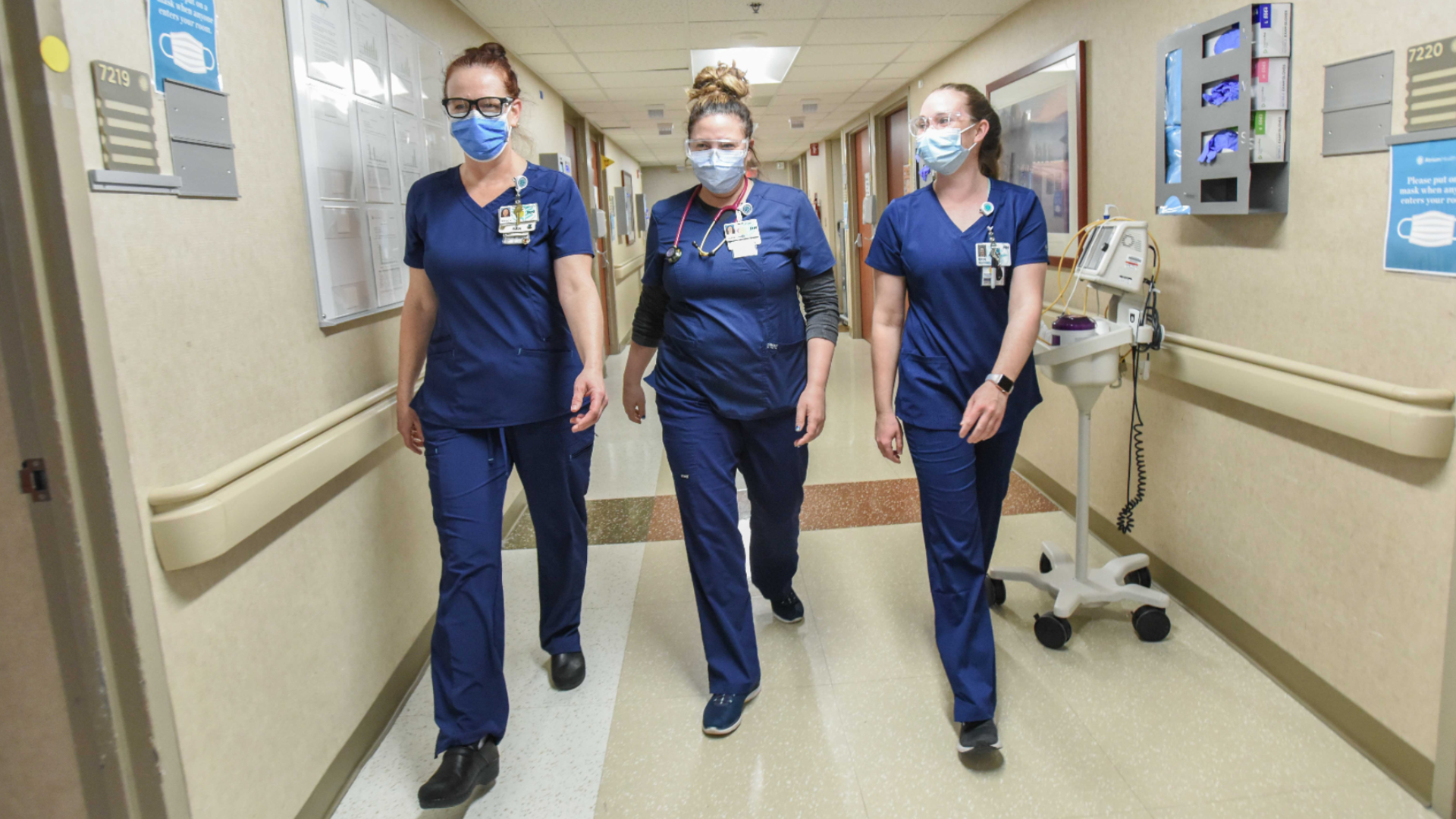 Atrium Health Named as One of America's Best Employers for New Graduates for 2021 by Forbes
05.28.2021
Atrium Health News

Leading health system honored based on working conditions, development, salary and diversity
CHARLOTTE, N.C., May 27, 2021–Atrium Health has been named to the Forbes list of America's Best Employers for New Graduates 2021for the fourth time. This prestigious award is presented by Forbes and Statista, Inc., a leading statistics portal and industry-ranking provider.
"Atrium Health is honored Forbes has recognized our commitment to our 'teammate first' approach," said Jim Dunn, executive vice president and chief people and culture officer at Atrium Health. "While addressing the tough challenges of this past year, we remained dedicated to providing quality patient care through our 'for all' mission. Part of how we breathe life into this mission includes creating a workplace that provides meaningful opportunities for our teammates while supporting them in their roles and continued growth."
For example, a key part of Atrium Health's Registered Nursing (RN) Residency Program provides new graduate RNs with a dedicated team of nurse educators who work with new graduates in an atmosphere that promotes learning, clinical application and socialization during the transition from student nurse to RN. The program includes classes and simulation lab experiences, as well as clinical orientation with an instructor, providing a solid foundation for clinical decision making, time management and communication.
Throughout the COVID-19 pandemic, when hundreds of thousands of organizations across the country faced significant financial hardships and laid off or furloughed its workers, Atrium Health ensured its more than 70,000 employees maintained meaningful roles by ensuring a "teammate first" approach. Atrium Health worked tirelessly to ease the personal burdens that many of its teammates faced by significantly enhancing childcare benefits, providing food and lodging options and creating a Caregiver Heroes Fund for employees with special financial needs caused by the pandemic, to name a few. Atrium Health also created additional choices for teammates who were willing to take on alternative assignments during the pandemic.
Additionally, in a novel partnership, Atrium Health invested $5 million into an affordable housing project with 50 dedicated units set aside for employees of the health system. Atrium Health also provided all front-line workers and support staff throughout the system $11 million worth of meal vouchers from DoorDash, which also provided a much-needed investment into the local restaurant economy as well.
Atrium Health's mission – to improve health, elevate hope, and advance healing for all – unites its employees around a higher purpose, helping inspire the newest members of the organization in their daily work. The "for all" words in the mission apply to Atrium Health's patient care and its approach to employee work environments, ensuring that all teammates can belong and thrive as their whole, authentic selves. Initiatives such as open-to-all "Courageous Conversations," executive training in racial justice topics and discussion sessions for managers help Atrium Health teammates consistently embrace the value of differences.
More than 20,000 U.S. young professionals who work for companies that employ at least 1,000 people participated in the independent survey, focused on work-related issues and their experiences in the workplace. Participants were asked to rate the likelihood that they would recommend their employer to family and friends. They also assessed their employers according to the following: Atmosphere & Development, Diversity, Image, Salary & Wage, Working Conditions and Workplace. Additionally, participants were asked to evaluate other employers in their respective industries that stand out either positively or negatively.
Learn more about America's Best Employers For New Graduates and list ranking methodology.
About Atrium Health
Atrium Health is a nationally recognized leader in shaping health outcomes through innovative research, education and compassionate patient care. Atrium Health is an integrated, nonprofit health system with nearly 70,000 teammates serving patients at 37 hospitals and more than 1,350 care locations. It provides care under the Wake Forest Baptist Health name in the Winston-Salem, North Carolina, region and Atrium Health Navicent in Georgia. Atrium Health is renowned for its top-ranked pediatric, cancer and heart care, as well as organ transplants, burn treatments and specialized musculoskeletal programs. A recognized leader in experiential medical education and groundbreaking research, Wake Forest School of Medicine is the academic core of the enterprise, including Wake Forest Innovations, which is advancing new medical technologies and biomedical discoveries. Atrium Health is also a leading-edge innovator in virtual care and mobile medicine, providing care close to home and in the home. Ranked among U.S. News & World Report's Best Hospitals for cancer treatment and in eight pediatric specialties, Atrium Health has also received the American Hospital Association's Quest for Quality Prize and was the recipient of the 2020 Centers for Medicare & Medicaid Services Health Equity Award for its efforts to reduce racial and ethnic disparities in care. With a commitment to every community it serves, Atrium Health seeks to improve health, elevate hope and advance healing – for all, providing more than $2 billion per year in free and uncompensated care and other community benefits.