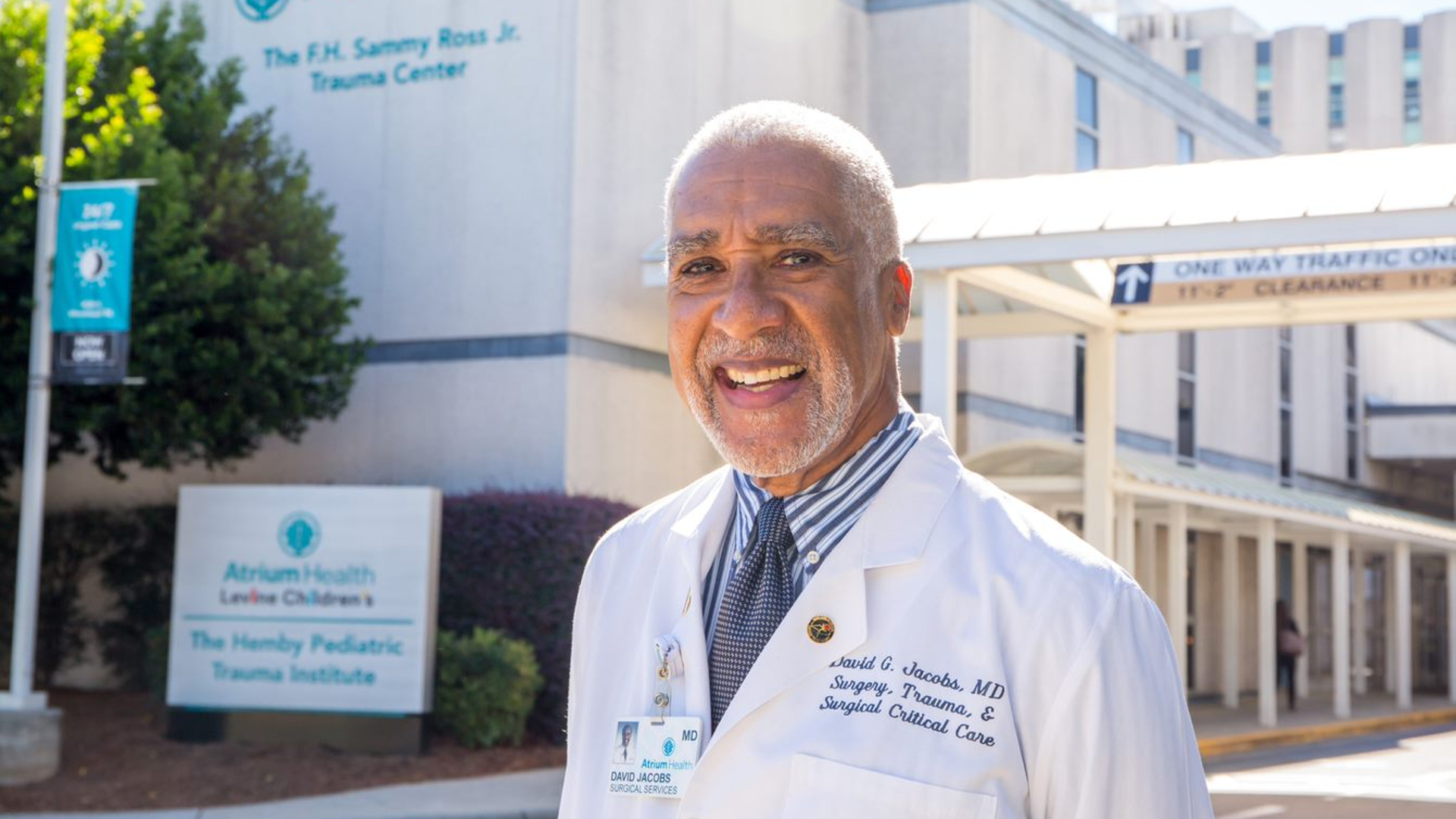 Atrium Health Trauma Surgeon Dr. David Jacobs Honored with Lifetime Achievement Award, Five Others Receive Awards at CBJ Health Care Heroes Awards
09.24.2021
Atrium Health News
CHARLOTTE, N.C., Sept. 23, 2021 – Atrium Health trauma surgeon Dr. David Jacobs received the Lifetime Achievement Award at the inaugural Charlotte Business Journal Health Care Heroes Awards. The awards were presented at a virtual ceremony on Wednesday, Sept. 22. Atrium Health and its teammates received five additional awards at the ceremony.
"The very word 'hero' will forever, going forward, be inextricably linked to our caregivers who have bravely fought and continue to fight in the battle against COVID-19," said Eugene A. Woods, president and CEO of Atrium Health. "There's simply not a better word to describe the passion, dedication and drive that our teammates bring to their work every single day in caring for our patients and community members. We appreciate how they continue to rise to the challenge – finding new, innovative ways to bring care to our most vulnerable communities – and live out our 'for all' mission."
Jacobs has held many leadership positions, including the trauma medical director for Atrium Health Carolinas Medical Center's Level I F.H. "Sammy" Ross Jr. Trauma Center and the co-medical director of pediatric trauma at Atrium Health Levine Children's Hospital's Hemby Pediatric Trauma Institute. In addition, he's served as section chair and executive director of the surgical section of the National Medical Association, the largest and oldest organization in the country representing African American physicians and their patients.
Beyond his work at the hospital, Jacobs is a valued community leader. He's an advocate for youth violence prevention and he's earned numerous awards for his volunteerism, including the Volunteer of the Year and Health Care Educator of the Year from the Annual Charlotte Business Journal's Excellence in Healthcare Awards.
"This award is really a testament to what a great place Atrium Health has been for me," said Jacobs. "When I arrived here 26 years ago, I never thought that I would be spending the rest of my career here, but the collegiality and sense of common purpose among all of my co-workers has been extremely gratifying. Over the years, the numbers of patients that we care for has grown astronomically, as has the severity of illness, but so has our faculty and our ability to care for this increasingly complex patient population. Yet we still have the same great interpersonal relationships both within our department, as well as outside the department with our other colleagues."
Jacobs leads by example to build coalitions around causes, improve health care disparities and standardize care across the region. He has led the development of the Trauma Survivors Network at Atrium Health. It is an organization for family and friends of patients with traumatic injuries that meets regularly to share stories of strength and recovery after those injuries and provide support to others. Jacobs is also an advocate for ongoing local violence prevention education and is an integral leader and force behind various community groups, including the annual Charlotte Youth Violence Prevention Conference.
"I would also note that several members of the acute care surgery division have been with Atrium Health as long as I have," Jacobs added. "It is truly remarkable, in this day and age, when such stability in academic departments of surgery is rare, but this again speaks to an environment that has allowed each of us to grow and thrive, while providing exemplary trauma care to our community."
Other Atrium Health recipients honored as Health Care Heroes at the ceremony included:
Callie Dobbins, senior vice president of the children's service line for the Atrium Health enterprise, was awarded the Medical Professionals Award for non-physicians. Over her career, Dobbins has given her best to the tiniest patients, initially as a registered nurse in the neonatal intensive care unit and, today, is responsible for operations and strategy for Atrium Health Levine Children's Hospital, Jeff Gordon Children's Center, in Concord, and all primary care and specialty care pediatric practices across Atrium Health. Through her leadership, Levine Children's has established impressive pediatric programs that attract patients from across the country and have won numerous national awards, including U.S. News and World Report's "Best Children's Hospitals" distinction in eight pediatric specialties.
Dr. Latanya Lofton, director of Atrium Health's spinal cord injury program who specializes in physical medicine and rehabilitation, was the recipient of the Healthcare Ambassador Award. This award honors a person committed to informing and educating the public about the benefits and risks of major health care challenges. She has been a part of the spinal cord injury team since 2008. From grant writing through creation, Lofton has been there for The Clinic for Women with Spinal Cord Injuries (SCI) and Living Fit and Engaged (LIFE). LIFE after SCI at Atrium Health Carolinas Rehabilitation has treated 26 patients, to date, some of whom are accomplished adaptive sports athletes. Lofton is a trailblazer in patient advocacy and her commitment to care epitomizes Atrium Health's mission to improve health, elevate hope and advance healing – for all.
Ginny Bass, team lead for Atrium Health's informatics group, was selected to receive the Nurse Award, which honors a nurse who shows exemplary performance in his or her field. Bass, a registered nurse, was responsible for leading daily operations at mass vaccination events at Bank of America Stadium, where thousands of patients were vaccinated daily. When new pilot vaccination initiatives were being developed, Bass was there to help lead those, as well. These initiatives included non-traditional locations such as homeless shelters, a local brewery, outpatient mental health clinics, local sporting locations, rural farms and teammate vaccination efforts. Her leadership made a difference in reaching many at Atrium Health and in the community who may not have chosen to be vaccinated.
James Clarke, Atrium Health's director of emergency management, received the Support Services Executive/Organization Award, which honors a specific individual or an organization for their role in improving health care. Since the beginning of the pandemic, Clarke has worked tirelessly as deputy incident commander of Atrium Health's incident command structure to coordinate the COVID-19 pandemic response. He has had the responsibility for response and recovery strategies, response team coordination, communication and operational oversite of set objectives and mission. Among his many responsibilities, he determines response preparedness and addresses any deployment issues, assists in obtaining emergency funding pursuant to emergency declarations, coordinates command staff and general staff duties in concert with the incident commander and monitors response and recovery operations to identify current or potential problems.
The Atrium Health Community Benefit team was presented the Community Outreach Program in Health Care Award, which honors a company or individual primarily responsible for a medical science discovery or for development of a new procedure, device, service, program or treatment that can save lives or improve the quality of life for a large number of people. The Community Benefit team was recognized for its work to provide support for the collection and distribution of masks during the COVID-19 pandemic. The team led Atrium Health's Million Mask Initiative, which distributed more than 3.1 million free masks to the community, with an emphasis on vulnerable populations and essential workers. The team also facilitated numerous in-kind donations and special projects that have been given to recognize Atrium Health teammates.
After a year and a half of a pandemic, the Charlotte Business Journal created an awards program designed to recognize those on the front lines of health care within the community -- from doctors to administrators and others. Selected by the publication's editorial team, the inaugural Charlotte Business Journal Health Care Heroes Award winners were selected in twelve different categories to highlight those who put innovation and compassion to work to improve the human condition.
About Atrium Health
Atrium Health is a nationally recognized leader in shaping health outcomes through innovative research, education and compassionate patient care. Atrium Health is an integrated, nonprofit health system with nearly 70,000 teammates serving patients at 40 hospitals and more than 1,400 care locations. It provides care under the Atrium Health Wake Forest Baptist name in the Winston-Salem, North Carolina, region, as well as Atrium Health Navicent and Floyd in Georgia and Alabama. A recognized leader in experiential medical education and groundbreaking research, Wake Forest School of Medicine is the academic core of the enterprise. Atrium Health is renowned for its top-ranked pediatric, cancer and heart care, as well as organ transplants, burn treatments and specialized musculoskeletal programs. It is also a leading-edge innovator in virtual care and mobile medicine, providing care close to home and in the home. Ranked among U.S. News & World Report's Best Hospitals in eight pediatric specialties, Atrium Health has also received the American Hospital Association's Quest for Quality Prize and its 2021 Carolyn Boone Lewis Equity of Care Award, as well as the 2020 Centers for Medicare & Medicaid Services Health Equity Award for its efforts to reduce racial and ethnic disparities in care. With a commitment to every community it serves, Atrium Health seeks to improve health, elevate hope and advance healing – for all, providing more than $2 billion per year in free and uncompensated care and other community benefits.