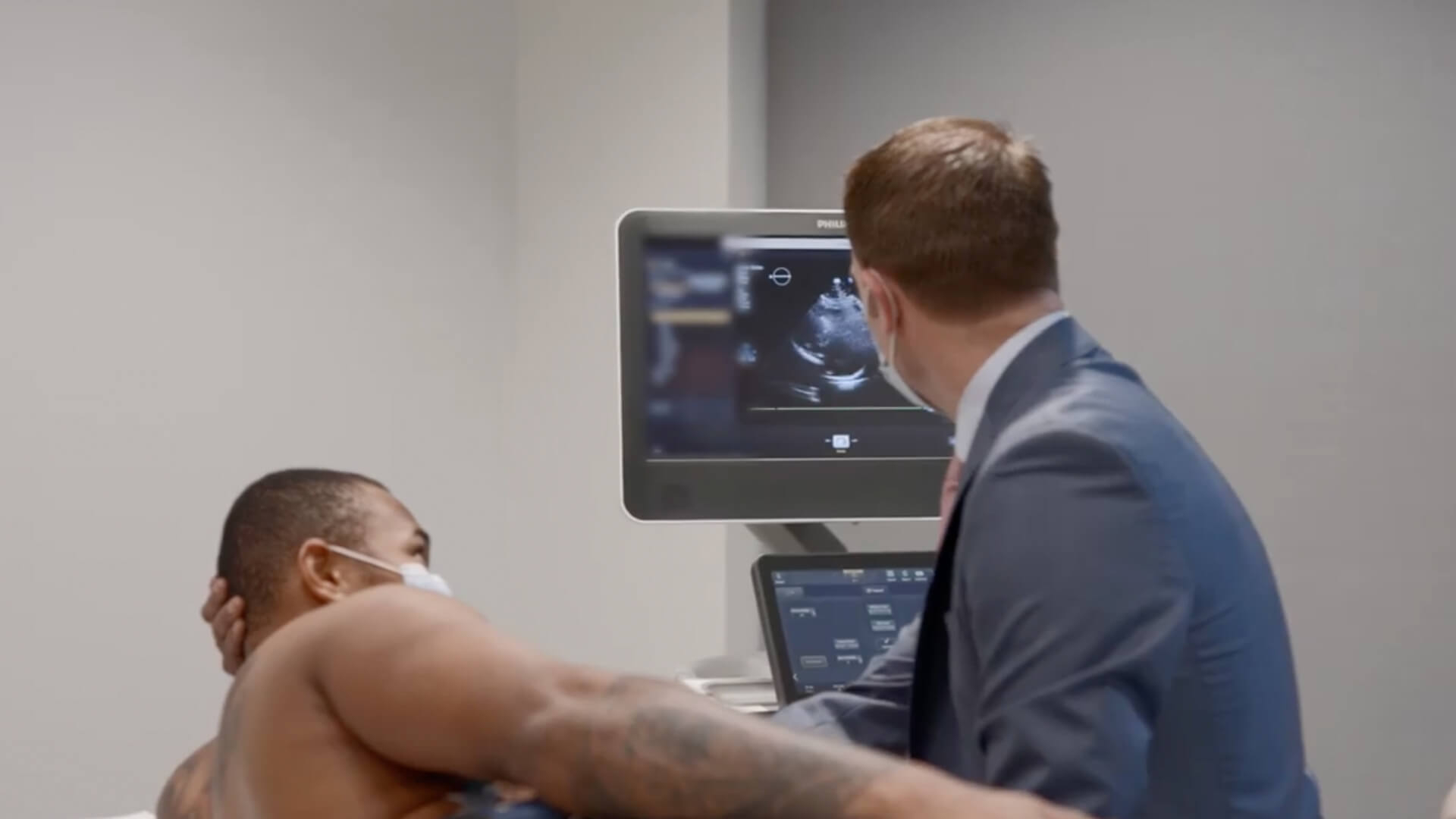 The Sports Cardiology Center Brings Specialized Care to Charlotte-area Athletes
09.03.2021
Atrium Health News |
Musculoskeletal Institute
A sport can be so much more than just a game. Whether a sport means practicing every day in pursuit of greatness or playing weekend matches for fun and exercise, a sport can be a crucial ingredient to wellbeing. When athletes have heart concerns, however, they require specialized care that allows them to enjoy their sport while protecting their health.
Now, we're introducing a facility to the Charlotte area that brings a new level of specialized care to these athletes: Atrium Health Sanger Heart & Vascular Sports Cardiology Center. The Sports Cardiology Center is part of Sanger's flagship location, located in Midtown Charlotte. Atrium Health Kenilworth Medical Plaza I has five floors of outpatient cardiac services, research labs and educational facilities under one roof – including kitchens for heart-healthy cooking demonstrations, an auditorium for conferences and classes, and labs where discoveries will continue to make this the most innovative outpatient facility in the area.
The Only Center of its Kind Locally
The Sports Cardiology Center is the first and only of its kind in the Charlotte area, bringing together experts from Sanger and Atrium Health Musculoskeletal Institute for multidisciplinary care. It's where patients can see providers who specialize in diagnosing and managing heart health in athletes. It's where athletes can learn lifestyle and nutrition skills that can help them maintain optimal heart health needed to excel in their sports.
The center's providers have extensive experience caring for athletes, from student athletes to the professionals. It's why it is the official and exclusive healthcare provider for the Carolina Panthers, Charlotte Knights, Charlotte Mecklenburg Schools, Charlotte Motor Speedway, Powerade State Games and Wells Fargo Championship (PGA Tour).
When someone plays sports or performs exercise on a long-term basis, their heart can change: The structure of the heart, as well as its electrical patterns, can shift. While traditional cardiologists may interpret these changes as problems, sports cardiologists have greater understandings of the athlete's heart. The sports cardiologists at the Sports Cardiology Center can differentiate between normal shifts in patterns and irregular heartbeats or even heart disease, and with that, can offer individualized guidance for athletic training and heart care.
"Athletes with heart disease or concern for heart disease present unique diagnostic and management challenges," says Dermot Phelan, MD, PhD, director of sports cardiology at Sanger, as well as a team cardiologist to the Carolina Panthers and a consultant cardiologist to the NBA. "At our new Sports Cardiology Center, we offer cutting-edge diagnostic capabilities, including cardiopulmonary stress testing, echocardiography, cardiac MRI and cardiac CT."
Joining Dr. Phelan in further advancing the center is Garrett Loomer, MS, MA, who comes to Atrium Health after serving as the program manager of the sports cardiology department at Boston's Massachusetts General Hospital. As an exercise physiologist, Loomer runs the center's metabolic lab, which offers precise analysis of a patient's performance as they exercise. With each breath a patient takes and through continuous electrocardiogram, the lab collects valuable data that can evaluate the recovery of heart transplant patients or guide the training regimen of elite athletes.
"The level of cardiopulmonary testing we perform at the center is rarely available in labs around the country," Loomer says. "It's a useful tool that can evaluate a wide array of patients from those with complex disease to amateur and professional athletes looking to analyze and improve their performance."
The multidisciplinary team also includes cardiologists, sports medicine physicians, pulmonologists, geneticists and nutritionists, all coming together to provide patient-centered care.
Guiding Athletes of All Levels to Return to Play
Athletes who come to the Sports Cardiology Center most often want to learn what level of exercise is appropriate for their health or how to manage a heart condition. Patients who can benefit from the center include those who have experienced:
Signs of heart disease or irregular heartbeats, including atrial fibrillation, arrhythmia and abrupt palpitations
Fainting, chest pain or breath shortness
Declining sports performance, especially alongside a history of heart disease, smoking, high blood pressure, high cholesterol or diabetes
Uncertainties about returning to a sport following a medical treatment or surgical procedure
From diagnosis to long-term management, providers at the Sports Cardiology Center help these athletes understand their heart challenges and how to maintain optimum heart health as they pursue their sports.
"Our aim is to offer a sports-specific management strategy to get athletes back to a sport they love in a safe fashion," Dr. Phelan says.
To learn more about Atrium Health Sanger Heart & Vascular Sports Cardiology Center or to make an appointment, please call 704-373-0212.