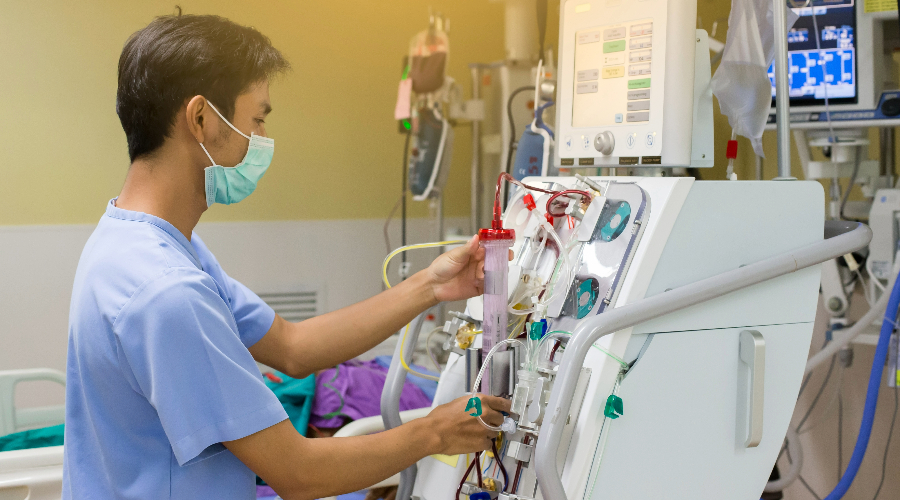 "Design for Impact:" Atrium Health Innovation Team Reshaping Business and Outcomes
09.13.2023
Atrium Health News
New white paper illustrates research-driven approach to address needs, improve care delivery
CHARLOTTE, N.C., Sept. 13, 2023 – Innovation has been at the forefront of Atrium Health's business model for a number of years. While much attention has been directed towards its "The Pearl" innovation district currently under construction near midtown in Charlotte, behind the scenes a team of Atrium Health innovators works continuously to identify new and better ways of doing things, with a special eye towards improving medical outcomes and patient experience, while also capturing efficiencies within the business processes, including cost savings.
In a new white paper, Atrium Health presents case studies of three areas in which Atrium Health employed its "Design for Impact" process to transform care delivery in community clinics, dialysis and stroke care. The process facilitates clinicians and executives aligning around a specific problem they wish to solve, then collaborating to understand the issue from the perspective of patients, clinicians and caregivers. From there, participants design potential new business models and test their viability, while also identifying and resolving areas of risk within new business models before they are implemented.
"Atrium Health is adopting Design for Impact as part of a broad, strategic plan to improve the value and quality of health care," said Todd Dunn, vice president of enterprise innovation for Charlotte-based Advocate Health, of which Atrium Health is a part. "It's important the health system understands what patients need at every stage of the care journey – the treatments they require, but also the social and emotional support they desire – and to improve delivery based on those needs. To that end, efforts are underway to use the Design for Impact process more broadly to transform the delivery of care via new business models."
In one case study, the innovation team examined why community clinics created to provide care in underserved areas were being underutilized, despite a prevalence of chronic disease, mental health and substance abuse issues within the areas being served. The research revealed a number of concerns within the target population that made them hesitant to seek out care or participate in scheduled, ongoing care. To help break through those types of barriers, Atrium Health embedded community health workers into the clinics who would visit the homes of at-risk patients and, in turn, began to integrate preventative care into the patients' health program. The community health workers also were able to get a first-hand look at individual patients' life challenges, such as food insecurity or inability to afford medications, and connect them with resources to help address these types of social determinants of health. The initial clinics where this strategy was employed reported a 34% reduction in emergency room visits and a 37% decrease in inpatient stays.
A second case study included in the report examined ways to improve the delivery of dialysis in the hospital setting. In some locations, Atrium Health had outsourced dialysis service and, because of a shortage of specially trained nurses, experienced ongoing staffing issues. In locations where it was done in-house, the technology had become outdated. After conducting their research, the innovation team recommended a series of changes, including bringing dialysis in-house with updated technology. They identified new technology that required less training to operate, so more nurses could be qualified to operate it, and could operate using ordinary tap water. The new units are portable, allowing the machines to go to the patient within the hospital. The new tech and processes were also good for the health system's bottom line, with an $11 million positive impact over a five-year period.
The white paper's third case study discusses how the innovation team worked with Atrium Health Neurosciences Institute to transform care delivery to stroke patients after they are discharged from the hospital. Their goal was to improve outcomes for patients and to reduce the risk of complications, which typically affect 85% of stroke survivors. Industry data indicated that 20% of stroke patients suffer a second stroke and hospital readmission within the first year after discharge. The collaborative determinations helped secure support to deploy additional in-house resources towards helping patients when they get home. Atrium Health also strengthened its efforts to get more patients into outpatient stroke clinics after their hospital stay. The initiatives implemented have contributed to reduced hospital readmissions and an increase in the volume of patients seen at outpatient stroke clinics.
"Design for Impact provides an innovation blueprint that health care leaders can use to determine the feasibility, desirability and viability of potential new products and services," said Dunn. "At Atrium Health, this approach to innovation has united executives and clinicians around the mission of developing patient-centered solutions by including input from patients and caregivers in the Design for Impact process. Applying this process in community care, dialysis and stroke care has proven to be a smart investment of staff and resources that improves patient satisfaction and outcomes."
The new white paper will be discussed by Atrium Health's innovation team during a presentation Friday, Sept. 15, at the College of Healthcare Information Management Executives (CHIME) Innovation Fall Summit, which is being hosted in Charlotte this year by Atrium Health. The session is entitled "Innovation Readiness and Ecosystem Mapping – Building an Effective Innovation Management Process."
Dr. Rasu Shrestha, executive vice president and chief innovation and commercialization officer for Advocate Health, and Andy Crowder, senior vice president and Southeast region chief digital technology officer for Advocate Health are also scheduled to speak at the two-day CHIME summit, held at the Harris Conference Center, 3216 CPCC Harris Campus Drive, in Charlotte.
The white paper was researched and crafted by APCO Worldwide on Atrium Health's behalf.
###