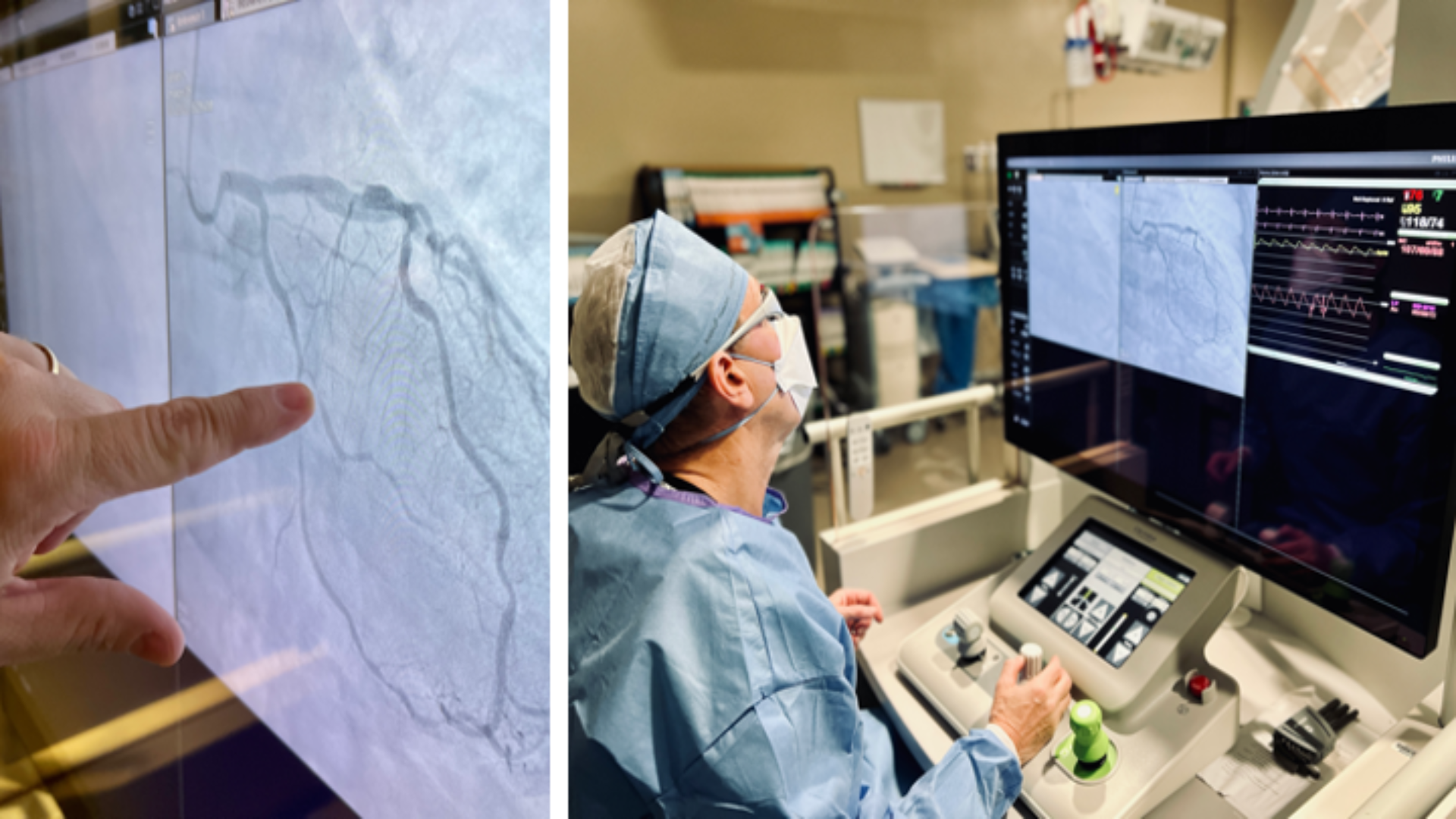 Atrium Health Sanger Heart & Vascular Institute Marks Milestone Robotic Procedure
05.04.2023
Atrium Health News |
Sanger Heart & Vascular Institute
Surgical technology offers improved patient outcomes and physician safety
CHARLOTTE, N.C., May 4, 2023 – Atrium Health Sanger Heart & Vascular Institute has hit a milestone in heart procedures, having completed 1,000 robotic percutaneous coronary interventions (PCI) at Atrium Health Cabarrus. This is the only hospital in the greater Charlotte region to offer state-of-the-art endovascular robotic technology that aims to improve patient outcomes and reduce potential risks posed to surgical teams.
A PCI is a medical procedure to open blocked or narrowed arteries that supply blood to the heart. This blockage can cause chest pain or even a heart attack. The goal of the procedure is to restore proper blood flow to the heart muscle. Traditionally, PCI procedures have been performed manually, with a cardiologist using their hands to manipulate the catheter and tools inside the body.
The advanced endovascular robotic system offers numerous benefits, including increased precision, enhanced visualization and reduced radiation exposure for both patients and medical professionals. Additionally, the technology's minimally invasive approach can lead to faster recovery times and improved overall patient experiences.
Dr. Paul Campbell, an interventional cardiologist at Atrium Health Sanger Heart & Vascular Institute, performed the milestone robotic surgery and has led all robotic PCI cases at Atrium Health Cabarrus since the adoption of the technology at the hospital in 2014.
"The use of robotic technology has revolutionized the treatment of heart disease, making procedures more precise and efficient while minimizing risks to both patients and medical professionals," said Campbell. "Interventional cardiologists have the highest exposure to radiation, which can lead to cataracts, brain tumors and back problems from wearing heavy lead for protection. The use of the robotic system not only provides precision placement during procedures, but it also offers protection for the physician, as well as better visualization. This can lead to less fatigue and improved outcomes for patients."
The system consists of a robotic arm that is mounted on a stand next to the patient and a console where the interventional cardiologist sits to control the robot's movements during the procedure. Using advanced software and imaging technology, the surgical team can precisely control the positioning and movement of catheters, wires, balloons and stents in the patient's blood vessels.
The system uses advanced imaging technology to create detailed 3D images of the patient's blood vessels, which allows navigation through the vessels with greater precision and accuracy. This precision also allows for less use of contrast medium, a dye used to enhance the visibility of blood vessels during the procedure, which can be harmful to some patients.
"This technology is at the forefront of medical advancements and it's crucial for physicians to embrace automation to enhance the quality of patient care," said Campbell. "This is the future and, while it may take some time to implement fully, it will ultimately lead to more efficient and safer procedures, potentially extending physicians' careers and improving patient care."
Learn more about Atrium Health Sanger Heart & Vascular Institute at AtriumHealth.org/Heart.
---
About Atrium Health
Atrium Healthis a nationally recognized leader in shaping health outcomes through innovative research, education and compassionate patient care. Based in Charlotte, North Carolina, Atrium Health is part of Advocate Health, the fifth-largest nonprofit health system in the United States, which was created from the combination with Advocate Aurora Health. A recognized leader in experiential medical education and groundbreaking research, Wake Forest University School of Medicine is its academic core. Atrium Health is renowned for its top-ranked pediatric, cancer and heart care, as well as organ transplants, burn treatments and specialized musculoskeletal programs Atrium Health is also a leading-edge innovator in virtual care and mobile medicine, providing care close to home and in the home. Ranked nationally among U.S. News & World Report's Best Hospitals in eight pediatric specialties and for rehabilitation, Atrium Health has also received the American Hospital Association's Quest for Quality Prize and its 2021 Carolyn Boone Lewis Equity of Care Award, as well as the 2020 Centers for Medicare & Medicaid Services Health Equity Award for its efforts to reduce racial and ethnic disparities in care. With a commitment to every community it serves, Atrium Health seeks to improve health, elevate hope and advance healing – for all, providing $2.46 billion last year in free and uncompensated care and other community benefits.
About Advocate Health
Advocate Health is the fifth-largest nonprofit integrated health system in the United States – created from the combination of Advocate Aurora Health and Atrium Health. Providing care under the names Advocate Health Care in Illinois, Atrium Health in the Carolinas, Georgia and Alabama, and Aurora Health Care in Wisconsin, Advocate Health is a national leader in clinical innovation, health outcomes, consumer experience and value-based care, with Wake Forest University School of Medicine serving as the academic core of the enterprise. Headquartered in Charlotte, North Carolina, Advocate Health serves nearly 6 million patients and is engaged in hundreds of clinical trials and research studies. It is nationally recognized for its expertise in cardiology, neurosciences, oncology, pediatrics and rehabilitation, as well as organ transplants, burn treatments and specialized musculoskeletal programs. Advocate Health employs nearly 150,000 team members across 67 hospitals and over 1,000 care locations and offers one of the nation's largest graduate medical education programs with over 2,000 residents and fellows across more than 200 programs. Committed to equitable care for all, Advocate Health provides nearly $5 billion in annual community benefits.