Loren Bassett and her husband Mike were determined to start a family. But like many couples who experience infertility issues, they were beginning to feel more and more disappointed. Loren was saddened that as a woman she felt her body couldn't do what it should naturally do.
"After a year of trying naturally, we sought out help," says Loren. They turned to Atrium Health and the Carolinas Medical Center Women's Institute and got started with intrauterine insemination (IUI) under the guidance of Michelle Matthews, MD, medical director of the CMC Women's Institute. Dating back to 18th-century Scotland, modern IUI is a now-common fertility treatment in which the doctor strategically injects sperm inside a woman's uterus near the fallopian tubes, in the hopes that one of the sperm will fulfill its mission and successfully fertilize an egg.
After five unsuccessful rounds of IUI, Loren and Mike were giving up hope. On the sixth IUI, they were able to get pregnant — with twins. The pregnancy got off to a promising start. However, they experienced a heartbreaking miscarriage 16 weeks into the pregnancy.
"Both the physical and emotional toll a miscarriage takes on both parents is tough for anyone to understand unless they've experienced it personally," explains Dr. Matthews. But despite the difficulty of this situation, they wanted to keep trying. And this time they were going to switch from IUI to IVF — in vitro fertilization, which is a process of fertilization where the egg is combined with sperm outside the body.
Misconceptions surround IVF
"Many people know friends or relatives that conceived with IVF and have twins, or perhaps even triplets or more," says Dr. Matthews. "However, many of these patients conceived years ago before transferring one embryo became common."
Popular news stories like "Octomom" have only solidified some people's belief that IVF is a surefire path to "multiple pregnancies" (i.e. twins, triplets, or more). But as IVF treatment has grown more advanced, this perception has become outdated.
"The number of IVF single embryo transfers has actually increased each year, which has resulted in a steady decline in multiple pregnancies," explains Dr. Matthews. "If one embryo is transferred to a woman's uterus, the risk of twins is approximately 1-2%, which is similar to naturally occurring twins."
Although some may prefer twins, pregnancies involving twins or more do open up risks for the mother as well as for newborns, which is why there's been a push for more single-embryo transfers.
"For Loren and Mike, we moved directly to IVF due to their concern about having another complicated twin pregnancy," says Dr. Matthews. This was also partly because IVF success rates have continued to increase — and in June of 2018, Loren herself was successful when her first embryo transfer resulted in a pregnancy.
Cautious optimism pays off
Although Loren and her team were elated that she was pregnant, they also wanted to be cautious knowing her history. After all, the loss of the twins the year before still weighed heavy — and one memory in particular stuck out for Loren.
"It was soon after the miscarriage and I was having such a hard day," remembers Loren. "But then I looked in my front yard and saw these beautiful purple azaleas blooming." Loren was struck by their beauty — and sensed these gorgeous azaleas were a sort of message of hope from the twins they lost.
This hope and optimism paid off — when on March 27, Loren gave birth to Ellie Brynn Bassett. At 6 pounds, 6 ounces, Ellie was their "rainbow baby," a term given to babies born after a mother has experienced a miscarriage.
Loren is quick to thank the "above and beyond" level of care she received at the CMC Women's Institute. "Dr. Matthews was so comforting, so optimistic, and she kept me comfortable the entire journey," says Loren. "IVF can be invasive, but I never felt overwhelmed. I always felt like I knew exactly what I was supposed to be doing, what medications I should be taking and when. And we always had an open line of communication with the care team."
A full circle moment
The full circle nature of this birth wasn't lost on Loren and Mike — after all, Ellie was born exactly a year later, to the day, that they found out they lost their twins.
And to make the moment even more special, when they got home from CMC with Ellie, Loren and Mike noticed something stunning in the front yard: those purple azaleas that had taken Loren's breath away a year before had begun to bloom just in time for Ellie's arrival.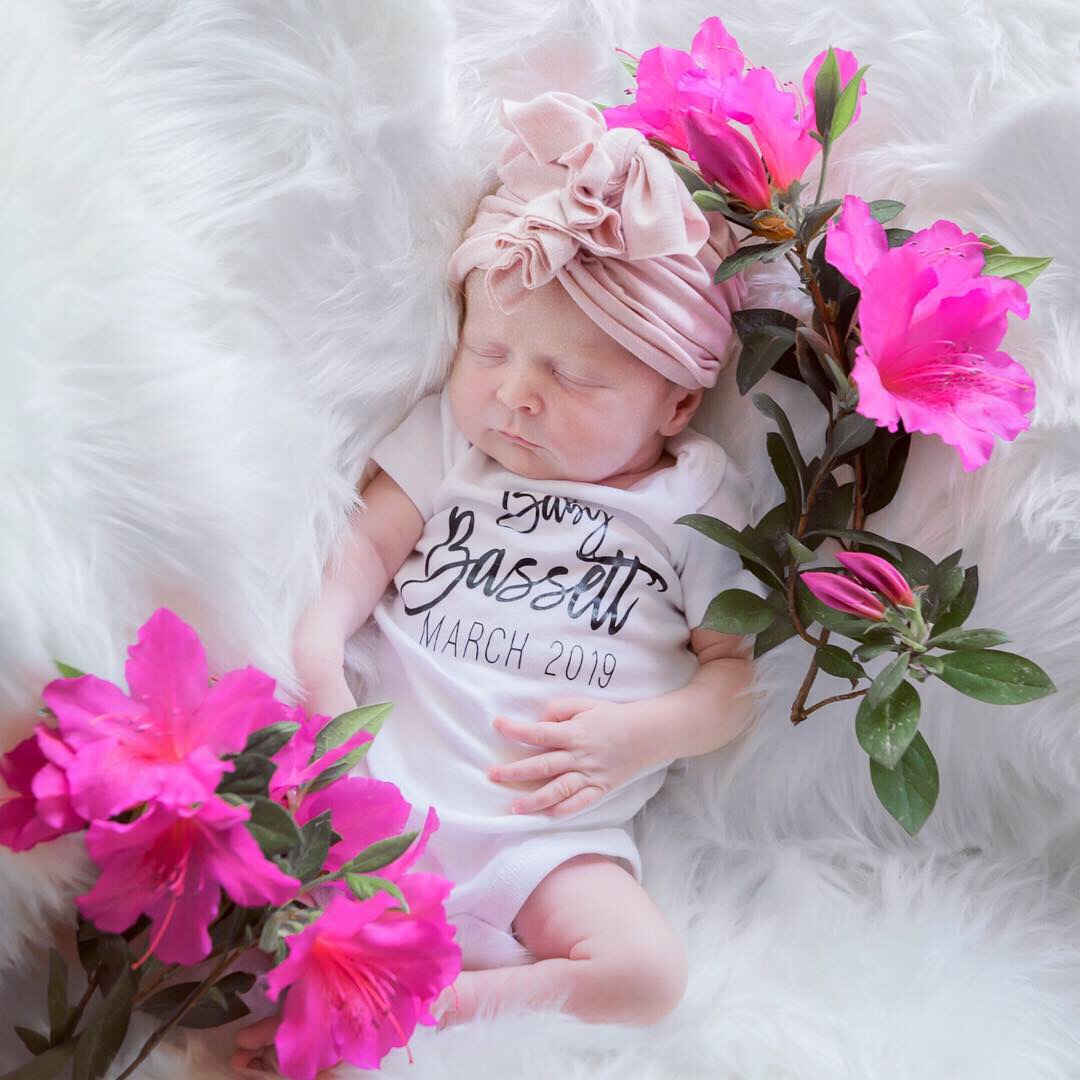 Though it's been a whirlwind to get there, Loren is happy to note that three-week-old Ellie is a good sleeper and "a happy, cuddly baby." And after all they've been through, the Bassetts couldn't be any happier.