It's one of the human body's most wondrous, disease-treating, life-saving sources of concentrated healing, capable of sustaining and regenerating life. But it has only been in the past few decades that doctors and scientists have been able to harness its power to help treat dozens of diseases. So what is it? We're talking about the incredible power of umbilical cord blood.
And as of June 2019, mothers who give birth at Atrium Health Carolinas Medical Center in Charlotte have been given the chance to donate life-saving cord blood to those in need.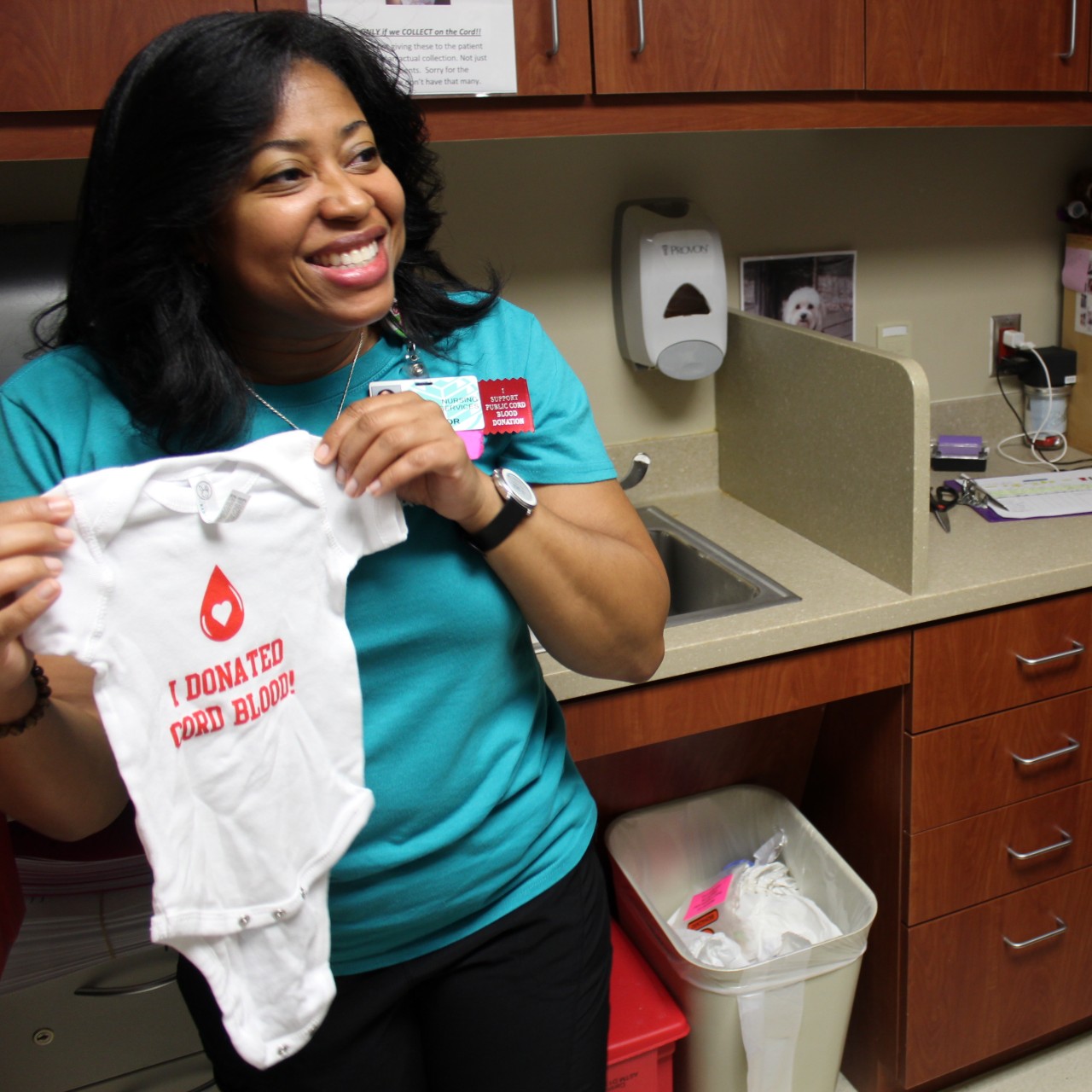 When collected after birth, stem cell-rich cord blood can be used to replace and rebuild diseased blood cells. The stem cells are used by researchers and physicians in treatment and research for a number of blood disorders and illnesses such as leukemia, sickle-cell anemia and more.
Thanks to a sizable grant from the Jeff Gordon Children's Foundation , Atrium Health's program was launched in 2012 at Atrium Health Cabarrus in Concord. Two years later, it was expanded to Atrium Health University City in Charlotte and in 2019 to the system's flagship hospital, Carolinas Medical Center. Currently one of the largest donor collection programs in the region, Atrium Health has been instrumental in collecting cord blood stem cells for thousands of patients, free of charge to donors, for life-saving treatment and to aid groundbreaking disease research.
Building the bank
In 2012, Ryan Brown, MD, a hospitalist physician at Atrium Health Cabarrus, was watching a Duke University men's basketball game with a friend who had been diagnosed with sickle-cell anemia, a rare but dangerous and inherited red-blood-cell disorder.
During the game, they learned that the son of a former Duke player – Carlos Boozer – also suffered from the same illness. When the Boozer's twin boys were born, doctors were able to use their cord blood to cure their oldest son.
And that, according to Dr. Brown, is when it hit him.
"If this can be done, what could we do to bring that kind of treatment here?" recalls Dr. Brown.
Soon after, Dr. Brown opened a discussion with the Carolinas Cord Blood Bank in Durham, NC, and pitched the idea to executives at Atrium Health. In collaboration with Brandi Newman, assistant vice president of Human Resources, Deirdra Taylor, cord blood program coordinator, and Sheri Brosenham, oncology nurse navigator, Charlotte's first cord blood collection program began. Years later, Gordan Lam, MD , with NorthEast Rheumatology, would take over the chief medical officer role for the cord blood collection program, and Taylor expanded the team to include Angie Barlowe and Karrie Shoffner, who lead the education and outreach efforts for the program.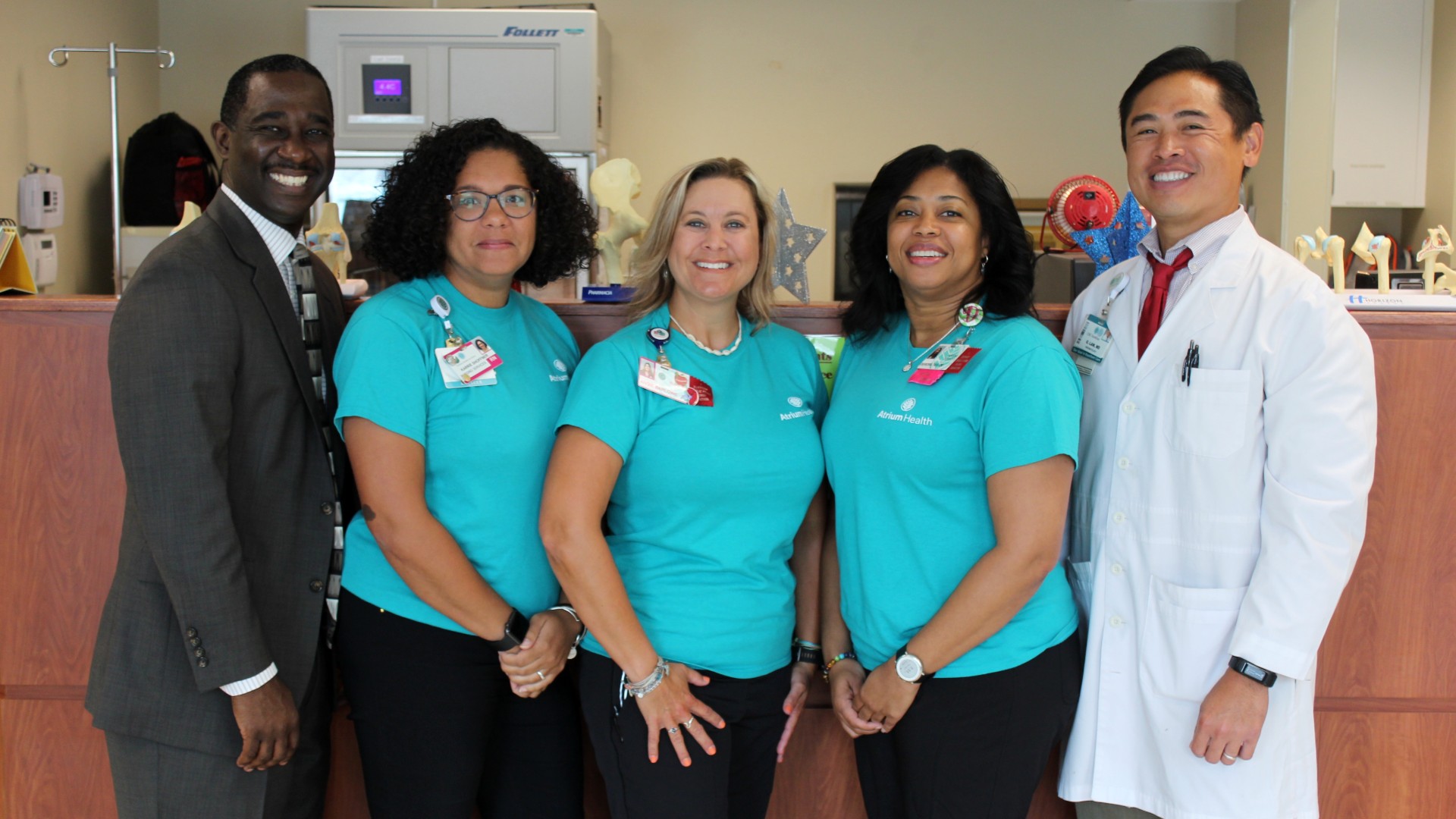 "There was a lot of passion around being able to start this program," says Dr. Brown. "Brandi's experience with other cord blood donation programs and Deirdra's energy made bringing this program to light contagious."
The program has evolved to become the largest public cord blood collection program in the region. To date, 4,500 donations have been collected.
The lifeblood
For many patients with illnesses like sickle-cell anemia, the only hope for a cure is a bone marrow transplant. But finding a donor is difficult, and the procedure is risky. The outcomes are different, however, when cord blood is available as a treatment option.
According to Taylor, cord blood serves two important purposes. It's used in medical research for diseases and disorders including autism, stroke, cerebral palsy, Parkinson's, Alzheimer's, spinal cord injuries, heart disease, diabetes and more. Additionally, it's used to treat more than 80 different malignant and genetic diseases, including cancers, blood disorders, immunodeficiencies and other diseases.
Many of those patients, she adds, are children with cancer.
"The umbilical cord and placenta are sometimes just thrown away after birth," said Taylor. "We need to recycle this precious resource to help other patients in need."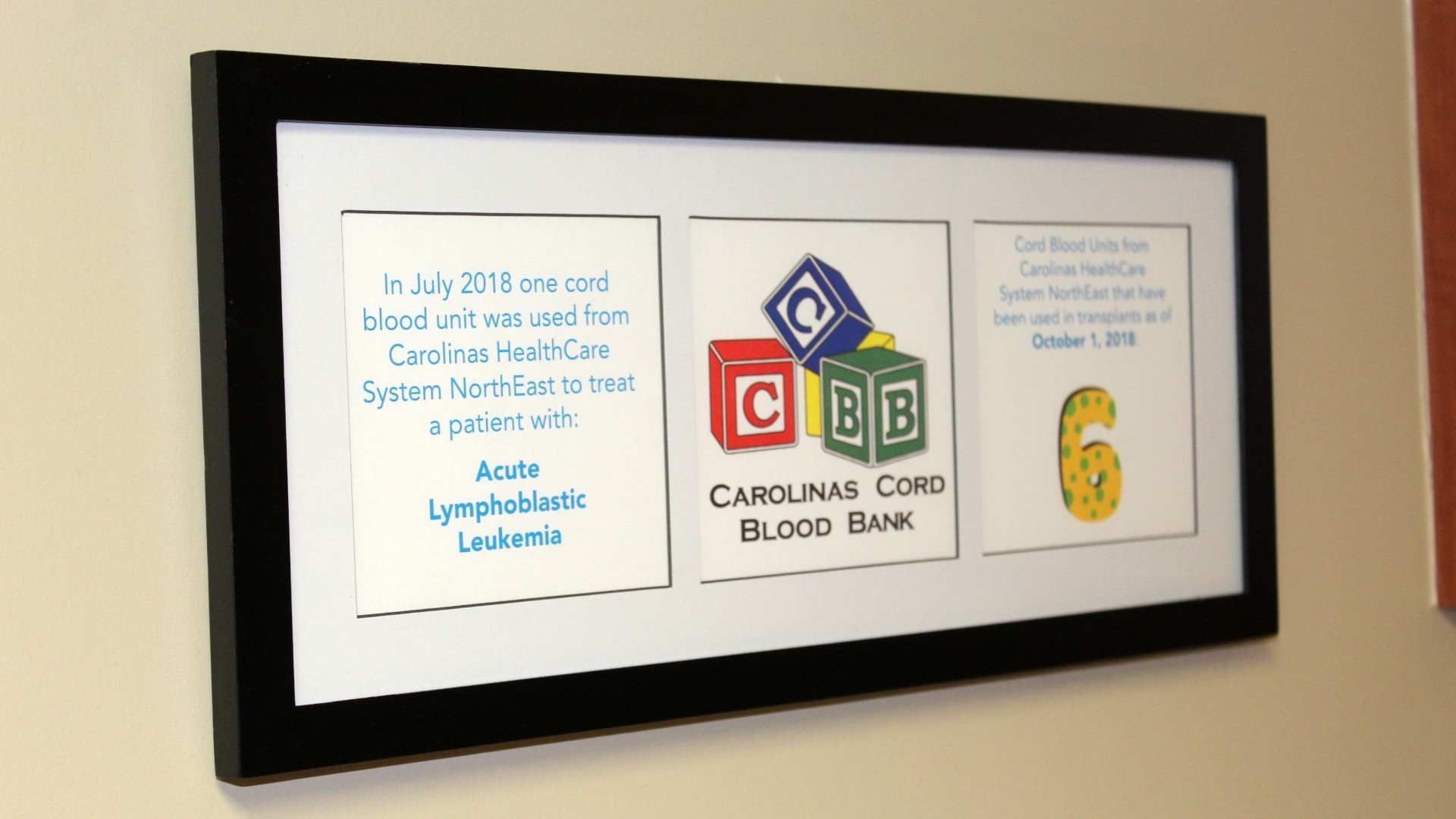 Atrium Health's cord blood program is unique from other initiatives. For starters, Taylor says, it's public – meaning it's a service that's provided at no cost to the patient who is donating. The American Academy of Pediatrics (AAP) and the American College of Obstetricians and Gynecologists (ACOG) both recommend public cord blood donation versus private banking unless there is a known family member who needs a transplant.
All donated cord blood stored with Carolinas Cord Blood Bank is listed on a public registry, Be the Match®, the national marrow donor program, where it is available for anyone in need of a transplant.
How it works
Mothers can decide at any time leading up to birth whether or not they want to donate cord blood, Taylor says. The process is simple and doesn't affect the mother or baby.
"Our job is to educate, consent, collect and ship," she adds.
Patients are told about the process and if they agree to donate, sign a consent form and submit other information regarding their medical history, diseases and other relevant data.
If approved, collections are made either in-utero – immediately after the baby has been born but before the placenta is delivered, or ex-utero, where the placenta and umbilical cord are brought to a special collection room and the collection is performed there. Cord blood collection specialists are able to drain the umbilical cord in about 10 minutes. The specimens are then packaged and collected by a courier to be transported to Carolinas Cord Blood Bank in Durham.
'Why not help someone else?'
Many mothers opt to donate with every birth. That was the case for Sarah Helms, an Atrium Health patient who first heard about the cord blood donation program from a childbirth instructor during an Atrium Health maternity class while she was pregnant with her first child, Julianne, now 6 years old.
"I thought — why not help someone else?" Sarah says.
It was so simple that she donated again when delivering her second child, Jefferson, now 3 years old. Both times she donated, it was done through a Caesarean section.
"It was good to know it was going to a public cord blood bank and would help others," she said. "The process was easy — there was minimal paperwork, and I loved knowing it wouldn't go to waste."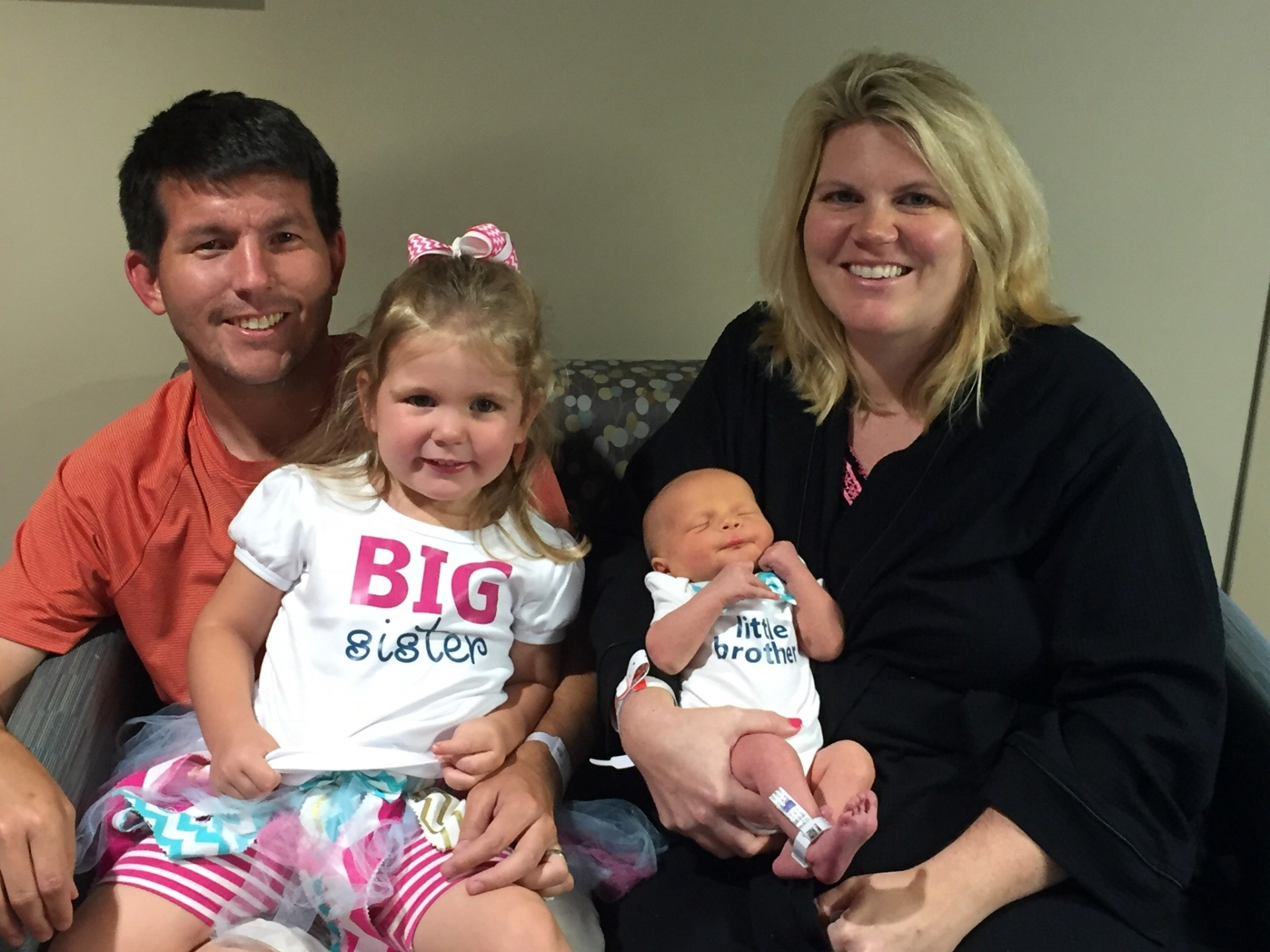 Who can donate?
According to Taylor, not everyone is a candidate for cord blood donation. Mothers must meet certain requirements, including being at least 18 years old, carrying a single child (no multiples), and having no history of (or current) drug use or cancer.
Learn more about maternity services and women's health expertise available at Atrium Health. If you're interested in donating cord blood, send an email to CordBlood@atriumhealth.org or call our cord blood coordinator at 704-403-6687.