"I had no idea what a midwife was."
Lauren Dantzler isn't alone. A mother of three, Lauren had sought out Atrium Health's Piedmont GYN/OB – Rock Hill during her first pregnancy upon the advice of a friend. She's since relied on the certified nurse midwives (CNM) of Atrium Health to deliver her children, which included a high-risk pregnancy with her youngest son, Copelan.
Across four OB/GYN practices, Atrium Health offers midwifery care from 18 experienced midwives. "I sing their praises from the mountains," Lauren emphatically states.
What is a midwife?
Certified nurse midwives (CNM) are registered nurses who have also received advanced degrees to care for women from adolescence to menopause through services similar to an OB/GYN. Firmly focused on keeping women healthy, well, and normal throughout their pregnancy, CNMs are equipped to care for, teach, and guide women throughout the pregnancy progress. CNMs also offer the same types of care as a well-woman visit, such as Pap smears, STI screenings, or UTI treatments.
Unlike visiting a traditional doctor, who can seem more clinical in their bedside manner, CNMs develop strong relationships and rapport with their patients, focusing on the mother's total mind, body, and spirit. "WIth a midwife, you get a personal connection and relationship that is not limited to pregnancy, conception, or six weeks post-partum," notes Lauren. "You see these people in the grocery store and they know you, your child, your husband, your favorite sports team. It's such a personal relationship."
At Atrium Health's collaborative practices, the midwife works very closely with board-certified OB/GYNs. OB/GYNs provide excellent care, are surgically trained and assist CNMs in management of high-risk patients. In case a patient needs additional expertise or care, they can choose to work with the Atrium Health maternal-fetal medicine team or continue working with their midwife while receiving assistance from expert physicians. "It makes it a wonderful environment with the benefit of someone who focuses on the healthy, well, and normal, but is also able to care for patients when there is an added layer of complexity or illness involved," says Tammy Reyes, CNM, MSN, a midwife who worked closely with Lauren during all three of her three pregnancies.
Lauren's story
When possible genetic issues were detected with Lauren's child during her third pregnancy, it was determined Lauren was pregnant with a baby with a high possibility of Down Syndrome. Tammy shared the news with Lauren the moment she found out — on her day off, right at the end of a 24-hour shift. "She needed to hear from someone she trusted," recalled Tammy.
Tammy's compassion set a positive tone for the remainder of Lauren's pregnancy. "Congratulations, you're having a healthy little boy who happens to have Down Syndrome," Tammy told Lauren, in words that continue to resonate today.
"If you speak to another mother of a child who has Down Syndrome, nine times out of ten, receiving that diagnosis is incredibly heartbreaking and negative," says Lauren. "On the other hand, I had the best situation imaginable — I heard it from someone who genuinely cares about my child, his health, and his well-being, as well as my own health and well-being."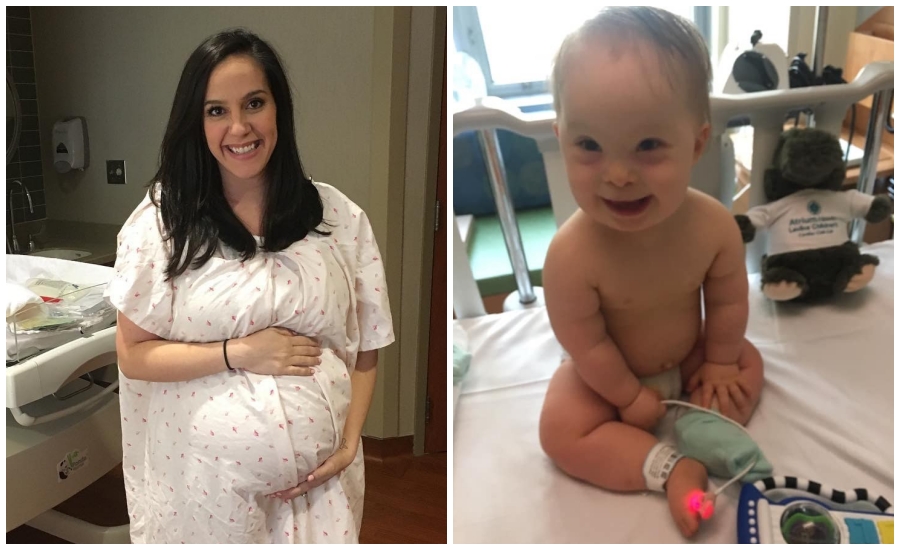 Tammy referred Lauren to a high-risk OB/GYN on Atrium Health's maternal-fetal medicine team. After an initial appointment, her baby boy was growing perfectly. With that, rather than moving her care to a dedicated high-risk doctor, Lauren chose to continue working with her midwife alongside a physician. "It means a lot when a patient trusts you and continues to come back to you and seek your care," says Tammy. Lauren wouldn't have had it any other way, wanting her pregnancy to be treated like every other pregnancy to make sure her son got delivered safety. "I'm forever grateful for that collaborative experience," says Lauren." I got the best of both worlds."
A team approach to a healthy delivery
At Atrium Health Maternity Centers, mothers receive the benefits of a birth center environment combined with the benefits of the hospital. Lauren delivered at Atrium Health Pineville, where they, along with other Atrium Health Maternity Centers, have a firm belief in minimal intervention, resulting in a cesarean section (C-section) rate below the national average. Jetted jacuzzi tubs, showerheads, and birthing balls are available to support the delivery process, as well as handrails throughout the hallways to encourage walking. Women are encouraged to be up and out of bed, with intermittent monitoring only taking place when medically necessary.
Tammy is careful to note that at Atrium Health, midwives perform work alongside teams of certified and licensed physicians. When looking for a midwife, it's important to make sure you have a certified nurse midwife, like at Atrium Health. At Atrium Health, CNMs, together with board-certified doctors, are ready with a plan in place to attend to any necessary medical care.
Today, Copelan is a happy and healthy one-and-a-half-year-old, in no small part due to the care Lauren received from Tammy and David Barkley, MD.
"It all began with that phone call," Lauren recalled. "The simple fact it took no effort on her part for her to be excited for me. She helped prepare my heart the right way."