In 2021, more than 1,400 lives were lost to suicide in North Carolina. According to the North Carolina Department of Health and Human Services, suicide is the state's second leading cause of death in young people ages 10-18 and the third leading cause of death in adults ages 19-34.
Perhaps you have a friend or family member who has attempted suicide or has struggled with mental health. Or maybe these things have impacted you personally. The good news is that the majority of people affected by suicidal thoughts have a diagnosable and treatable mental health condition. There is hope for those struggling that things can and will get better.
The Suicide Prevention Institute, a division of the University of North Carolina at Chapel Hill, was established to address suicide as a serious public health problem and improve mental health care. The Suicide Prevention Institute's main initiative is to work among communities to identify and implement strategies that prevent suicide and improve resources for those in need.
Going one step further, the Suicide Prevention Institute has designated "Our State, Our Well-being" Community Collaboratives across North Carolina to address suicide locally. These teams will be guided by technical expertise and lived experience. The following Atrium Health teammates have been selected to form a community collaborative that will focus on preventing and reducing suicide in Cabarrus, Mecklenburg and Union counties:
Janice Williams, director, Carolinas Center for Injury Prevention, Department of Emergency Medicine and Trauma Services at Atrium Health Carolinas Medical Center
Kate Penny, program coordinator, Zero Suicide Program, Atrium Health Behavioral Health
Bettyanna Bremer, director, Spiritual Care and Education, Atrium Health Behavioral Health
Alexa Steverson, manager, communications & content development, NC Poison Control
"Suicide rates for 2016-2020 were between 10.8 and 12 per 100,000 people across the three counties," says Williams. "We hope to explore the topics of early identification, support networks and timely access to care as part of our coalition work."
Competitive Pool of Applicants
Community collaboratives were announced in late August, and the Atrium Health team was one of 15 collaboratives chosen out of a highly competitive pool of applicants. Their work began in September, which is National Suicide Prevention Month.
The map shows the "Our State, Our Well-being" Community Collaboratives across 15 communities in North Carolina. Learn more about each community team.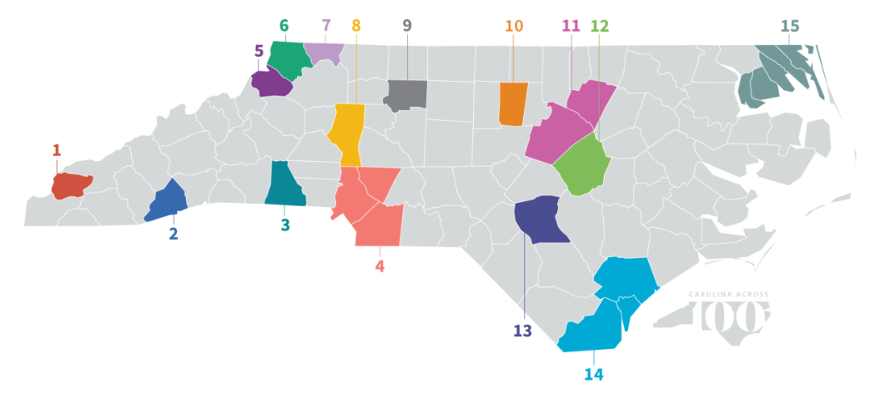 Identifying Gaps in Care and Solutions
The Atrium Health team looks to build upon the successes of previous efforts as they approach this multicounty effort. By bringing together the sectors of injury prevention, behavioral health and spiritual care, the collaborative will work across teams and departments to locate gaps in care and work toward solutions.
"You may not realize that spiritual care within Atrium Health provides mental health training and outreach to area clergy and religious institutions, so we are positioned to serve those with mental health challenges," explains Bremer. "And because area churches are often a doorway to the marginalized and underserved members of our communities, we are in the right place to help those who may be looking for resources."
Poison Control
"Poison is the third leading means of suicide in the U.S., and NC Poison Control has seen intentional poison cases increase substantially over the last several years," notes Steverson. "Because of these alarming statistics, we wanted intentional self-poisoning to be part of the collaboration's work. Once we understand our community and its needs better, we can work on a solution to help close the gaps in mental and behavioral health care."
Atrium Health is NC Poison Control's host institution and helps fund its activities. The poison control center provides a 24/7 toll-free helpline, 1-800-222-1222, for people who have questions about a possible poisoning or exposure to toxic substances.
Expert Guidance and Training
The Atrium Health team will be further trained by experts in the fields of psychiatry, psychology, education and social work. Training will focus on the current landscape of suicide in North Carolina, including demographics, means of suicide and vulnerable populations.
The Suicide Prevention Institute's quarterly learning forums will also help guide the team. At the end of the 12-month commitment, the community collaboratives will outline the interventions created and populations served.
"We're grateful for the opportunity to represent Atrium Health in this effort and improve the lives of our behavioral health patients," says Penny. "It's an honor to be part of this process and create greater health, hope and healing for all."
Learn More
Read more about the community collaboratives initiative. If you or someone you know is in crisis, call or text 988 to reach the 988 Suicide & Crisis Lifeline.