Alert: Novel Coronavirus Disease (COVID-19) Update has been added. Learn more.
Mission
In support of the college mission, the nursing program prepares graduates to practice at entry level according to the core components as outlined by the National League of Nursing (NLN), in a variety of healthcare settings. The core components and competencies include: human flourishing, nursing judgment, professional identity and the spirit of inquiry. Additionally, the nursing program adheres to the core values adopted by the college of caring, commitment, integrity and teamwork.
Program Outcomes
Ninety percent (90%) of graduates will pass the NCLEX-RN on the first writing of the examination as verified by annual licensure reports from the NCLEX-RN Examination Board.
Eighty percent (80%) of eligible graduates will be employed in entry level healthcare settings six months after graduation.
Seventy-five percent (75%) of students will graduate within 150% of the time requirements.
Student Learning Outcomes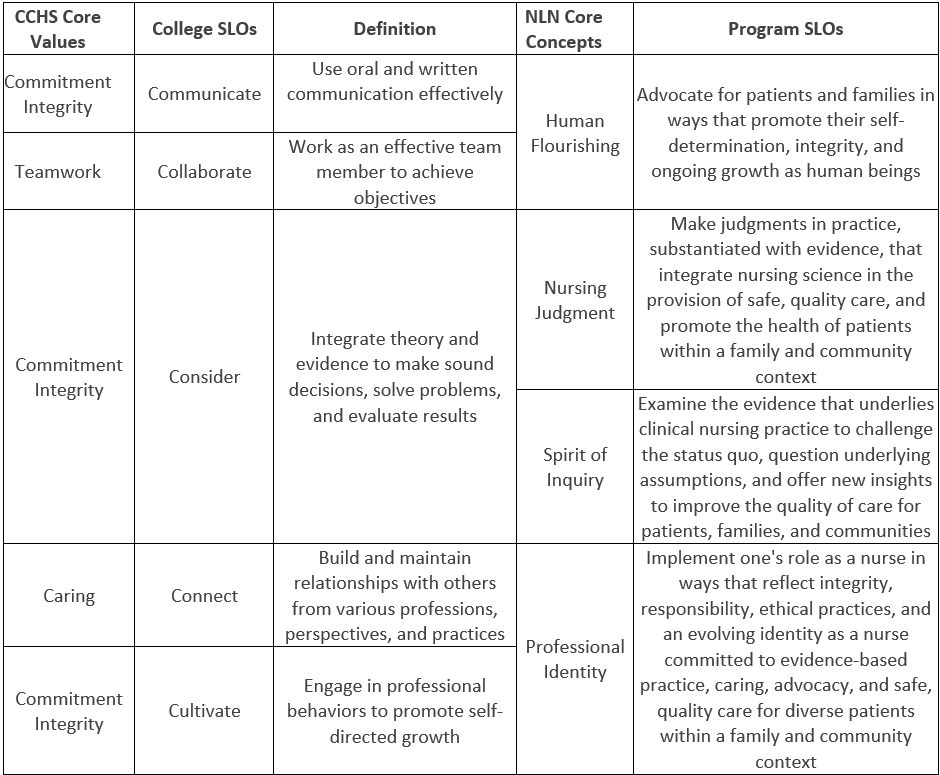 Nursing Achievement Data
Graduation Rate by Year
| | |
| --- | --- |
| Year | Graduation Rate |
| 2015 | 88% |
| 2016 | 87% |
| 2017 | 86% |
| 2018 | 81% |
Licensure Pass Rate on First Attempt
| | | | |
| --- | --- | --- | --- |
| Year | CCHS Pass Rate | NC Pass Rate | National Average |
| 2015 | 95% | 81% | 85% |
| 2016 | 93% | 81% | 85% |
| 2017 | 98% | 83% | 87% |
| 2018 | 96% | 84% | 88% |
Placement Rate within Six Months of Graduation
| | | | |
| --- | --- | --- | --- |
| Year | Number of Qualified Graduates | Number of Graduates Placed in Field | Job Placement % |
| 2015 | 109 | 98 | 89.9% |
| 2016 | 121 | 117 | 96.7% |
| 2017 | 102 | 98 | 96.1% |
| 2018 | 109 | 97 | 89% |
Last updated: June 2019