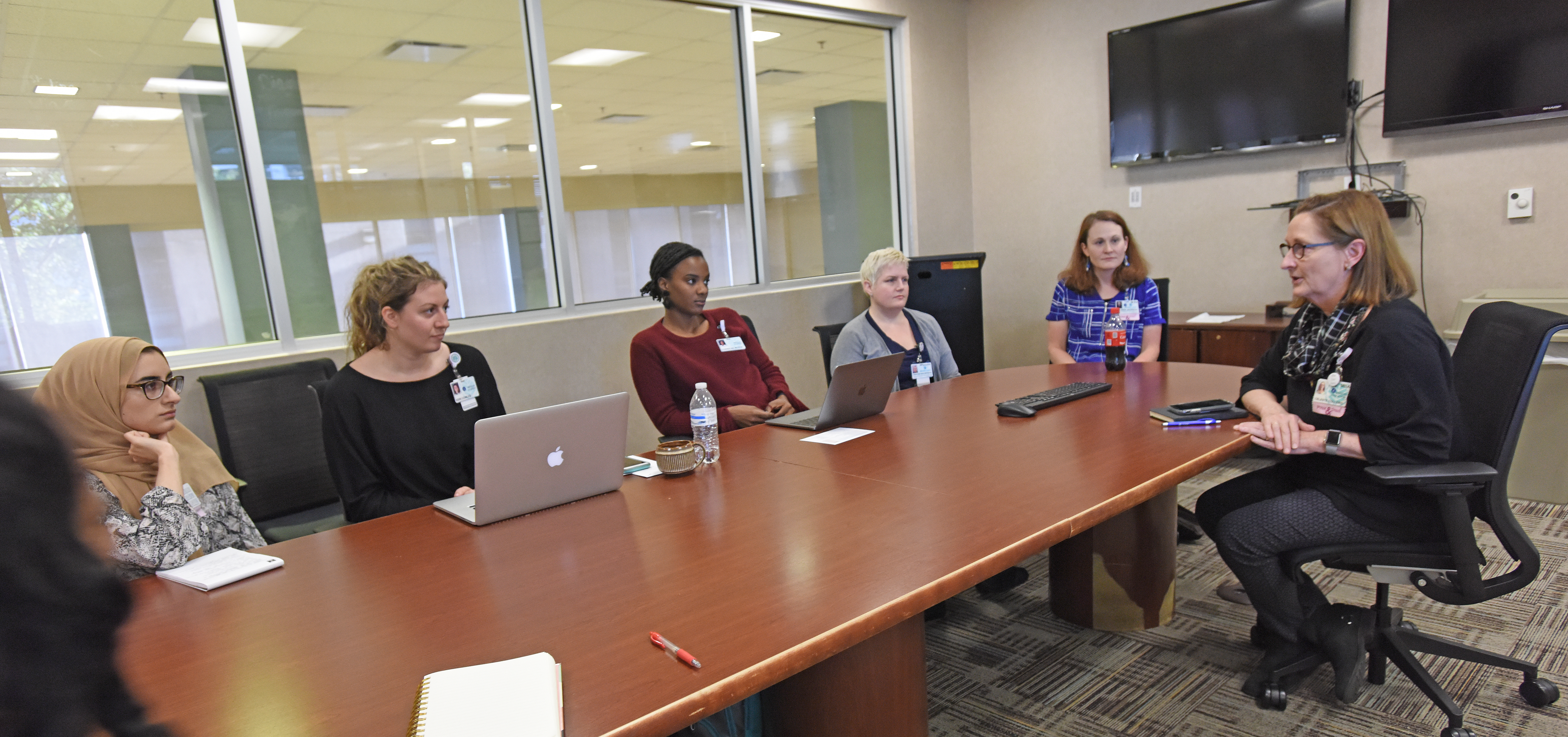 Carolinas College students Aminah Zoabi (far left) and Christina Kidd Burgess (third from right), take part in a debriefing following Pulse Weekend.
For a health sciences student, there's no substitute for getting real world, hands-on experience in world-class healthcare facilities. A group of Carolinas College of Health Sciences students took it a step further by immersing themselves in a weekend long event.
Called "Pulse Weekend," the program involves Carolinas College students spending three days paired with a medical student from UNC School of Medicine Charlotte Campus while they care for patients in Atrium Health facilities. The experience gives students a chance to learn from other health disciplines, but also gain new insights by following one patient through his or her health journey for an entire weekend.
The multi-disciplinary team of students follows an acutely ill medical or surgical patient along his or her healthcare journey beginning at the time of admission. Along the way, the students meet the patient's family and every member of the care team.
"What we are most impressed with is the new appreciation for the patient's journey – the highs and lows, the hits and misses and the bonds these learners have formed with 'their' patients," says Celeste Colcord, director of operations and finance at Atrium Health's Division of Medical Education.
For the Carolinas College students, it's also a chance to learn from and gain an appreciation for other disciplines in the medical field. This idea – interprofessional education (IPE) – is a growing and important trend in healthcare education. There is widespread belief that exposing healthcare students to IPE will prepare them to practice in an interdisciplinary environment when they enter the workforce. IPE programs give students a better understanding of the roles and perspectives of colleagues, and IPE also enhances their communication skills by breaking down barriers between professions. If interprofessional groups of students learn together, they are more likely to communicate better when they practice together in the future.
"The Pulse Weekend is interprofessional learning at its most basic and its finest," Colcord says. "It's a continuity and cross-functional view that working professionals rarely see."
After the weekend is over, the students and college faculty hold a debriefing to talk about lessons learned.
Carolinas College participant Aminah Zoabi, a Nursing student, says she gained valuable insights, especially while working with others in the emergency department at Atrium Health's Carolinas Medical Center.
"The experience really showed me how nurses, physicians and other caregivers prioritize their patient care tasks depending on the patient's condition," she says. "Considering the fast-paced nature of the ED, it becomes very important for the nurses and physicians to communicate all patient information to whoever is caring for the patient next, such as OR staff."
Christina Kidd Burgess, a Carolinas College Medical Laboratory Science student, says interacting with other medical professionals enhanced her learning experience.
"I benefit greatly by learning from people in other areas of healthcare," she says. "When we better understand their responsibilities and goals, we can better understand how our roles can both help and hinder. We can also better understand the demands they deal with in the fast- paced environment of healthcare and more effectively work together to build the team aspect to improve patient care."