When your patient is waiting on a heart transplant, heart pumps like the left ventricular assist device (LVAD) can be a literal lifesaver. But many doctors think of an LVAD as a major burden on their patient's quality of life. What you may not know is that the new generation of heart pumps are eliminating a lot of these issues.
In the past, patients couldn't return to many of their normal activates with an LVAD – but now, even exercise is no longer off limits. What's more, clothing can now easily conceal the external portion of the device.
More Options Than Ever
Today, a heart pump is just one of many options available to treat your patient's advanced heart failure.
The most advanced option remains the heart transplant. With over 30 years of expertise and top survival outcomes, Sanger Heart & Vascular Institute is a national leader in heart transplantation.
As a bridge to transplant, we offer not only the LVAD but also the total artificial heart – which we were first in the Carolinas to implant. And if a surgical intervention is needed, we offer implantable heart devices.
Early referral for advanced treatments like these can improve your patient's quality of life – and lead to more successful end-stage treatments like heart transplantation.
Does Your Patient Need Advanced Heart Failure Care?
Patients with any criteria below should be considered:
Systolic heart failure with refractory symptoms (NYHA Class III) despite optimal medical and device therapy (OMT)
Intolerance to heart failure medications or having to withdraw medications
One or more heart failure hospitalizations in six months
One or more of the following despite OMT:

Hyponatremia
Hypotension SBP <90mmHg
Azotemia BUN > 40 (excluding dehydration) or worsening renal function (thought to be secondary to HF)

Recurrent ICD shocks or refractory VT
Escalating diuretic requirement
Age 18-75 years old with no obvious life-limiting comorbidities
Your Referral Partner for Advanced Heart Failure
Top outcomes and deep expertise make us your leading referral choice for advanced heart failure.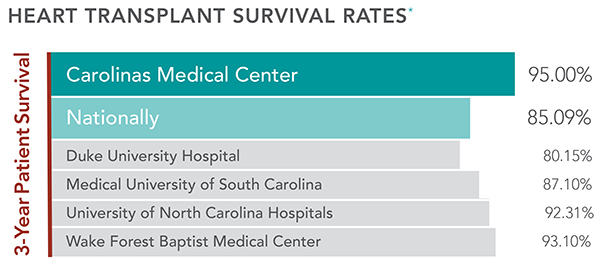 We're focused on providing seamless care that helps your patients feel better and get back to you for ongoing care. Referring your patient is easy – simply choose from the options below: