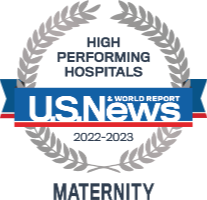 Deliver at a Best Hospital for Maternity Care
Our maternity patients deliver at Atrium Health University City, named a Best Hospital for Maternity Care by U.S. News & World Report
The board-certified obstetricians and gynecologists at Atrium Health Women's Care Eastover University OB/GYN provide expert women's care in the University area of Charlotte, NC. Our OB/GYN clinic is located off I-85 North, Exit 45A, at the intersection of East W.T. Harris Boulevard and North Tyron Street at University Place. For your convenience, we also see patients at our Prosperity Crossing location.
In addition to well-woman exams, routine screenings and the latest gynecologic treatments, we offer unmatched maternity support. In fact, our office is on the same campus as Atrium Health University City. In addition to being where our maternity patients deliver, it's recognized among the nation's best maternity hospitals for its safety and expertise.
Whether you're trying to stay healthy, navigating a gynecologic condition or hoping to grow your family, our team provides exceptional care at every stage of life. And if more specialized support is needed, we can seamlessly connect you to experts in gynecologic cancer, infertility and high-risk pregnancy.
No matter your health care needs, count on us to be there to help you feel your best.
Services Provided at Atrium Health Women's Care Eastover University OB/GYN
General Gynecologic Care
Well-woman preventive care
Adolescent gynecology and counseling
Pap smears and cervical cancer screening including HPV testing
HPV vaccinations
Preconceptive and contraceptive counseling
STD screening and treatment
Urinary incontinence treatment (bladder control problems)
Permanent birth control
Abdominal cramping
Treatment of endometriosis
Abnormal/heavy bleeding treatment
Treatment of ovarian cysts
Vaginal yeast infections
Treatment of heavy bleeding including endometrial ablation
Gynecologic Surgery
Laparoscopic surgery
Minimally invasive robotic surgery
Treatment of cervical dysplasia
Minimally-invasive gynecologic surgery
Pelvic prolapse
Single-incision laparoscopic surgery, including total laparoscopic hysterectomy
Minimally-invasive robotic surgery
Obstetric Care
Routine obstetric care
High-risk obstetrics
Prenatal care
Pregnancy and nutrition counseling
Labor and delivery care
Additional Services
Infertility evaluation and treatment
Premenstrual syndrome management
Menopausal care
Diagnostic ultrasound
Lab tests
Hormone testing
Patient Forms
Atrium Health Women's Care Eastover University OB/GYN provides new and existing patients the following forms for download to complete and bring to your appointment:
Release of Medical Records
School Forms
Distance: 7.66 miles
---
Wednesday
8:00 AM - 4:30 PM
Thursday
8:00 AM - 4:30 PM