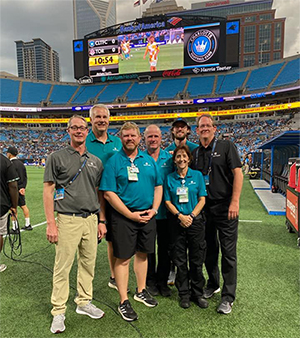 Atrium Health is proud to serve as the official health care provider for your child's school and athletics program. Our team doctors and athletic trainers provide leading care on and off the field to keep them healthy and in the game! Learn more.
In the U.S., eight million high school students participate in sports activities each year. As student-athletes strive to become faster and stronger, they may increase their risk of injury. From 2015 to 2019, more than 5.2 million injuries occurred among American high school athletes.
If you're the parent of a student-athlete, chances are your child may experience an injury at some point in their career. It's how sports medicine teams works to prevent and care for athletic injuries that makes a difference now and in the future.
At Atrium Health Musculoskeletal Institute, health and safety come first for the student-athletes we care for through our comprehensive sports medicine program, which includes physicians and certified athletic trainers. We do everything we can to keep student-athletes healthy and injury free so they can compete at their best and have a long, successful career. If an injury occurs, an athletic trainer you trust will be there to assist your child and connect them with the best doctor for their condition.
Atrium Health Musculoskeletal Institute is proud to serve more than 100 high schools throughout the Carolinas, offering one of the largest athletic training programs in the nation. Atrium Health is the official health care provider and team doctors for these schools and provides on-site athletic trainers at each school. In addition, we are the official health care provider, team doctors and sports nutritionists for many professional, collegiate and youth sports teams throughout the Carolinas, including the Carolina Panthers, Charlotte FC, Charlotte Knights, UNC Charlotte and Wake Forest University.
What Does an Athletic Trainer Do?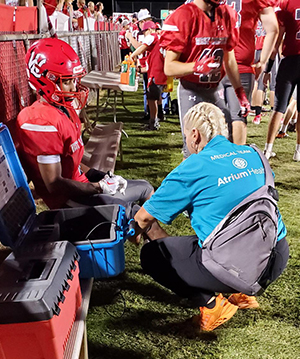 Athletic trainers at Atrium Health Musculoskeletal Institute specialize in preventing sports-related injuries, managing emergencies and providing rehabilitation for most injuries that may occur – large or small. They work with school administrators, coaching staff, school nurses, physical therapists, parents and student-athletes to provide expert medical care on or off the field.
"The athletic trainers are the first point of contact for the athletes from a medical perspective," says Jennifer Gardner, assistant vice president of outreach for Atrium Health Musculoskeletal Institute. "They work with the athletes to provide daily injury assessments, treatments and rehabilitation to facilitate a quicker return to play."
As nationally certified and state-licensed medical professionals, they hold advanced or graduate degrees in athletic training and receive extensive training through formal internships, fellowships and on-the-job training with mentors in their field. They work with fellowship-trained medical directors who oversee and guide the sports medicine care provided to student-athletes.
Our athletic trainers provide on-site support during all home games and matches, including daily team practices. This helps maintain a strong connection between the athlete, parents, coaching staff and the Atrium Health medical staff, who act as the eyes and ears on the field and respond to medical needs in real time.
As part of our sports medicine program, doctors from our leading sports medicine team are specifically assigned to each school. Beyond just injury-specific treatment, our doctors take the time to get to know each athlete as a person, considering their lifestyle and goals. They also consider how the rest of their body may be impacted by the injury or condition.
If student-athletes do become injured, they have access to Atrium Health's expert orthopedic and sports medicine care.
If physical therapy is needed, student-athletes also have access to our national award-winning physical therapy experts.
Resources for Quick, Convenient Care
We offer several resources to ensure your student-athlete can see our sports medicine experts quickly and conveniently. For example, we provide:
An on-site athletic trainer at their school and on the sidelines
Same-day clinical appointments for injuries
Saturday hours at select locations
Leading Sports Medicine and Orthopedic Care
When you need expert care, you can feel confident that you are in good hands. Atrium Health is home to the region's best and only nationally ranked orthopedic and rehabilitation care by U.S. News & World Report:
"I'm passionate about creating a safe environment that allows our student-athletes to compete and challenge themselves to their highest potential," says Dr. Eric Warren, medical director, Atrium Health Musculoskeletal Institute Sports Medicine Network. "It's impossible to do this without providing excellent medical care that is both preventive and rehabilitative. Our sports medicine physicians, surgeons and athletic trainers work to achieve this each and every day."