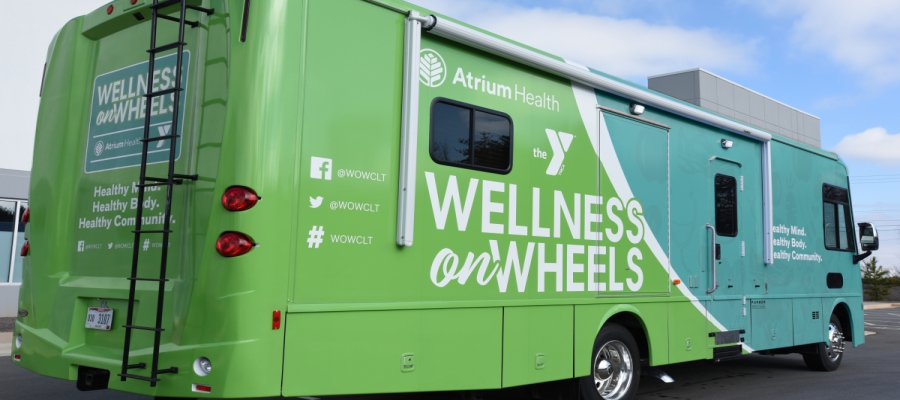 Atrium Health, YMCA of Greater Charlotte launch first-of-its-kind mobile health unit
01.17.2019
Atrium Health News
Wellness on Wheels mobile health unit will serve the greater Charlotte community to provide convenient access to care, nutrition education and lifestyle management programs.
CHARLOTTE, N.C., January 17, 2019 – Atrium Health and the YMCA of Greater Charlotte have come together to launch a new initiative to offer a combination of clinical-medical services and other wellness services.
Wellness on Wheels, a new mobile health unit serving the greater Charlotte area, will provide health education and health screenings, including blood pressure and diabetes tests, as well as nutrition education and lifestyle management to prevent high blood pressure, type 2 diabetes and other chronic diseases.
Chronic disease and obesity are critical issues in the community which is why Atrium Health and the Y have partnered to address the public health needs of individuals and communities. A physical manifestation of the organizations' joint commitment to better meet the needs of our community, Wellness on Wheels will provide individuals with their baseline health numbers so they can make better, more informed decisions about their health and healthcare.
"Our partnership with the YMCA of Greater Charlotte and the Wellness on Wheels mobile health unit is designed to provide community-centered health, connecting patients to a care team and wellness experts to meet their health needs," said Dr. Alisahah Cole, chief community impact officer at Atrium Health. "Together with our new mobile health unit we can eliminate barriers to achieving good health by meeting people where they are to provide intentional, more convenient access to care and education."
With the focus on blood pressure, heart disease and diabetes, the Y and Atrium Health are working together to reduce the number of individuals in our community who are at risk or are already experiencing the effects of chronic disease.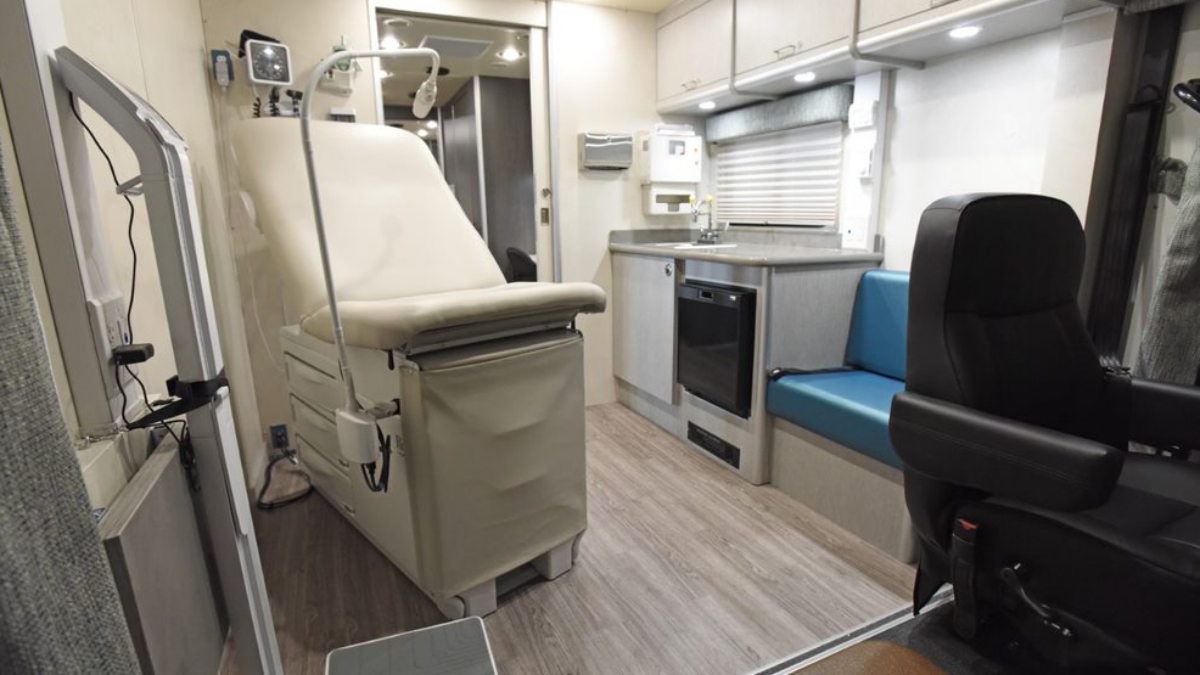 "The number of people in North Carolina with diabetes and high blood pressure is staggering and many do not even know they are at risk," said Sue Dissinger, executive director of healthy living at the YMCA of Greater Charlotte. "Studies show that simply tracking blood pressure can improve a person's health significantly. Knowledge is power and the YMCA and Atrium Health are empowering people to take control of their health and even their family's health."
Wellness on Wheels will officially launch at the McCrorey YMCA branch on Jan. 24 and the fourth Thursday of every month thereafter with services available from 10 a.m.-1 p.m. Wellness on Wheels schedule will expand to cover locations throughout greater Charlotte with initial locations in the West Boulevard area, Matthews, Steele Creek and Lincolnton. By the end of 2019, Wellness on Wheels will serve regularly at 16 sites on a monthly basis.
To complement the clinical presence at the newly-renovated Dowd YMCA, the Wellness on Wheels mobile unit will extend healthcare services to urban and rural communities where access is currently absent or difficult. The Y and Atrium Health's partnership has evolved to create health solutions that ensure each community has tailored programs that directly address its unique issues: preventing and managing chronic disease, improving behavioral health, improving access to care, reducing violence and eliminating health disparities.
For more information on Wellness on Wheels services offered and schedule details, visit the Wellness on Wheels' Facebook page, www.facebook.com/WOWCLT and follow @WOWCLT on Twitter.
About Atrium Health
Atrium Health, previously Carolinas HealthCare System, one of the nation's leading and most innovative healthcare organizations, provides a full spectrum of healthcare and wellness programs throughout the Southeast region. Its diverse network of care locations includes academic medical centers, hospitals, freestanding emergency departments, physician practices, surgical and rehabilitation centers, home health agencies, nursing homes and behavioral health centers, as well as hospice and palliative care services. Atrium Health works to enhance the overall health and well-being of its communities through high-quality patient care, education and research programs, and numerous collaborative partnerships and initiatives.
About the YMCA of Greater Charlotte
The Y is one of the nation's leading nonprofits, strengthening communities through youth development, healthy living and social responsibility. The YMCA of Greater Charlotte, comprised of 19 membership locations and two resident camps, engages approximately 274,000 men, women and children – regardless of age, income or background – to nurture the potential of children and teens, improve the nation's health and well-being, and provide opportunities to give back and support neighbors. Deeply rooted in the community since 1874, the YMCA of Greater Charlotte has the long-standing relationships and physical presence not just to promise, but to deliver, lasting personal and social change. For more information visit www.ymcacharlotte.org