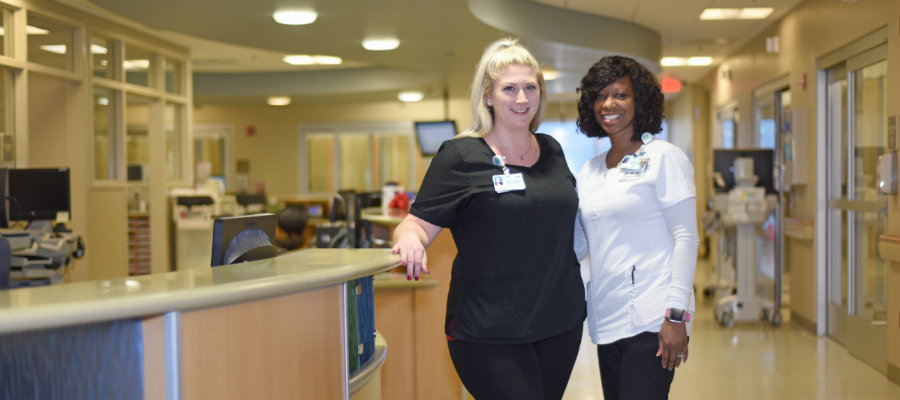 Atrium Health Invests more than $19 Million in over 15,000 Teammates
02.06.2019
Atrium Health News
Nursing and Nursing Support Staff Will Benefit Most from Pay Increase
CHARLOTTE, N.C., February 6, 2019 – Atrium Health is announcing a $19 million investment in compensation increases for over 15,000 teammates, primarily for nurses and those in nursing support roles across the system. Inpatient nurses will receive on average a five percent increase, and those in other eligible nursing support roles will receive between a two percent and five percent increase with a targeted implementation by the end of March 2019.

"Our Atrium Health nursing team represents some of the finest healthcare professionals in the country, and this increase is a demonstration of our continued commitment to those who provide exceptional care to our patients, families and communities every single day," says Maureen Swick, system nurse executive for Atrium Health. "This is just one of the ways we can show our front-line teammates how extremely thankful we are to them for living our mission to improve health, elevate hope and advance healing – for all."

This wage increase comes on the heels of several increases for Atrium Health teammates over the last year. In 2018, nearly all Atrium Health teammates received some form of performance-based incentive payment, wage increase, or market pay adjustment, totaling nearly $108 million dollars of additional income for our teammates. This includes a Charlotte area industry-leading minimum wage increase to $12.50 in June 2018, as well as a separate nursing wage increase in July 2018.

Atrium Health consistently reviews employee salary data from multiple sources to determine if pay rates are competitive within the market. Appropriate adjustments are then made to ensure Atrium Health remains competitive and well-positioned as the region's most comprehensive healthcare provider. Market adjustments like this are just one part of the holistic compensation packages offered by Atrium Health that also includes annual merit adjustments, performance incentives and other monetary awards.

"Each year we evaluate our compensation compared to other organizations in our region and nation, and this latest increase is another great example of how Atrium Health remains committed to providing a comprehensive compensation and benefits package for our extraordinary teammates," says Jim Dunn, system chief human resources officer for Atrium Health. "To attract, recruit and retain talented healthcare professionals and be the first and best choice for care, we know how important it is to maintain a comprehensive market-competitive compensation and benefits package."

Atrium Health nurse teammates also have career advancement opportunities through reinvigorated programs such as the Professional Nurse Career Advancement Program (PNCAP) and other specialty area programs. Both PNCAP and the additional nurse career programs offer between 5 percent and 10 percent compensation increases with advanced skill, education and experience.

As one of this region's largest employers, with more than 35,000 teammates in the Charlotte area, this latest increase not only supports Atrium Health employees, but also exemplifies Atrium Health's full commitment to improving economic growth and vibrancy in Charlotte and the surrounding region.
Read Maureen Swick's blog post on the Daily Dose about Atrium Health's nurses and the culture of compassion, caring and commitment that has been cultivated for nearly 80 years.
---
About Atrium Health
Atrium Health, previously Carolinas HealthCare System, one of the nation's leading and most innovative healthcare organizations, provides a full spectrum of healthcare and wellness programs throughout the Southeast region. Its diverse network of care locations includes academic medical centers, hospitals, freestanding emergency departments, physician practices, surgical and rehabilitation centers, home health agencies, nursing homes and behavioral health centers, as well as hospice and palliative care services. Atrium Health works to enhance the overall health and well-being of its communities through high-quality patient care, education and research programs, and numerous collaborative partnerships and initiatives.

###