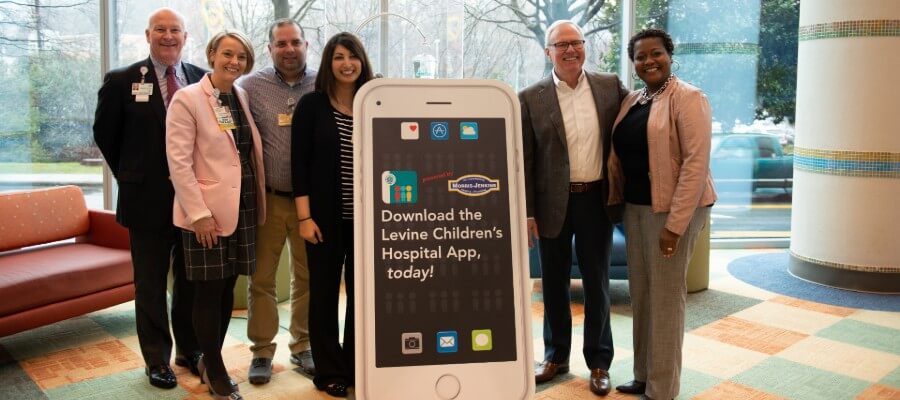 New App Launched for Atrium Health's Levine Children's Hospital
03.06.2019
Atrium Health News |
Levine Children's
Traversing a new hospital can often feel disorienting for patients and their families. On top of the medical concerns, parents of patients at Atrium Health's Levine Children's Hospital are trying to remember what to pack, where to park and how to get to the cafeteria.
But thanks to a generous gift from Morris-Jenkins, a Charlotte-area HVAC and plumbing company (owner Dewey Jenkins chairs the Atrium Health's Levine Children's Board of Ambassadors), families now have access to all this information and more on the all new Levine Children's mobile app. The app was launched in February 2019 at the hospital and is immediately available for both iOS and Android devices in the Apple and Google Play stores.
"On behalf of Levine Children's Hospital as well as the patients and families that we serve, I want to first and foremost thank Dewey Jenkins and the entire Morris Jenkins family for powering this app," said Callie Dobbins, vice president and facility executive of Atrium Health's Levine Children's Hospital, during the launch event. "We are so thankful for your ongoing commitment and dedication to the health of children in our community."
The app was created by Atrium Health's Information Services team, headed by Pam Landis, vice president of Information Services. The Goodwin Design Group helped collect and incorporate valuable feedback from the children's hospital's Family Advisory Council to create an invaluable tool and resource to patients, families and visitors.
"At Levine Children's Hospital, we pride ourselves on prioritizing the experience for patients and families and this new app does just that," Dobbins said.
The new app offers information on the following areas:
Registration and packing tips (for both children and adults)
Information on lodging for patients coming from out of town
When and where friends and family can visit
How parents can access their child's electronic medical records
Pet therapy and music therapy programs
Access to social workers
What events are happening at the hospital
How to gain access to the hospital's library, playrooms and garden
Interpreter services
Religious services and much more.
The app also provides entertainment, with games like Percy's Pounce and Bounce, featuring one of Morris-Jenkins iconic marketing characters. It also provides a connection to Atrium Health Directions, a mobile app with turn-by-turn directions to easily navigate Atrium Health's Carolinas Medical Center and Levine Children's Hospital.