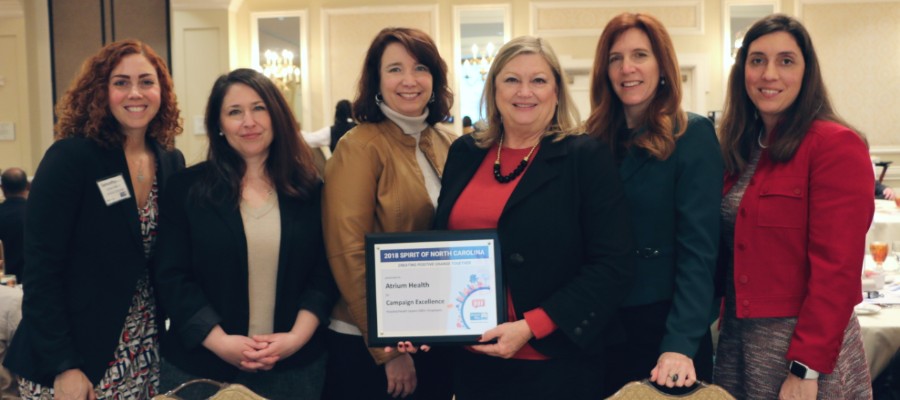 United Way Honors Atrium Health for Employee Giving Campaign
04.01.2019
Atrium Health News
Atrium Health was the only healthcare organization in North Carolina to have received a Spirit of North Carolina Award – among seven winners – from the United Way of North Carolina, in recognition of its annual teammate giving campaign.
"The Spirit of North Carolina Awards celebrate the collaborative partnerships United Way builds within our community," Laura Clark, President and CEO of United Way of Central Carolinas, said at the awards reception in February. "These companies lead by example through employee engagement and significant investment in our work to improve economic mobility and ensure everyone has the opportunity to reach their full potential."
Atrium Health Gives is the annual teammate giving campaign. Supported by leadership across the enterprise, the initiative aims to raise funds for our three partner agencies: United Way, Arts+Culture and Children's Miracle Network. Through the cultivation of enthusiastic, engaged teammates, the campaign has continually strengthened our culture of financial giving and volunteerism. Atrium Health's leadership understands and accepts the responsibility to promote programs and activities that support our most vulnerable community members. And support of these three partner organizations allows our teammates the opportunity to impact social, health and economic issues for all.
"Atrium Health is truly honored to receive the United Way's Spirit of North Carolina award," Lois Ingland, Vice President, Community Engagement and Corporate Responsibility at Atrium Health said."The United Way is a valued partner in supporting our mission to improve health, elevate hope and advance healing for all."
In 2018, Atrium Health teammates donated $3.6 million for our three partner agencies, benefiting 10 counties in the region. Of that total, United Way contributions accounted for $1,279,670.
The United Way Spirit of North Carolina award recognizes businesses and other organizations leading their communities in embracing a united spirit of giving and volunteering and that lead by example through collaboration with other community agencies working to improve social and economic mobility. Spirit of North Carolina Award winners were determined by a panel of 20 judges from United Way organizations across the state.
About Atrium Health
Atrium Health, previously Carolinas HealthCare System, one of the nation's leading and most innovative healthcare organizations, provides a full spectrum of healthcare and wellness programs throughout the Southeast region. Its diverse network of care locations includes academic medical centers, hospitals, freestanding emergency departments, physician practices, surgical and rehabilitation centers, home health agencies, nursing homes and behavioral health centers, as well as hospice and palliative care services. Atrium Health works to enhance the overall health and well-being of its communities through high-quality patient care, education and research programs, and numerous collaborative partnerships and initiatives.