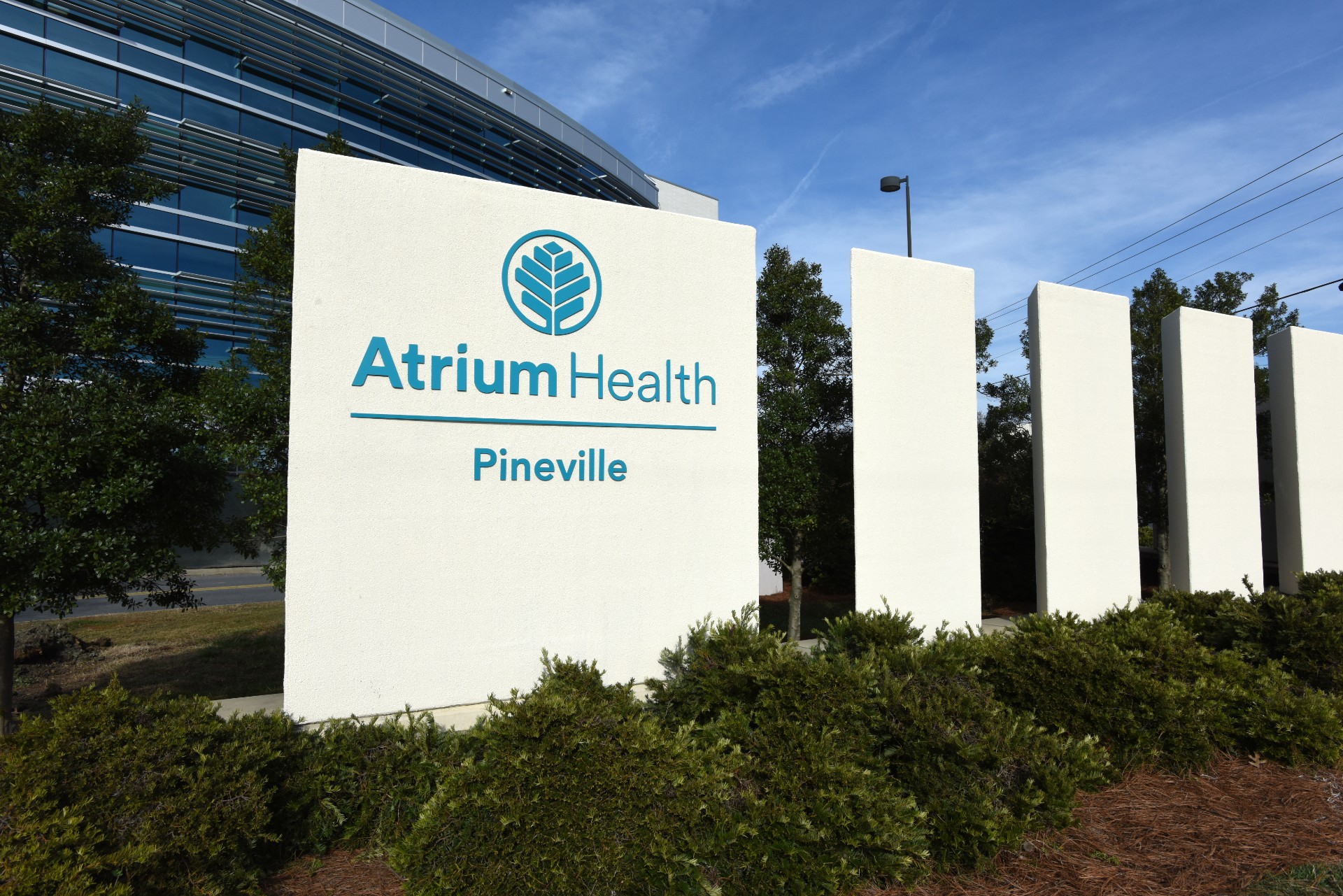 Atrium Health Pineville Celebrates National Cardiovascular Ranking
05.03.2019
Atrium Health News |
Heart Health |
Sanger Heart & Vascular Institute
CHARLOTTE, N.C., May 3, 2019– Atrium Health Pineville's Sanger Heart & Vascular Institute teams gathered Thursday to celebrate a national honor – being ranked as one of the nation's top 50 cardiovascular hospitals. Atrium Health Pineville, formerly Carolinas HealthCare System Pineville, has been named one of the nation's 50 Top Cardiovascular Hospitals by IBM Watson HealthTM.
"This national recognition showcases our commitment to delivering world-class cardiovascular care locally," said Chris Hummer, president of Atrium Health Pineville. "With a growing population, we understand the importance of offering personalized, expert care close to home and are honored to be recognized."
This is the second time that Atrium Health's cardiovascular teams have been recognized with this honor, which is obtained through objective research. The Watson Health 50 Top Cardiovascular Hospitals™ study is now in its 20th year.
For decades, patients have had access to a world-class network of heart experts through Atrium Health's Sanger Heart & Vascular Institute locations. With more than 175 providers and over 20 care locations, Sanger's nationally and internationally recognized experts provide patients with the most comprehensive care, ranging from general cardiology to the highest surgical complexity.
"At Atrium Health Pineville, we offer the most advanced techniques in cardiovascular care and do so with exceptional outcomes. Whether in need of a complex vascular or coronary or arrhythmia intervention, a minimally invasive option for heart surgery, complex heart failure care or access to a national clinical trial — all are readily available to our patients," said Geoffrey Rose, MD, president of Sanger Heart & Vascular Institute. "Access to the highest quality care should not be determined by where you live; care should be accessible as close to home as possible. This national recognition affirms that we are delivering on this, given the scope and quality of the cardiovascular care we are providing to those in greater Pineville region."
As one of the nation's 50 Top Cardiovascular Hospitals, Sanger achieved lower readmission rates, shorter length of stay for patients and fewer complications.
According to the Centers for Disease Control, cardiovascular disease is among the most widespread and costliest diseases in the U.S. with an annual price tag of roughly $317 billion and accounts for approximately $1 out of every $6 spent on healthcare in the country.i
"The winning hospitals in our study have established the new benchmark for cardiac care performance by driving consistently better outcomes at a lower cost per case than non-winning hospitals," said Ekta Punwani, 100 Top Hospitals® program leader at IBM Watson Health.
The Watson Health 50 Top Cardiovascular Hospitals study uses 2016 and 2017 Medicare Provider Analysis and Review (MedPAR) data, 2017 Medicare cost reports (2016 if 2017 reports were not available) and Centers for Medicare & Medicaid Services (CMS) Hospital Compare published in the second quarter of 2018. Hospitals were scored in key value-based performance areas: risk-adjusted mortality, risk-adjusted complications, percentage of coronary bypass patients with internal mammary artery use, 30-day mortality rates, 30-day readmission rates, severity-adjusted average length of stay, wage- and severity-adjusted average cost per case and CMS 30-day episode payment measures.
For more information, visit www.100tophospitals.com.
About Atrium Health
Atrium Health, previously Carolinas HealthCare System, one of the nation's leading and most innovative healthcare organizations, provides a full spectrum of healthcare and wellness programs throughout the Southeast region. Its diverse network of care locations includes academic medical centers, hospitals, freestanding emergency departments, physician practices, surgical and rehabilitation centers, home health agencies, nursing homes and behavioral health centers, as well as hospice and palliative care services. Atrium Health works to enhance the overall health and well-being of its communities through high-quality patient care, education and research programs, and numerous collaborative partnerships and initiatives.
About the IBM Watson Health 100 Top Hospitals® Program
The IBM Watson Health 100 Top Hospitals, formerly the Truven Health Analytics® 100 Top Hospitals, program uses independent, objective research to analyze hospital and health system performance. Organizations do not apply or pay for this honor or pay to promote their award for top performance. Award-winning hospitals and health systems prove that better care is possible and provide an example for other organizations to follow across the industry. The 100 Top Hospitals award winners demonstrate top performance on both how patients are cared for under clinical measures and how the hospital performs as an efficient business. 100 Top Hospitals is a registered trademark of IBM. Visit 100tophospitals.com for more information.
About IBM Watson Health
IBM Watson Health is dedicated to the development and implementation of cognitive and data-driven technologies to advance health. Watson Health technologies are tackling a wide range of the world's biggest healthcare challenges including cancer, diabetes, drug discovery and more. Learn more at ibm.com/watson/health.