Atrium Health Welcomes New Chief Information and Analytics Officer
07.11.2019
Atrium Health News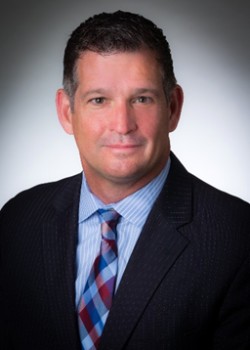 CHARLOTTE, N.C., July 11, 2019 – Today, following an extensive national search, Atrium Health announces Andy Crowder as its new senior vice president and chief information and analytics officer. Crowder will begin his position with Atrium Health on July 15.
"We are thrilled to have Andy join the Atrium Health family," said Anthony DeFurio, executive vice president and chief financial officer of Atrium Health. "As information and analytics play an increasingly vital role in caring for our patients, we are fortunate to have an innovative and forward-thinking leader like Andy join us to advance our mission."
An industry veteran and well-respected thought leader, Crowder most recently served as the corporate senior vice president and chief information officer for Scripps Health, a nonprofit healthcare system based in San Diego, California. At Scripps Health, Crowder focused on enhancing the utilization of advanced analytics to improve care delivery and enabling virtual care services to improve customer access and convenience.
Prior to joining Scripps Health, Crowder served as the senior vice president and chief information officer for Maine Health, the largest healthcare organization in Maine and a leading healthcare provider serving northern New Hampshire. Maine Health is recognized as one of the nation's top integrated healthcare delivery networks.
Formerly, Crowder served as senior vice president and chief information officer for Florida Hospital, one of America's largest hospitals, where he led the enterprise deployment of Cerner in the acute and ambulatory settings. In addition to overseeing information technology and enterprise analytics, he oversaw performance improvement and shared services functions including biomedical, facilities, construction, environmental and nutritional services. Before serving as the senior vice president and chief information officer, Andy held the position of vice president and chief technology officer for several years.
"I am looking forward to joining Atrium Health, which is known for being one of the most innovative healthcare organizations in the nation," said Crowder. "It's a great time to be part the transformation that is taking place in healthcare, with an increased desire and need for patient-centered IT and analytics solutions. I am excited to roll up my sleeves and work side-by-side with a very talented technology and analytics team as we further the Atrium Health mission of improving health, elevating hope and advancing healing – for all."
In addition to his wide-ranging experience within healthcare, Crowder served as the chief information officer for Central Florida Investment and Westgate Resorts. He also served in various engineering roles with IBM, ranging from classified Department of Defense projects, product support and presales technical engineering.
He received his Bachelor of Science in Information Technology from Kaplan University and is currently pursuing his Masters in Executive Leadership with Purdue University. Additionally, he is a CHIME certified chief information officer.
About Atrium Health
Atrium Health, previously Carolinas HealthCare System, one of the nation's leading and most innovative healthcare organizations, provides a full spectrum of healthcare and wellness programs throughout the Southeast region. Its diverse network of care locations includes academic medical centers, hospitals, freestanding emergency departments, physician practices, surgical and rehabilitation centers, home health agencies, nursing homes and behavioral health centers, as well as hospice and palliative care services. Atrium Health works to enhance the overall health and well-being of its communities through high-quality patient care, education and research programs, and numerous collaborative partnerships and initiatives.
###