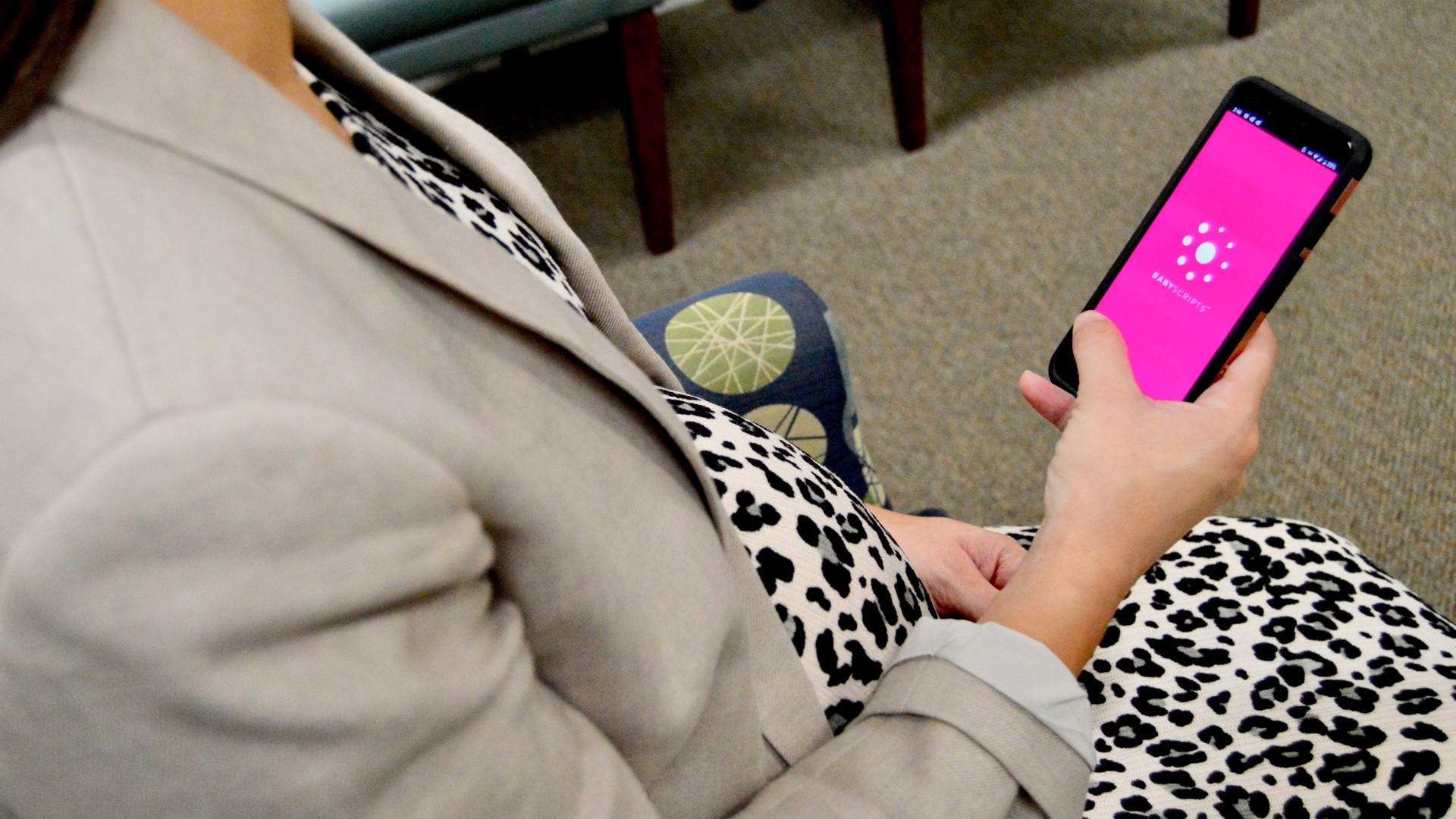 Babyscripts Teams Up with Atrium Health
07.09.2019
Atrium Health News |
Women's Health
App to Provide Atrium Health Patients Access to Top Remote Pregnancy Care
CHARLOTTE, N.C. July 9, 2019 – Babyscripts, the leading virtual care platform for managing obstetrics, announced today that they are teaming up with Atrium Health, one of the nation's most highly integrated not-for-profit healthcare systems based in Charlotte, N.C. The collaboration provides pregnant patients who receive care at Atrium Health access to the Babyscripts app during the entirety of their prenatal journey and beyond.
The Babyscripts mobile app provides access to education on pregnancy, content about baby development, maternity classes, as well as navigation related to Atrium Health practices and hospitals. Atrium Health patients will be able to use the Babyscripts' app to stay connected to their care team and be informed about their pregnancy, providing additional flexibility and transparency between moms and clinical teams. The Babyscripts app also delivers evidence-based guidelines approved by the patient's obstetrician in the form of daily nutritional, medical and lifestyle action items. It is available in English and Spanish.
"Atrium Health has a culture and leadership that fosters innovation," said Greg Silvey, Executive Vice President at Babyscripts, "It's tremendously exciting to see such an innovative healthcare system embracing our digital solutions. Their collaboration with us is a huge validation of our vision for precision pregnancy care."
"Our goal at Atrium Health is to provide our patients with the best care when and where they need it," said Suzanna Fox, MD, Senior Medical Director, Women's Service Line and Deputy Chief Physician Executive at Atrium Health. "By providing mothers-to-be with additional resources it furthers our commitment to provide access to care in a way that is most convenient for them."
Babyscripts has spent the last four years building a clinically-validated, virtual care platform to allow OB/GYNs to deliver an extended model of prenatal care.
About Babyscripts
Babyscripts is a new model for prenatal and postpartum care that is transforming the way expectant mothers use technology to work with their OBGYN practice. It's the first mobile, clinical solution to provide remote monitoring of an obstetrician's patient population while directly improving patient satisfaction.
About Atrium Health
Atrium Health, previously Carolinas HealthCare System, is one of the nation's leading and most innovative healthcare organizations with 50 hospitals and more than 900 care locations, providing a full spectrum of healthcare and wellness programs throughout the Southeast region. Its diverse network of care locations includes academic medical centers, hospitals, freestanding emergency departments, physician practices, surgical and rehabilitation centers, home health agencies, nursing homes and behavioral health centers, as well as hospice and palliative care services. Atrium Health works to enhance the overall health and well-being of its communities through high-quality patient care, education and research programs, and numerous collaborative partnerships and initiatives. To learn more, visit atriumhealth.org.
###