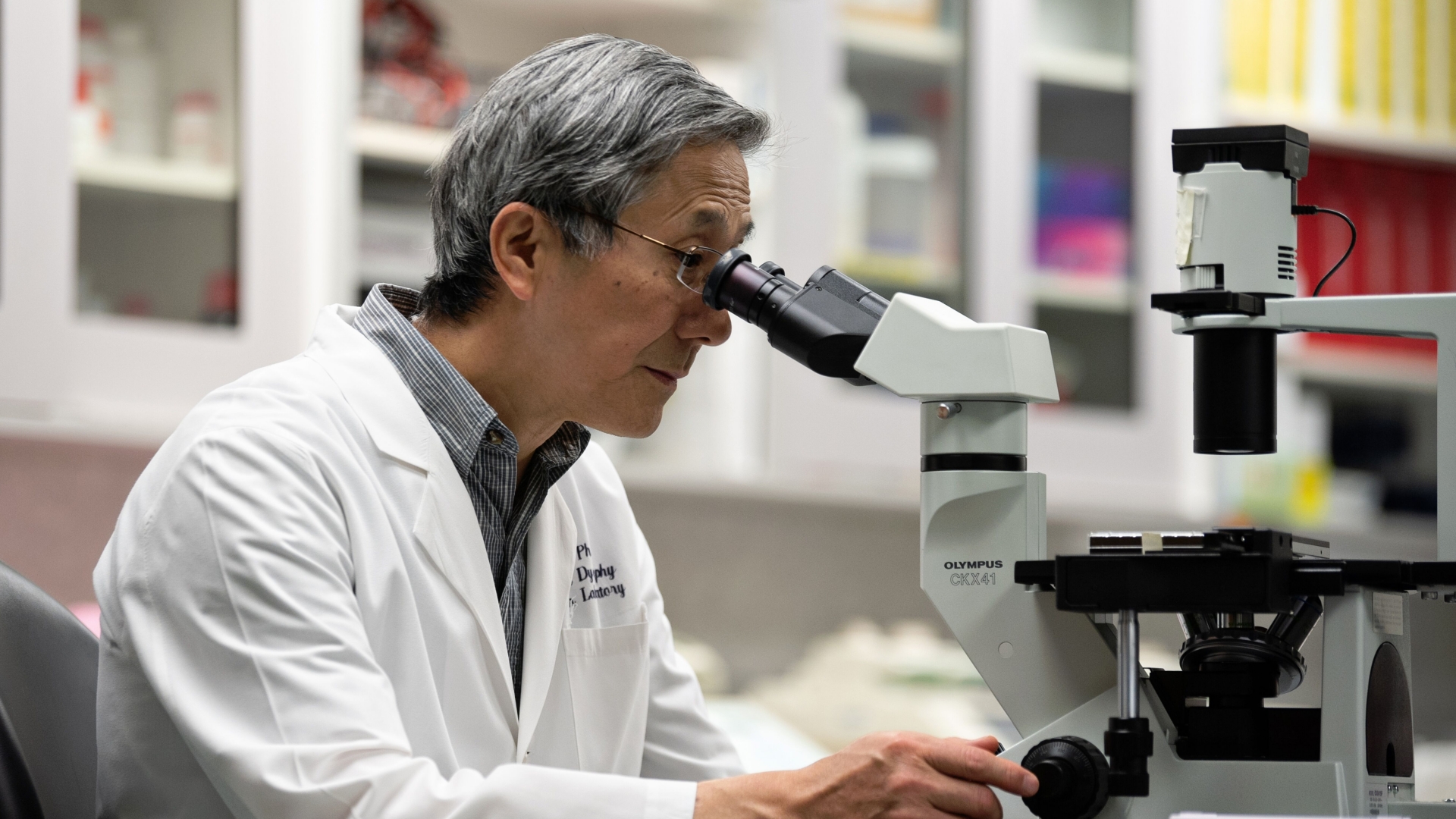 Atrium Health Joins Forces to Advance Ground-Breaking Muscular Dystrophy Treatment
09.26.2019
Atrium Health News
[Photo Courtesy of Piper Warlick Photography]
A new therapy that could change the face of Muscular Dystrophy treatment has been discovered in Charlotte. This new therapy, developed at the McColl-Lockwood Laboratory for Muscular Dystrophy Research at Atrium Health was created for the treatment of Limb-Girdle Muscular Dystrophy Type 2i (LGMD2i), and provides a novel approach that targets the disease at its source. Limb Girdle Muscular Dystrophy Type 2i, is one of the rarest forms of this progressive disease. Generally diagnosed in adolescents between 10-20 years old, LGMD2i produces a slow-progressing muscle weakness that leads to loss of mobility and ultimately cardiac and respiratory failure. Currently, there are no approved treatments – and no cure.
But now there is hope. This new therapy, BBP-418 could be game changing. Based on the science, researchers anticipate that BBP-418 treatment could reduce LGMD2i symptoms by at least 50%, dramatically changing quality of life for those living with the disease.
"For years, our dedicated team of researchers and scientists have worked day-in and day-out, making steady progress towards unlocking some of the keys to muscular dystrophy treatment," says Dr. Qi Long Lu, director of the McColl-Lockwood Laboratory for Muscular Dystrophy Research. "With this new development, we've taken a giant leap forward."
LGMD2i is caused by a mutation in the FKRP gene. This mutation prevents a natural process where sugar molecules combine with a specific protein in cell membranes to protect muscles. Without the sugar molecule, muscles are left unprotected from mechanical damage and degeneration. When introduced, BBP-418 transforms and compensates for the missing sugar component.
Results from a preclinical study in a mouse model of severe LGMD2i showed that BBP-418 can be absorbed by skeletal and cardiac muscles, which are most affected in this disease. In studies, researchers saw improvements in respiratory function, muscle mass and physical activity. The investigational compound could also raise the levels of both CDP-ribitol and ribitol-5-phosphate, which are two critical components for sugar modification with mutated FKRP.
By the end of the year, a natural history study to identify clinical outcome goals for LGMD2i patients being treated with BBP-418 is expected to commence. Once that study is complete, clinical trials can begin, following authorization from the U.S. Food and Drug Administration.
Amazing things happen when love meets science
While BBP-418 has the potential to dramatically impact people across the globe living with this disease, the quest to get to this discovery was personal. When Jane B. Lockwood was diagnosed with LGMD2i as a child, her parents Luther and Jane McColl Lockwood immediately began a search for the very best medical teams in the nation. What they found, was that their best options were at Atrium Health, right in their own back yard in Charlotte, N.C. "After taking Jane [B. Lockwood] to see the world's leading authority on LGMD we realized that we were receiving a very high quality of care at Atrium Health, so there was no reason to go elsewhere," said Luther Lockwood. "The high quality of care gave our family the confidence to start funding research at Atrium Health." As a result, Jane B. Lockwoods's grandfather, Charlotte businessman Hugh L. McColl Jr. collaborated with Atrium Health to start the McColl-Lockwood Laboratory for Muscular Dystrophy Research.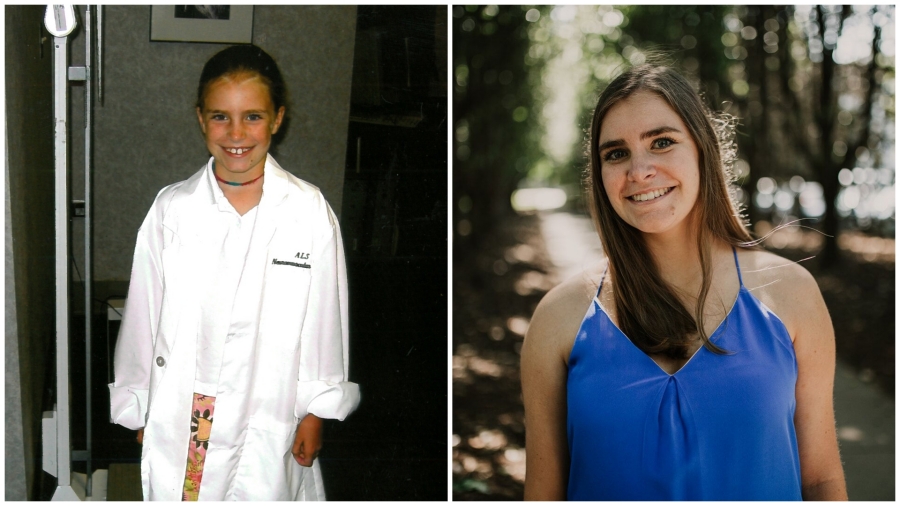 "I am so grateful to everyone who has dedicated their lives to this disease," says Jane B. Lockwood. "If it weren't for Scott Holsten, PT and the other hardworking people in the neurology department at Atrium Health, I would be nowhere near as ambulatory and independent as I am today."
Now, because of the 17-year relationship between Atrium Health and McColl-Lockwood Laboratory for Muscular Dystrophy Research, Dr. Lu's clinical and research expertise, and the unrelenting love of the McColl and Lockwood family for their daughter and children like her -- the next step in scientific discoveries in muscular dystrophy therapies are seemingly closer than they have ever been before.
Formula for the Future
On the heels of the discovery of BBP-418, ML Bio Solutions, a startup company dedicated to advancing this discovery was founded. Harnessing the scientific expertise from the McColl-Lockwood Laboratory for Muscular Dystrophy Research at Atrium Health with the advancement experience of BridgeBio Pharma, the work now lies in accelerating the research into an approved treatment. "This collaboration and partnership is a perfect example of how innovation, coupled with a commitment to saving and enhancing lives, can change the course of history," said Dr. Rasu Shrestha, chief strategy officer at Atrium Health. "Our goal at Atrium Health is being nimble enough to extend our mission in new and unexpected ways in order to have the most impact possible. This includes new ways of finding novel cures and treatments for disease."
Luther Lockwood, chairman of ML Bio Solutions – and most importantly, Jane B. Lockwood's dad, agrees. "By combining the scientific leadership of the McColl-Lockwood Laboratory with the rare disease development expertise at BridgeBio, we believe we can accelerate the path to making a safe and effective disease-modifying treatment available to LGMD2i patients as soon as possible."