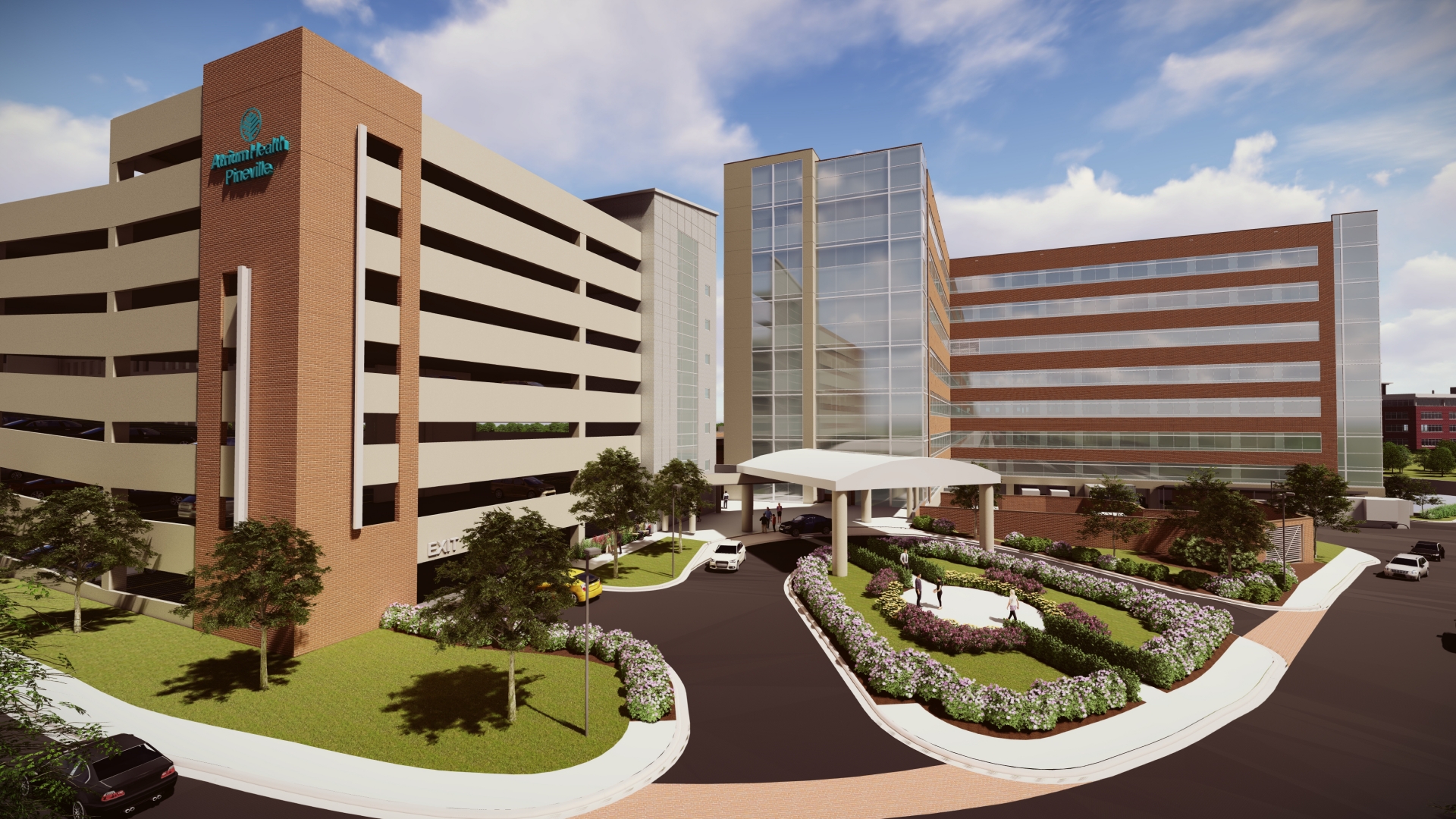 Atrium Health Pineville Breaks Ground on New Patient Tower
01.28.2020
Atrium Health News
Pineville, N.C., January 27, 2020 – In order to enhance high quality, convenient access to care for the residents of North and South Carolina, Atrium Health has broken ground on a new patient tower at its hospital in Pineville.
The new tower at Atrium Health Pineville will add 38 additional patient beds to overall bed capacity in Mecklenburg County as well as house additional patient beds being relocated from the current facility. Other floors of the 236,000 square feet structure will serve as future expansion space. The facility is expected to be completed in late 2021.
The new patient tower is part of Atrium Health's ongoing effort to meet the need for exceptional health care close to home as metro Charlotte and the surrounding communities continue to grow rapidly. In addition to the new patient tower, within the past year Atrium Health Pineville as added acute care services such as an additional MRI (magnetic resonance imaging) machine, maternal fetal medicine, an epilepsy monitoring unit, a 12-bed observation unit and cardiothoracic robotic surgery.
"Atrium Health Pineville has provided outstanding medical services for decades, but the tremendous growth in this community has created the need for expanded services here and throughout the region," said Ken Haynes, president of the Greater Charlotte Region for Atrium Health. "All of our efforts are driven by a commitment to our mission: to improve health, elevate hope and advance healing…for all."
Atrium Health Pineville now has an occupancy rate that exceeds 90 percent, the second highest rate in Mecklenburg County and exceeded only by Atrium Health's Carolina's Medical Center in Charlotte. In addition, Atrium Health Pineville has been recognized among IBM Watson's Top 50 top cardiovascular hospitals.
"We have evolved from a small community hospital known as Mercy South to the world-class hospital providing leading edge treatment you see today," said Alicia Campbell, facility executive and vice president of Atrium Health Pineville. "We continue to grow in size and complexity to better serve our community and provide access to extraordinary inpatient and outpatient care."
Atrium Health is committed to providing the highest quality care, comprehensive services and convenient access to all its patients, including those in Mecklenburg, Lancaster and York counties.
Atrium Health, previously Carolinas HealthCare System, one of the nation's leading and most innovative healthcare organizations, provides a full spectrum of healthcare and wellness programs throughout North and South Carolina. Its diverse network of care locations includes academic medical centers, hospitals, freestanding emergency departments, physician practices, surgical and rehabilitation centers, home health agencies, nursing homes and behavioral health centers, as well as hospice and palliative care services. Atrium Health works to enhance the overall health and wellbeing of its communities through high quality patient care, education and research programs, and numerous collaborative partnerships and initiatives. http://atriumhealth.org