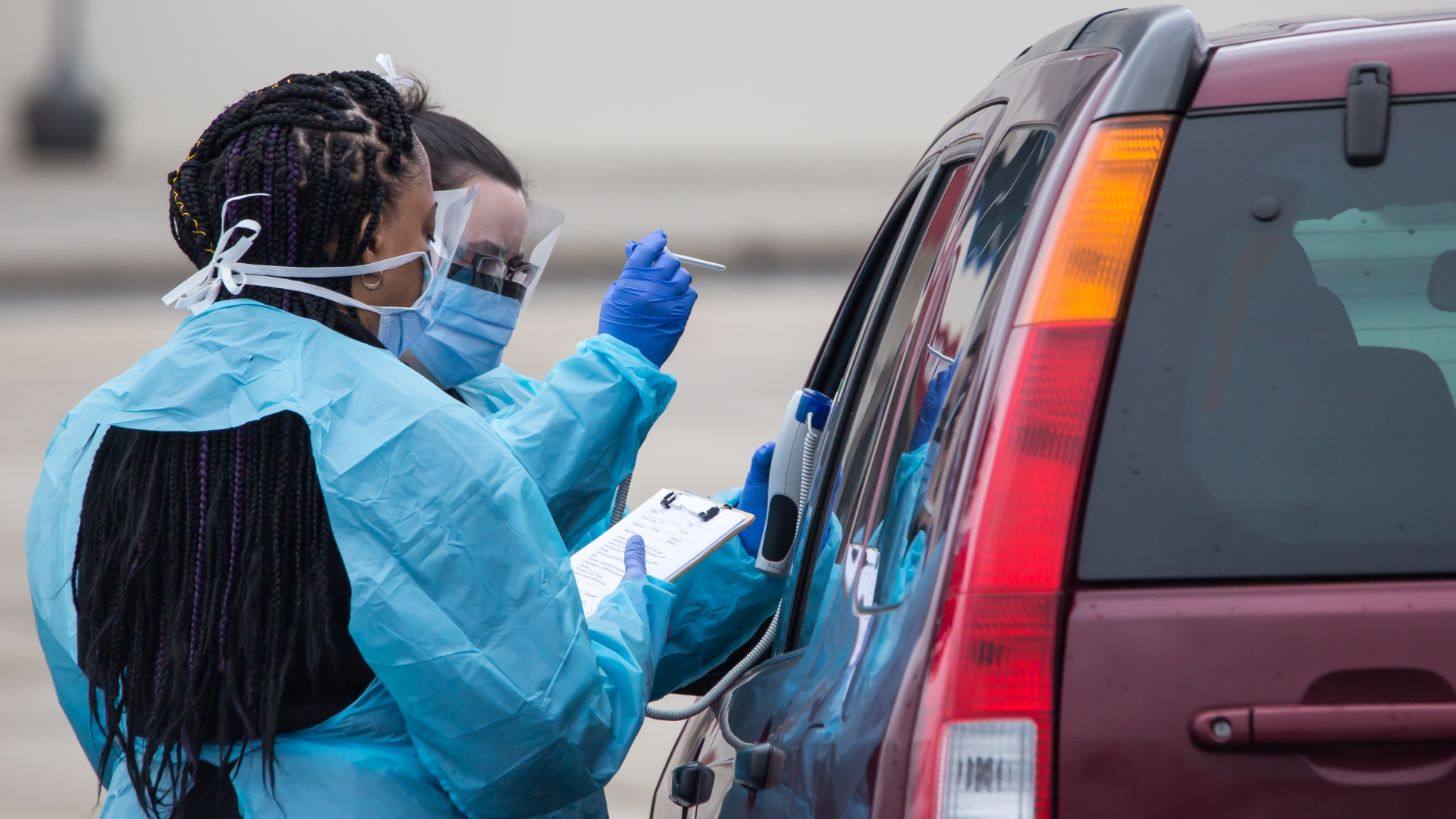 Charlotte Motor Speedway Becomes Pit Stop for Atrium Health Coronavirus Testing
03.24.2020
Atrium Health News
CHARLOTTE, N.C., March 24, 2020 – For more than 60 years, Charlotte Motor Speedway has been a place for "firsts." Today, in yet another first, the speedway has become the first professional sports venue in the country to serve the community as a remote testing site during the ongoing coronavirus disease 2019 (COVID-19) pandemic.
In partnership with the speedway, Atrium Health has created a Coronavirus Testing Center at zMAX Dragway, part of the Charlotte Motor Speedway complex. The remote testing site provides a convenient location for residents of northern Mecklenburg and Cabarrus Counties to have their tests performed when ordered by their physician. Atrium Health has several additional sites throughout the Charlotte region, each in locations designed to provide a secure, private environment for patients to be tested.
Testing for COVID-19 is conducted without patients having to get out of their cars, which reduces the possibility of infecting other patients and healthcare workers. Healthcare providers will make appointments and direct patients to designated testing centers where medical professionals will approach the patients at their cars. These tests involve obtaining swabbed samples, which are then tested at Atrium Health's in-house lab, and patients are typically notified of the results in approximately 24 hours. Atrium Health can test approximately 1,000 samples each day and is one of the only health systems in the nation to have this capability.
"Having these types of remote locations, away from a hospital or other care locations, yet convenient for people in need of testing, is essential to helping contain the spread of the coronavirus," said Jim Hunter, MD, senior vice president and chief medical officer, Atrium Health. "It's important to note that patients still need to meet the established criteria for testing by a healthcare provider, which will keep other patients and healthcare workers safe, as well as protect our testing supplies. We deeply appreciate this partnership opportunity with Charlotte Motor Speedway to make a significant impact on the health of our community."
"At Charlotte Motor Speedway, we work for the fans, salute our military and serve our community," said Greg Walter, Charlotte Motor Speedway executive vice president and general manager. "During these unprecedented times, we want to support our neighbors and the region with what we can do to keep people healthy. Atrium Health has been a longtime partner of ours and we're happy to work with them to provide a well-known, accessible and safe place to host this remote testing site for as long as there is a need."
Atrium Health continues to work to keep the communities it serves safe and informed. The latest information including prevention tips, frequently asked questions and care options are found at www.AtriumHealth.org/Coronavirus:
• COVID-19 Risk Assessment: Answer a few quick questions using a new automated and interactive digital COVID-19 assessment tool to get immediate recommendations on next steps in care.
• Atrium Health Line (704-468-8888): Talk live with an Atrium Health healthcare professional to answer questions, 24 hours, 7 days a week.
• Symptom Checker Chart: Is it COVID-19, the flu, a cold, or seasonal allergies? Click here to help distinguish between typical symptoms of each.
• Virtual Visits: Secure, face-to-face video chat with a trusted healthcare provider from the comfort of home for a reduced cost of $25.
• eVisits: Care through a secure message for minor illnesses like flu or cold for a reduced cost of $10.
---
About Atrium Health
Atrium Health is a nationally recognized leader in shaping health outcomes through innovative research, education and compassionate patient care. Headquartered in Charlotte, North Carolina, Atrium Health is an integrated network not-for- profit healthcare system with over 70,000 teammates at nearly 40 hospitals and more than 900 care locations. With locations throughout the Carolinas as well as Georgia, Atrium Health is a leading-edge innovator in virtual care and mobile medicine. It provides top-ranked pediatric, cancer and heart care to patients, as well as specialized musculoskeletal programs and organ transplants. Ranked among U.S. News & World Report's Best Hospitals in seven different specialties, it has also received the American Hospital Association's Quest for Quality Prize, and the only healthcare system to receive the 2020 CMS Health Equity Award. Its flagship hospital, Atrium Health's Carolinas Medical Center, is the region's only Level I trauma center and is consistently rated among the nation's best. With a commitment to every community it serves, Atrium Health seeks to improve health, elevate hope and advance healing – for all. Last year alone, Atrium Health provided more than $2.07 billion in free an uncompensated care and other community benefits.
About Charlotte Motor Speedway
Celebrating its 60th anniversary season, Charlotte Motor Speedway has set the standard in motorsports entertainment for fans of all ages. Known as America's Home for Racing, Charlotte Motor Speedway is the only race vacation destination where fans can immerse themselves in the heart of NASCAR country. Visitors can attend one-of-a-kind race spectacles including the NASCAR All-Star Race, Coca-Cola 600 and Bank of America ROVALTM 400; take behind-the-scenes speedway and race shop tours; explore the NASCAR Hall of Fame and drive an 800-horsepower stock car. The 1,000 plus acre speedway complex also includes state-of-the-art facilities zMAX Dragway and The Dirt Track at Charlotte. Through every event and every decade, Charlotte Motor Speedway puts FANS FIRST with a never-ending commitment to enhance the fan experience. That tradition continues with unmatched value through affordable tickets, unparalleled pre-race entertainment and opportunities for fans to see their favorite drivers. For all the latest news and information, visit www.charlottemotorspeedway.com, follow on Twitter, Facebook and Instagram or download the Charlotte Motor Speedway mobile app.