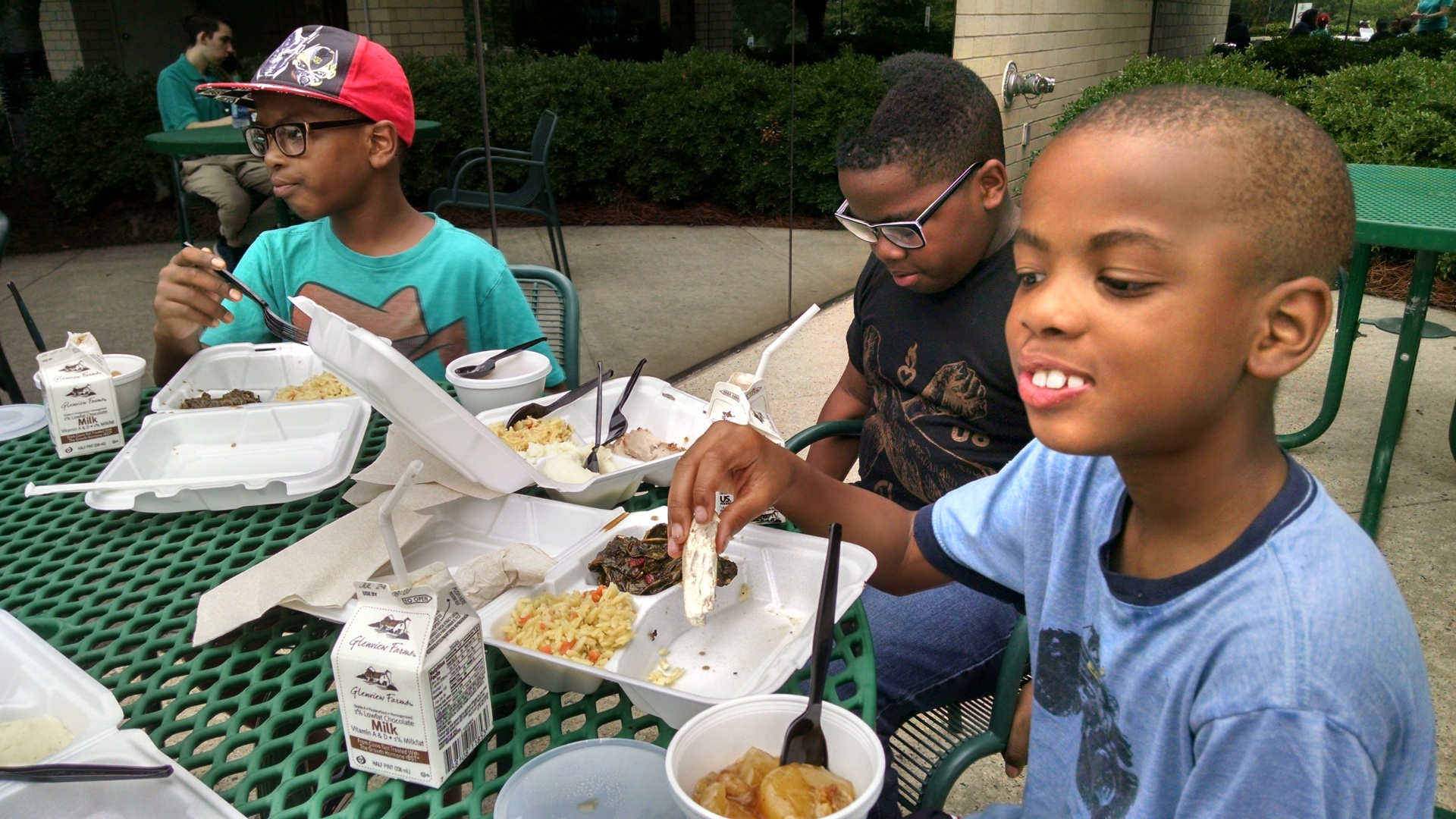 Atrium Health Launches Community-Based Summer Food Programs to Address Food Insecurity
06.11.2020
Atrium Health News
CHARLOTTE, N.C., June 11, 2020 – Twenty percent of children in North Carolina struggle with hunger. As part of Atrium Health's commitment to addressing food insecurity throughout the Charlotte region, Atrium Health is now offering summer nutrition programs across Mecklenburg, Union and Lincoln counties.
Atrium Health is participating in the North Carolina Summer Food Service Program by hosting "Kids Eat Free" programs at Atrium Health University City and Atrium Health Union to provide free meals to children throughout the summer. Atrium Health Lincoln is also providing free, wholesome meals to children across Lincoln County through the Atrium Health Summer Food Bus, a new initiative launched on June 1.
During the school year, many students rely on nutritious meals served through the School Breakfast Program, National School Lunch Program and Afterschool Meals Program. However, meals are still needed for children who may not have a dependable source of food available during the summer months.
Atrium Health's Summer Food Bus will deliver free meals provided by Lincoln County Schools to children and teenagers, ages 18 and younger. Each day, children will receive a to-go bag with both a nourishing lunch and accompanying breakfast for the following morning. On Fridays, children will receive meals for the day and meals for the weekend. The Atrium Health Summer Food Bus will deliver meals to various neighborhoods throughout Lincoln County at scheduled times Monday through Friday until August 3.
"In 2017, Atrium Health led a Community Health Impact Study to determine the highest areas of need throughout the Charlotte area and determined access to nutritious food was one of the most critical needs to address in Lincoln County," said Teresa Watson, vice president and facility executive of Atrium Health Lincoln. "In partnership with Lincoln County Schools and the Atrium Health Foundation, Atrium Health Lincoln purchased and remodeled a school bus, per guidelines of the USDA, to provide meals to children in Lincoln County during the summer months when school is no longer in session. We're proud to launch this first-of-its-kind initiative to provide free, healthy meals to support area children's health and well-being."
At Atrium Health University City, children are invited to receive a free hot lunch and breakfast items for the following morning to children and teenagers, ages 18 and younger, through the "Kids Eat Free" program. Meals will be provided through curbside service from 11 a.m. to 1 p.m., Monday through Friday, beginning June 15 until August 21. To ensure children receive meals each day of the week, the University of North Carolina-Charlotte will supplement the program by providing meals on Saturdays and Sundays throughout the summer.
"Access to fresh, healthy food has a major impact on a child's health," said Elaine Jones, dietician nutritionist at Atrium Health University City. "Since we launched the 'Kids Eat Free' program at Atrium Health in 2018, we have served more than 10,000 meals. With each meal, we are helping to ensure our children continue to receive balanced nutrition each day that promotes growth, cognitive development and healthy eating habits all summer long."
This year, Atrium Health is expanding its support of the program to Atrium Health Union in partnership with Union County Public Schools. Atrium Health Union will supplement the school's summer feeding program schedule by providing curbside meals from 11 a.m. to 1 p.m., Monday through Friday, beginning June 29 through July 3, and also from August 3 through August 14.
In order to observe appropriate social distancing practices to help ensure the safety of the children, their families and those helping them, all meals will be provided in bags passed through the passenger side window or placed in the trunk of the car as a recipient is driven through the pick-up line. All program teammates will be wearing appropriate personal protective equipment.
North Carolina Summer Food Service Programs are administered by the N.C. Department of Public Instruction and School Nutrition Services Section, with federal funds from the U.S. Department of Agriculture. The programs are designed to prevent students from going hungry when school is not in session by providing free, healthy meals for children, ages 18 years and under.
---
About Atrium Health
Atrium Health is a nationally recognized leader in shaping health outcomes through innovative research, education and compassionate patient care. Headquartered in Charlotte, North Carolina, Atrium Health is an integrated not-for-profit healthcare system with over 70,000 teammates at nearly 40 hospitals and 900 care locations. With locations throughout the Carolinas as well as Georgia, Atrium Health is a leading-edge innovator in virtual care and mobile medicine. It provides top-ranked pediatric, cancer and heart care to patients, as well as specialized musculoskeletal programs and organ transplants. Ranked among U.S. News & World Report's Best Hospitals in seven different specialties, it has also received the American Hospital Association's Quest for Quality Prize. Its flagship hospital, Atrium Health's Carolinas Medical Center, is the region's only Level I trauma center and is consistently rated among the nation's best. With a commitment to every community it serves, Atrium Health seeks to improve health, elevate hope and advance healing – for all. Last year alone, Atrium Health provided more than $2.07 billion in free and uncompensated care and other community benefits.