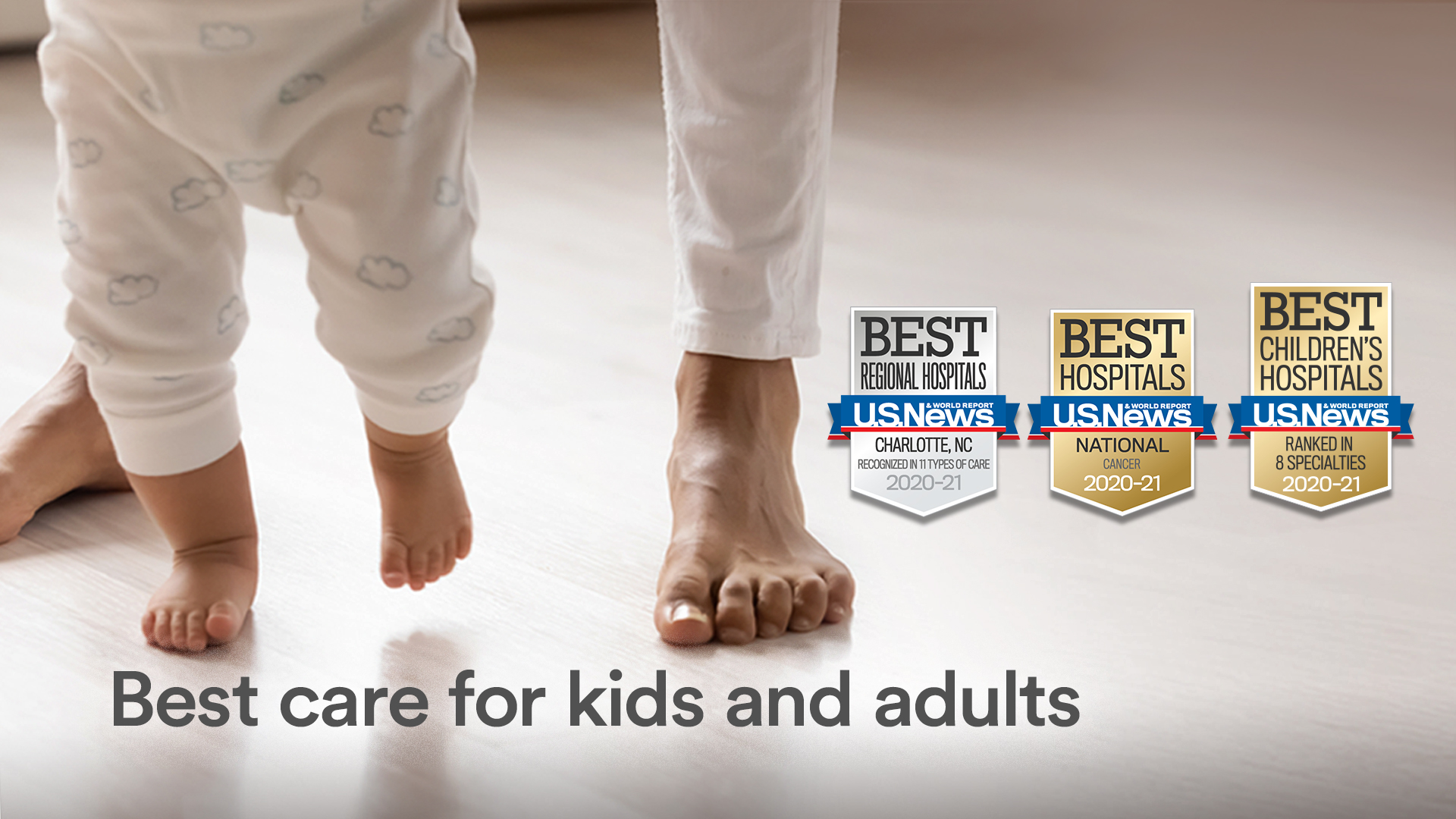 Atrium Health Earns Multiple Honors by U.S. News & World Report Including Top Hospital in Charlotte and Best in Cancer Care
07.28.2020
Atrium Health News |
CMC News |
Levine Cancer Institute
CHARLOTTE, N.C., July 28, 2020 – Atrium Health's Carolinas Medical Center is being recognized by U.S. News & World Report as the "Best Hospital" in the Charlotte metro region for fourth consecutive year. New to the 2020-2021rankings, Atrium Health's Levine Cancer Institute is named among the best in the nation for cancer care and is the only cancer institute in Charlotte to be given this distinction.
Additional honors for Carolinas Medical Center this year include high-performing programs in gastroenterology & GI surgery, orthopedics and urology. Atrium Health Pineville, Atrium Health Union and Atrium Health Cabarrus were recognized for high-performing programs in chronic obstructive pulmonary disease and heart failure, with Atrium Health Pineville receiving additional recognition for its knee replacement program.
"We are grateful for the expertise and experience of our physicians and clinical staff who have been delivering compassionate care and improving the lives of patients for nearly 80 years," said Vicki Block, president of the Central Division for Atrium Health. "The credit for achieving the 'Best Hospital' ranking four years running belongs to our patient-centered care teams, our administration and to all teammates who ensure our patients have the best possible experience– not just at Carolinas Medical Center, but across all of Atrium Health."
Carolinas Medical Center is the largest hospital in the Charlotte region, serves as this area's only Level I Trauma center and is an approved transplant center for heart, kidney, pancreas and liver, performing more than 200 transplants annually. It also serves as one of the only academic medical center teaching hospitals in North Carolina, providing residency training for more than 200 physicians in 15 specialties.
Levine Cancer
Institute
:
Ranked
Among the Best
Nationally
for Cancer Care
This year marks the first appearance for Atrium Health's Levine Cancer Institute (LCI) on U.S. News & World Report's national "Best Hospitals for Cancer Care" list. Levine Cancer Institute's mission is to eliminate the barriers that separate cancer patients from high-quality cancer care, providing them with the treatment they need, close to where they live.
In 2010, Atrium Health embarked on a plan to remove obstacles to care by partnering with its network of more than 30 affiliated hospitals to recruit nationally prominent medical teams and share expertise in cancer care. The program evolved to become Atrium Health's Levine Cancer Institute and has become one of the largest cancer programs in the nation, serving more than 17,000 new patients each year.
"This national recognition is a testament to Levine Cancer Institute's commitment to offer best in class clinical treatments, conduct groundbreaking research and provide education to the next generation of oncologists, all while delivering the highest quality care in the most compassionate way to our patients," said Dr. Derek Raghavan, president of Levine Cancer Institute. "Our network covers two states and enrolls more than 1,000 patients into cancer studies each year. This region should be so grateful to Leon and Sandra Levine and others for their direct support which allowed LCI to be created."
More highlights from this year's U.S. News & World Report'sbest hospital rankings include:
Atrium Health Pineville is

tied for ranking as

the N

umber

2 hospital in the Charlotte Metro area
In June, Atrium H

ealth

Levine Children's Hospital was ranked among the Top 50

"B

est

C

hildren's

H

ospitals

"

by

U.S. News & World

Report

in

a record

eight specialties.
Each year, U.S. News & World Report evaluates more than 5,000 hospitals across the nation, assessing objective measures in most areas of care, such as risk-adjusted survival, readmission rates, volume, patient experience, patient safety and quality of nursing, among other care-related indicators. According to U.S. News, the annual Best Hospitals rankings are designed to assist patients and their doctors in making informed decisions about where to receive care for life-threatening conditions or for common elective procedures. For the full list of rankings, visit Best Hospitals.
To learn more about Atrium Health's U.S. News & World Report 2020 rankings, please visit atriumhealth.org/usnews.
---
About Atrium Health
Atrium Health is a nationally recognized leader in shaping health outcomes through innovative research, education and compassionate patient care. Headquartered in Charlotte, North Carolina, Atrium Health is an integrated not-for-profit healthcare system with over 70,000 teammates at nearly 40 hospitals and 900 care locations. With locations throughout the Carolinas as well as Georgia, Atrium Health is a leading-edge innovator in virtual care and mobile medicine. It provides top-ranked pediatric, cancer and heart care to patients, as well as specialized musculoskeletal programs and organ transplants. Ranked among U.S. News & World Report's Best Hospitals in eight different pediatric specialties, it has also received the American Hospital Association's Quest for Quality Prize. Its flagship hospital, Atrium Health's Carolinas Medical Center, is the region's only Level I trauma center and is consistently rated among the nation's best. With a commitment to every community it serves, Atrium Health seeks to improve health, elevate hope and advance healing – for all. Last year alone, Atrium Health provided more than $2.07 billion in free and uncompensated care and other community benefits.