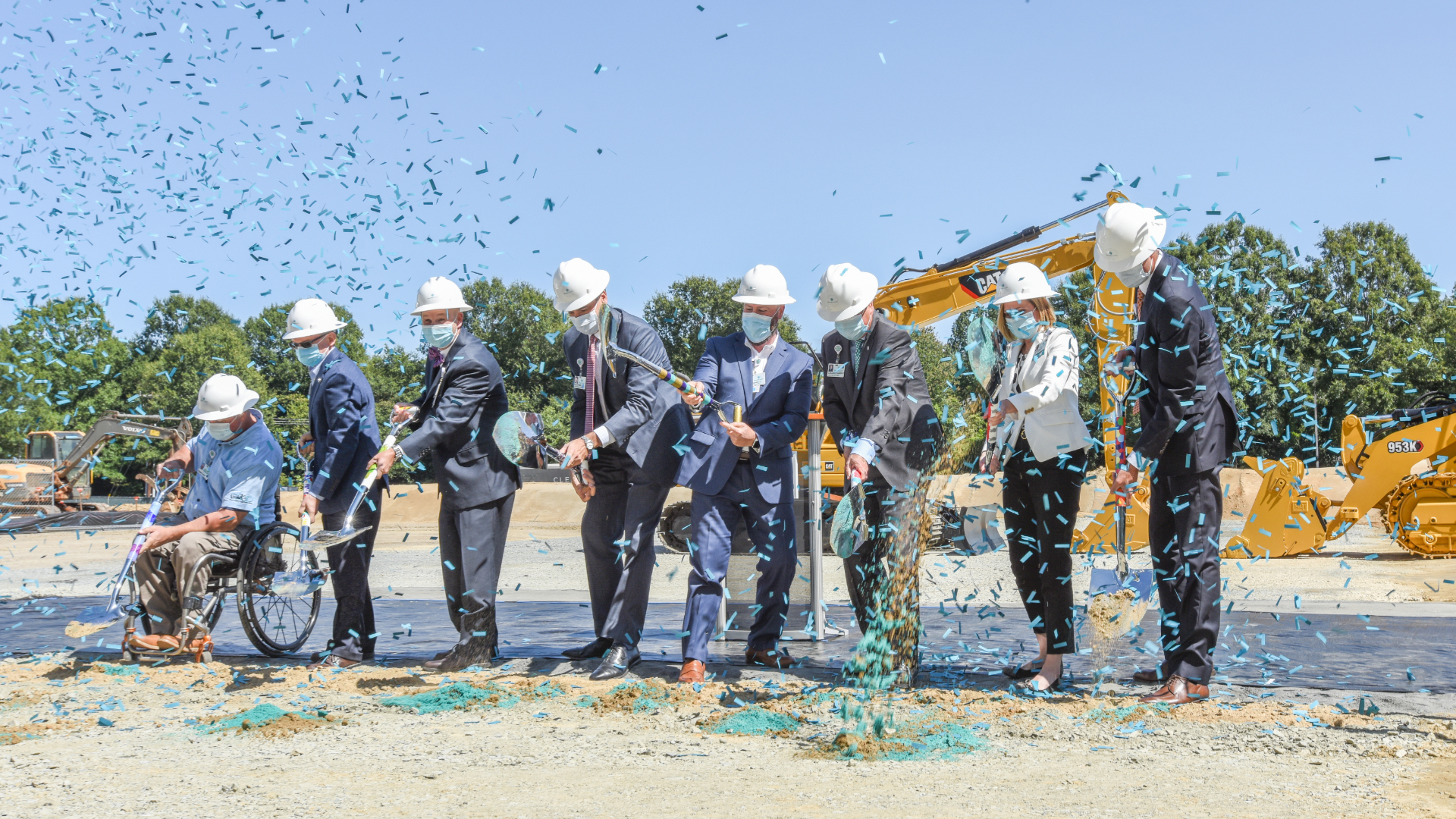 Atrium Health Celebrates Groundbreaking of New State-of-the-Art Carolinas Rehabilitation Hospital
09.24.2020
Atrium Health News
CHARLOTTE, N.C., September 24, 2020 – Atrium Health is celebrating a significant milestone in its rich history of caring for patients throughout the Carolinas and Southeast region. Today marked the official groundbreaking of the new Atrium Health Carolinas Rehabilitation hospital, in Charlotte. This project is the first step, of many, in the modernization of Atrium Health's Carolinas Medical Center campus. This new facility will be a one-of-a-kind regional rehabilitation hospital, thoughtfully designed with the latest state-of-the-art technology and programs to better serve patients and the surrounding communities.
"This is a big day for all of us," said Ken Haynes, president of the Greater Charlotte Region of Atrium Health. "A bricks and mortar milestone with a scope, scale and size that is not only significant, but is truly fulfilling our mission of hope, health, and healing – for all."
When the construction is complete, this new specialized hospital will boast some impressive numbers, such as a 150,000-square-foot replacement hospital, 70 private patient rooms, a 9,300-square-foot outpatient clinic, an outdoor therapy challenge garden, an aquatic therapy program and a center for independent living.
"Our new rehabilitation hospital will provide an environment with a focus on patient experience, enhanced quality of care and be a state-of-the-art hospital that will allow for recruitment of the best and the brightest providers," said Dr. William Bockenek, chief medical officer of Atrium Health Carolinas Rehabilitation. "Each of these will help raise the standards of excellence for Carolinas Rehabilitation, continuing to make this hospital a leader in patient care."
This celebratory event also marks a unique milestone for the hospital as it celebrates the 70th anniversary during National Rehabilitation Week. The rehab hospital groundbreaking marks the start of major improvements to Atrium Health's Carolinas Medical Center campus.
"It's incredible to imagine that seven decades ago, our predecessors stood here, shovel in hand, doing exactly what we are doing," said Robert Larrison, president of Atrium Health Carolinas Rehabilitation. "Just like us, they had a vision to bring care to the most vulnerable in our community. It's a privilege and honor to continue their legacy in the very place where it all began."
Atrium Health Carolinas Rehabilitation has a strong history of firsts in the region. The hospital was the first Children's Hospital in Charlotte, the first integrated hospital in Charlotte and the first rehabilitation hospital in the nation to win the prestigious American Hospital Association's Quest for Quality Award.
Construction on the new rehabilitation hospital is expected to take just over a year with a grand opening slated in the next 18-24 months.
---
About Atrium Health
Atrium Health is a nationally recognized leader in shaping health outcomes through innovative research, education and compassionate patient care. Headquartered in Charlotte, North Carolina, Atrium Health is an integrated, not-for-profit healthcare system with over 55,000 teammates at nearly 40 hospitals and hundreds of care locations throughout the Carolinas and Georgia. Atrium Health provides top-ranked pediatric, cancer and heart care to patients, as well as specialized musculoskeletal programs and organ transplants. Ranked among U.S. News & World Report's Best Hospitals for cancer treatment and in eight different pediatric specialties, it has also received the American Hospital Association's Quest for Quality Prize and was the recipient of the 2020 Centers for Medicare & Medicaid Services Health Equity Award for its efforts to reduce racial and ethnic disparities in care. Its flagship hospital, Atrium Health's Carolinas Medical Center, is the region's only Level I trauma center and is consistently rated among the nation's best. Atrium Health is also a leading-edge innovator in virtual care and mobile medicine, providing care close to home and in the home. With a commitment to every community it serves, Atrium Health seeks to improve health, elevate hope and advance healing – for all. Over the past three years, Atrium Health has provided nearly $2 billion per year in free and uncompensated care and other community benefits.