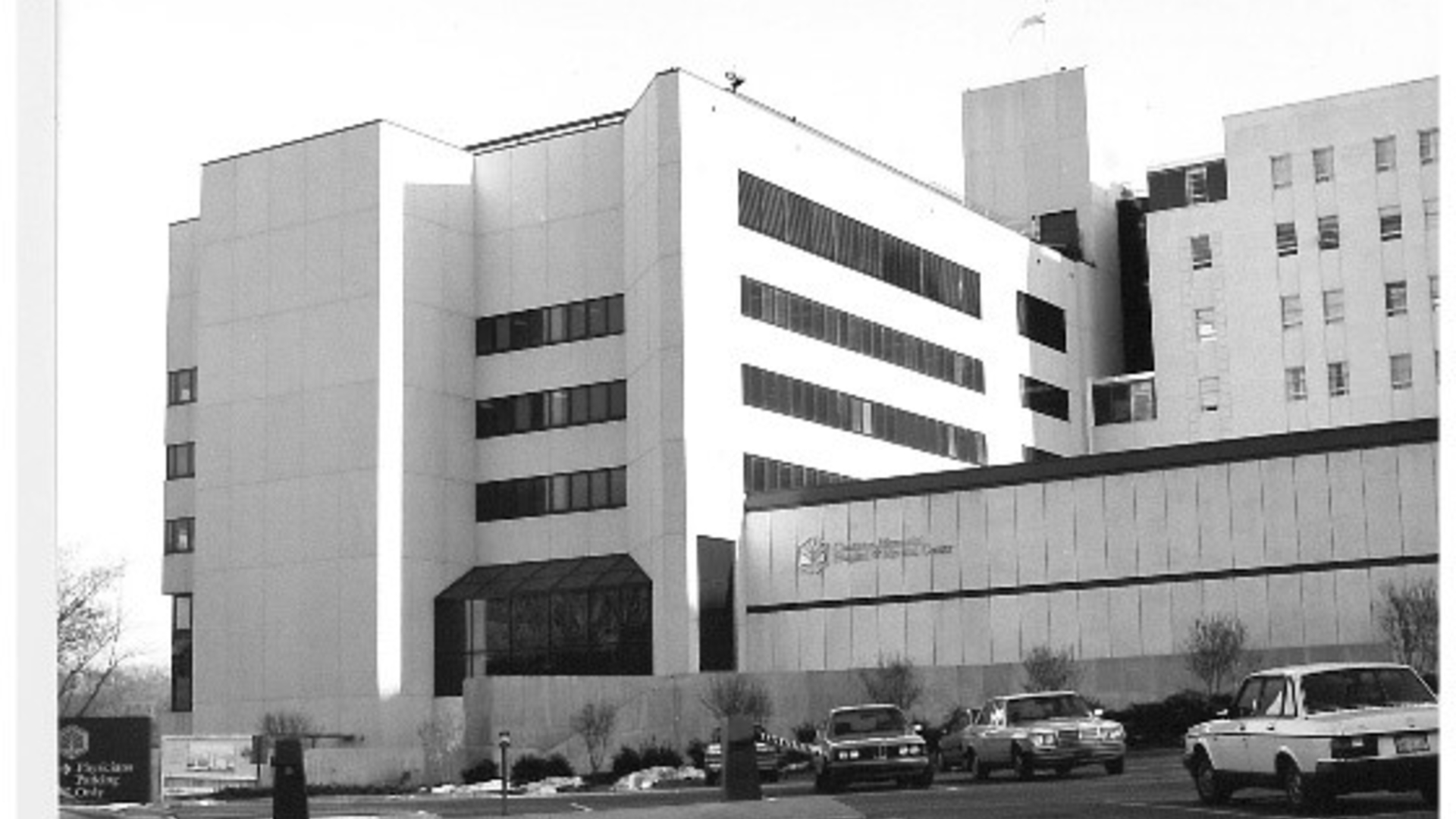 Atrium Health Celebrates 80 Years of Serving the Community
10.07.2020
Atrium Health News
CHARLOTTE, N.C., Oct. 7, 2020 – The year was 1940. Edward R. Murrow was broadcasting the events of World War II from London. North Carolina's farmers still used livestock to pull their plows. And, post-depression Charlotte was emerging as a budding cultural center, with a growing recording industry presence. The year also marked the culmination of years of effort by the people of Charlotte, who raised money and pursued government resources to bring needed healthcare to this city.
On October 7, 1940, Charlotte Memorial Hospital opened its doors. The founders of Charlotte Memorial, from its earliest days, laid out its mission to provide the highest level of care for all in the greater Charlotte community. Charlotte Memorial Hospital came to be known as Atrium Health Carolinas Medical Center and is today – 80 years later – recognized as the flagship hospital of Atrium Health.
From its beginnings on Blythe Boulevard, that vision of care has evolved into one of the most advanced and innovative regional health systems in the country, providing patients world-class medical care close to home in areas such as cancer, cardiology, pediatrics, surgery, transplant and behavioral health in the Carolinas and in Georgia. Providing care to anyone, regardless of their ability to pay, Atrium Health continues to fulfill its mission of improving health, elevating hope and advancing healing – for all. Over the past three years, Atrium Health has provided nearly $2 billion per year in free and uncompensated care and other community benefits.
"On this 80th anniversary of Atrium Health, I believe if our founders were with us today, they would be in awe of the courage, perseverance and honorable way our teammates have brought to life our 'for all' mission in new and remarkable ways. And, they would see a reflection of the same principles that guided them as they worked to build a healthcare center of excellence for Charlotte," said Eugene A. Woods, president and CEO of Atrium Health. "We are extremely grateful to be standing on the shoulders of our predecessors and for our 55,000 teammates who carry on that proud legacy of caring for our patients each and every day."
In honor of its 80-year milestone, the Mayor of Charlotte, Vi Lyles, has declared October 7, 2020, as "Atrium Health Day" in the city. Uptown buildings in the Queen City skyline will be illuminated with Atrium Health's signature teal in observance of the anniversary.
"Atrium Health is key to the physical, mental and economic health of our city and surrounding communities," said Vi Lyles, mayor of Charlotte, in a city proclamation. "Atrium Health has been vital to our city's response to the COVID-19 global pandemic, caring for patients … while also eliminating testing disparities in underserved communities and spearheading a private-public partnership to distribute millions of masks."
"Your contributions to our city are immeasurable," Lyles added in a video tribute commemorating Atrium Health's 80th anniversary. "We are a better city because of what you do."
"Today marks a special and significant chapter in our Atrium Health history book," said Woods. "Through the years, we have faced many challenges as an organization. Yet, no matter the hurdle, no hill has been too high for us to climb on behalf of our patients, neighbors and friends. This has been especially evident over the past six months as we've courageously battled a pandemic, stood up against racial injustice and faced significant economic burdens head-on. And more than ever before, our teammates have come together to truly transcend our 'for all' mission beyond our hospital walls and into every corner of our community. This spirit of our collective strength has never made me more Atrium Health proud."
Atrium Health teammates have been observing the 80-year milestone this week with virtual celebrations, acknowledgements of long-term employees and teal-colored attire. Special commemorative e-cards are also being sent by leaders to members of their team and teammates are joining the celebration on internal and external social media channels. They have also been marking the "80 Years Strong" occasion by celebrating their strength, as individuals and teammates, as they continue to respond to the COVID-19 pandemic.
Atrium Health Carolinas Medical Center is the largest hospital in the Charlotte region, serves as this area's only Level I Trauma Center and is an approved transplant center for heart, kidney, pancreas and liver, performing more than 200 transplants annually. It also serves as one of the only academic medical center teaching hospitals in North Carolina, currently providing residency training for more than 200 physicians in 15 specialties. For the past four years, Carolinas Medical Center has been ranked as the top hospital in the Charlotte region by U.S. News & World Report.
Timeline: Atrium Health Carolinas Medical Center History
1876: Jane Wilkes leads the effort to establish St. Peter's Hospital, originally called Charlotte Home and Hospital, in Charlotte's Fourth Ward.
1940: Charlotte Memorial Hospital opens, replacing St. Peter's Hospital, whose remaining patients are transferred to Charlotte Memorial on October 7.
1960: The Charlotte Memorial Hospital Authority assumes ownership and management of Good Samaritan Hospital, the city's only hospital providing non-emergency care to racial minority patients.
1982: Charlotte Memorial Hospital adopts the first graphic version of its now-familiar 'Tree of Life' icon on its logo.
1985: University Hospital opens for patients.
1990: Charlotte Memorial Hospital changes its name to Carolinas Medical Center.
1995: Mercy Health joins The Charlotte Mecklenburg Hospital Authority, marking the start of what is today Atrium Health Mercy and Atrium Health Pineville joined the organization.
1996: The Charlotte Mecklenburg Hospital Authority begins using the name Carolinas Healthcare System (CHS) in 1996.
2004: Carolinas MED-1 mobile hospital service launched.
2007: NorthEast Medical Center (now known as Atrium Health Cabarrus) joins CHS. Carolinas Rehabilitation-Mount Holly and Levine Children's Hospital open.
2010: Carolinas Medical Center-Lincoln opens at its new location. Formation of Levine Cancer Institute announced.
2011: 50-year lease signed to manage Carolinas Medical Center - Union.
2013: Cleveland Regional Medical Center and Stanly Health Services join CHS. Virtual Critical Care unit opens in Mint Hill.
2014: CHS Behavioral Health - Davidson opens. Virtual Visits on mobile devices launch. Carolinas HealthCare System Anson opens.
2018: Carolinas HealthCare System changes its name to Atrium Health and rebranding of all locations begins. Navicent Health in Macon, Georgia, joins Atrium Health.
---
About Atrium Health:
Atrium Health is a nationally recognized leader in shaping health outcomes through innovative research, education and compassionate patient care. Headquartered in Charlotte, North Carolina, Atrium Health is an integrated, nonprofit healthcare system with over 55,000 teammates at nearly 40 hospitals and hundreds of care locations throughout the Carolinas and Georgia. Atrium Health provides top-ranked pediatric, cancer and heart care to patients, as well as specialized musculoskeletal programs and organ transplants. Ranked among U.S. News & World Report's Best Hospitals for cancer treatment and in eight different pediatric specialties, it has also received the American Hospital Association's Quest for Quality Prize and was the recipient of the 2020 Centers for Medicare & Medicaid Services Health Equity Award for its efforts to reduce racial and ethnic disparities in care. Its flagship hospital, Atrium Health's Carolinas Medical Center, is the region's only Level I trauma center and is consistently rated among the nation's best. Atrium Health is also a leading-edge innovator in virtual care and mobile medicine, providing care close to home and in the home. With a commitment to every community it serves, Atrium Health seeks to improve health, elevate hope and advance healing – for all. Over the past three years, Atrium Health has provided nearly $2 billion per year in free and uncompensated care and other community benefits.