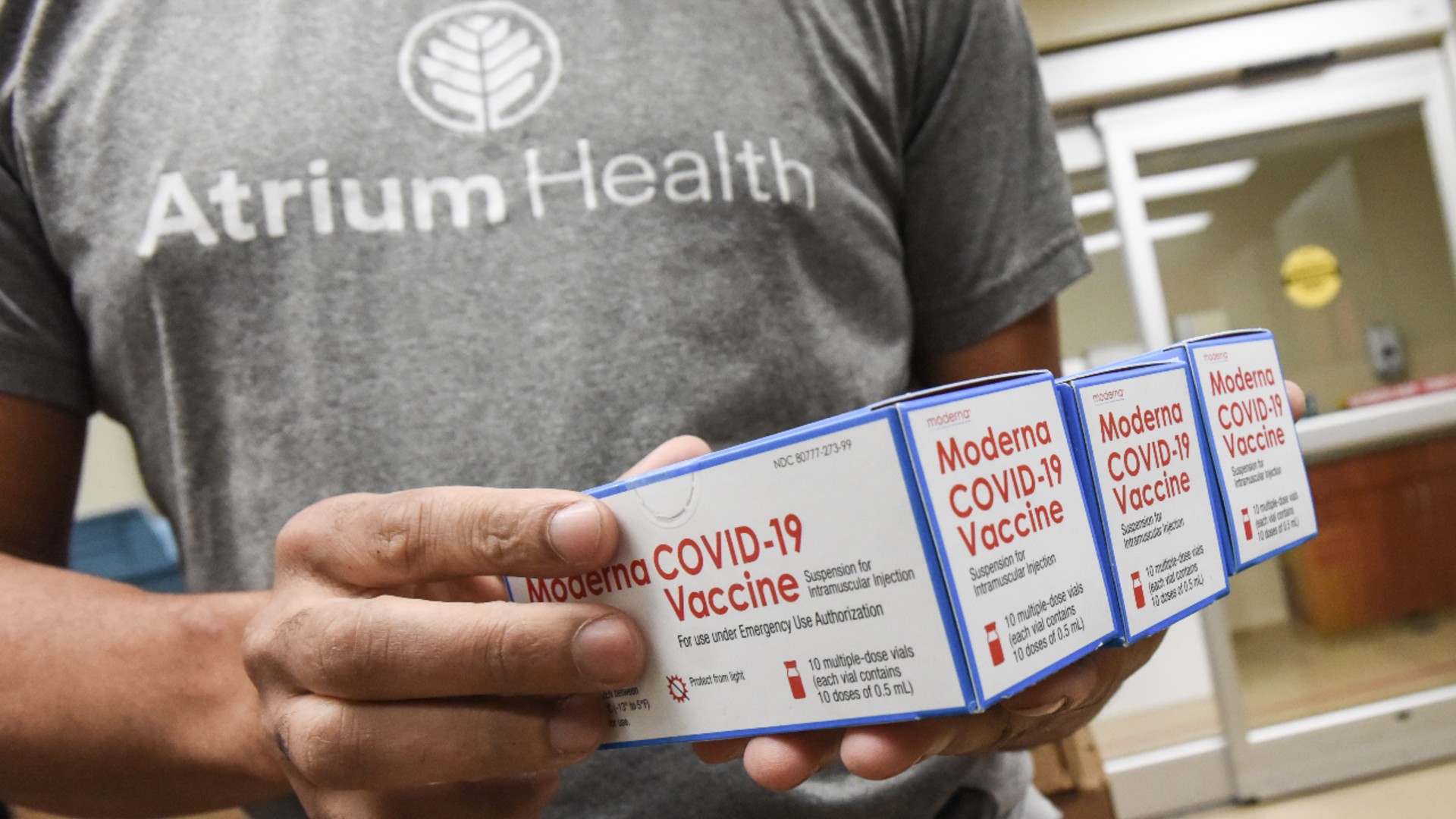 Atrium Health Among First in Southeast to Receive Second COVID-19 Vaccine
12.21.2020
Atrium Health News
Moderna vaccine to be prioritized for rural hospitals across North Carolina
CHARLOTTE, N.C., December 21, 2020 – Atrium Health was among the first in the Southeast region to receive the first doses of the Moderna COVID-19 vaccine, following the U.S. Food and Drug Administration's (FDA) Emergency Use Authorization of the vaccine. With this shipment of the new vaccine from Moderna, frontline healthcare employees who work at one of Atrium Health's integrated network of hospitals outside of the Charlotte area will now have convenient access to a COVID-19 vaccine.
Three Atrium Health facilities located in rural areas of North Carolina are prioritized to be among the first to receive the Moderna vaccine including: Atrium Health Stanly, Atrium Health Kings Mountain and Atrium Health Anson.
The main difference in the Moderna vaccine is that it is able to be kept in a standard freezer between -25 to -15 degrees Celsius, (-13 to 5 degrees Fahrenheit), making it an ideal vaccine to use at healthcare facilities without access to an ultra-cold freezer. Once removed from the freezer, the vaccine is viable for 30 days. To ensure that every dose of the vaccine is quickly and effectively distributed, Atrium Health has developed a process that allows for ease of scheduling and convenient access to receive the vaccine.
Atrium Health received an initial shipment of 1,000 doses of the Moderna vaccine, which has been clinically proven to be safe and 94.1% effective. This supply will be used to vaccinate Atrium Health's frontline healthcare workers, working in high-priority areas where they are at a higher risk of exposure, to receive the vaccine at a faster pace.
Atrium Health is following recommendations from the CDC and the state to prioritize distribution. The emergence of a second vaccine also brings the opportunity to have the general public vaccinated sooner. Current projections indicate those vaccinations will begin taking place in Spring of 2021. Atrium Health is also scheduled to participate in a clinical trial with a third possible vaccine candidate, with those trials beginning in late December.
The side effects of Moderna's vaccine include soreness at the injection site and are similar to the side effects from Pfizer's COVID-19 vaccine. The Moderna vaccine is given in two doses, separated by 28 days. There are approximately 10 doses per vial. The FDA reviewed safety and efficacy data of this vaccine from an ongoing phase 3 trial in approximately 30,000 participants ages 18 and above.
This second vaccine follows a historic week at Atrium Health, after being among the first in the country to receive the Pfizer COVID-19 vaccine, as well as the first in the state to administer it to Dr. Katie Passaretti, medical director of Infection Prevention at Atrium Health. Following an initial diverse group of teammates from across Atrium Health receiving the vaccine on Monday, December 14, Atrium Health quickly vaccinated a group of teammates who will be administering the vaccine across the system. In just one week, Atrium Health has been able to vaccinate more than 1,500 teammates with their initial dose. Additionally, more than 5,300 are scheduled for their first vaccine and more than 5,300 scheduled for their second vaccine dose.
As vaccinations are beginning across the country, medical experts at Atrium Health caution against complacency in preventing spread of the virus. It remains essential that everyone wear a mask when they are outside of their home and around others, that social distance of six feet be maintained at all times and to wash hands frequently. These methods will continue to be the best, first line of defense against the spread of COVID-19 until sufficient numbers of the population, as a whole, has been vaccinated.
As a nationally recognized leader in shaping health outcomes through innovative research, education and compassionate patient care at hundreds of care locations throughout the Carolinas and Georgia, Atrium Health is bringing the most advanced therapies to patients and anticipates treatment trials it's running will guide physicians closer to identifying additional safe and effective treatments. To date, Atrium Health has conducted 10 clinical trials to fight the COVID-19 pandemic.
Atrium Health also opened a voluntary vaccine research registry, which allows people to learn more about vaccine research and development. People who take part in the registry may be invited to participate in COVID-19 vaccine trials in the future and will be provided with convenient access to trials should they be interested. Participating in clinical trials is a way for people to receive potentially lifesaving medications before they become FDA available. Clinical trials are crucial for advancing research and bringing new vaccines to the general public.
For more information about Atrium Health's COVID-19 research registry, call 833-451-1188, visit AtriumHealth.org/COVIDVACCINE or email STRIVEVaccineRegistry@atriumhealth.org.
---
About Atrium Health
Atrium Health is a nationally recognized leader in shaping health outcomes through innovative research, education and compassionate patient care. Atrium Health is an integrated, nonprofit health system with more than 70,000 teammates serving patients at 42 hospitals and more than 1,500 care locations. It provides care under the Wake Forest Baptist Health name in the Winston-Salem, North Carolina, region and Navicent Health in Georgia. Atrium Health is renowned for its top-ranked pediatric, cancer and heart care, as well as organ transplants, burn treatments and specialized musculoskeletal programs. A recognized leader in experiential medical education and groundbreaking research, Wake Forest School of Medicine is the academic core of the enterprise, including Wake Forest Innovations, which is advancing new medical technologies and biomedical discoveries. Atrium Health is also a leading-edge innovator in virtual care and mobile medicine, providing care close to home and in the home. Ranked among U.S. News & World Report's Best Hospitals for cancer treatment and in eight pediatric specialties, Atrium Health has also received the American Hospital Association's Quest for Quality Prize and was the recipient of the 2020 Centers for Medicare & Medicaid Services Health Equity Award for its efforts to reduce racial and ethnic disparities in care. With a commitment to every community it serves, Atrium Health seeks to improve health, elevate hope and advance healing – for all, providing more than $2 billion per year in free and uncompensated care and other community benefits.