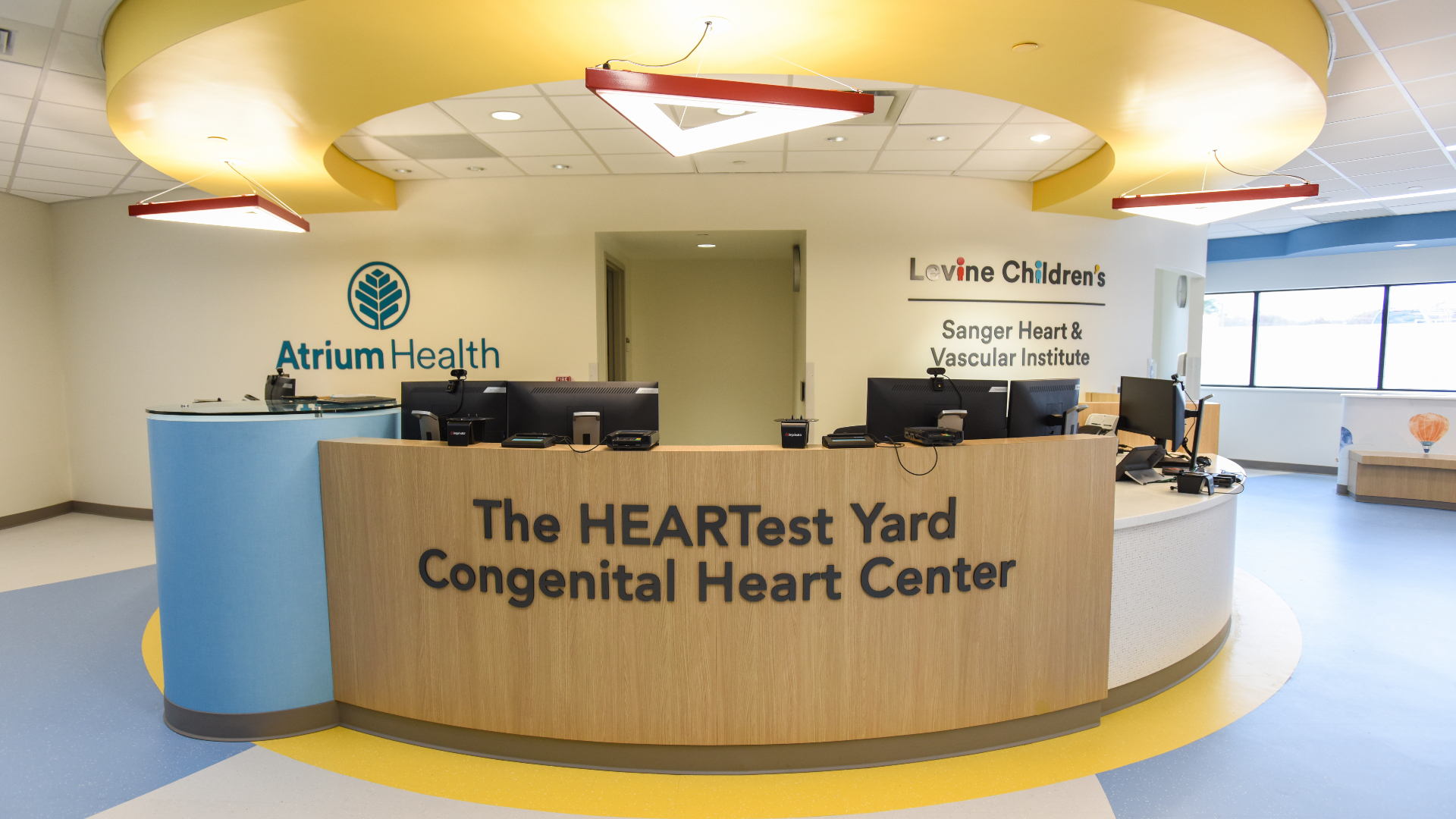 Atrium Health Levine Children's Unveils HEARTest Yard Congenital Heart Center
12.07.2020
Atrium Health News |
Levine Children's |
Sanger Heart & Vascular Institute
CHARLOTTE, N.C., December 7, 2020 – Atrium Health Levine Children's announces the grand opening of a next-generation pediatric cardiovascular and congenital heart outpatient clinic – The HEARTest Yard Congenital Heart Center at Levine Children's – to support enhanced treatment and resources for pediatric patients with congenital heart disease and provide them with comprehensive cardiac care to help reach their fullest potential. The establishment of the new HEARTest Yard Congenital Heart Center is made possible by Greg and Kara Olsen.
The day is finally here. We are honored to offer the first look at the brand new, state of the art, HEARTest Yard Congenital Heart Center @LevineChildrens. This project represents the gratitude our family feels towards the entire ❤️ community. pic.twitter.com/ao9iU9NsQI

— Greg Olsen (@gregolsen88) December 2, 2020
The Olsens are driven to help families with children who have congenital heart conditions navigate healthcare needs, as they have also experienced the many challenges that go along with congenital heart defects. Greg Olsen, NFL tight end, and his wife, Kara, realized that their now 8-year-old son T.J. needed additional support from side effects of the complex congenital heart defect that he has battled since he was born. In 2012, the Olsens and Levine Children's collaborated to establish the HEARTest Yard initiative, a family service program for those affected by congenital heart disease and to help ease the transition from the hospital to home.
"As parents, we quickly realized how complex it would be to help our son as he went through his multiple heart surgeries, but the real challenge came after we left the hospital," said Greg Olsen. "We noticed that T.J., and others who have gone through what he had, needed additional support and care from a team of experts who were closely connected to one another and could seamlessly share feedback at one time with the family."
The desire for such a place is what ultimately led the Olsens to invest in the new outpatient clinic, which will open in mid-December in the Medical Center Plaza building adjacent to Levine Children's Hospital.
The new HEARTest Yard Congenital Heart Center boasts nearly 25,000 square feet of modern, bright and interactive space for all children. It features a dedicated fetal echocardiography lab, 25 patient rooms, and additional technology and advancements to meet patient needs. The clinic also features a separate space for adults with congenital heart disease and will enable the Levine Children's and Atrium Health Sanger Heart & Vascular Institute teams to provide specialized and personalized care for patients from before birth through adulthood.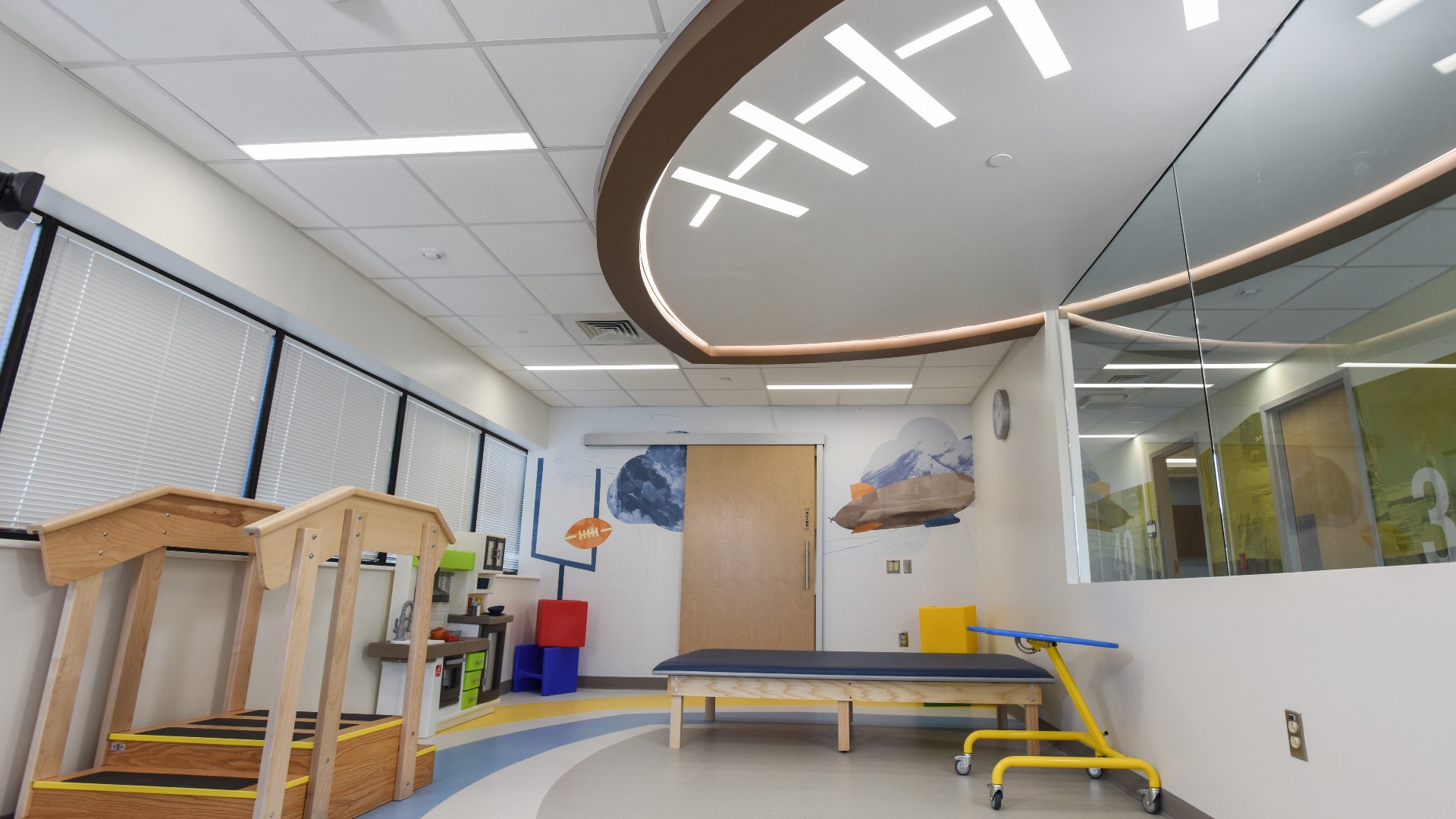 The center will house the region's only cardiac neurodevelopmental program, which first launched at Levine Children's in 2017, thanks to a previous $750,000 commitment by the Olsen family. The program is designed to support pediatric heart surgery patients who may have neurodevelopmental deficits in their lifetime, which can impact language, fine motor skills or vision. Through the first-of-its-kind neurodevelopmental program in the Charlotte region, families have access to a neuropsychologist, educational specialists, mental health professionals, dieticians and other innovative patient therapies all in one location. To date, the Olsens have raised more than $5 million for programs that provide multidisciplinary care for Levine Children's patients with congenital heart disease.
"With the generous support of the Olsen family and their vision for holistic care, families will be able to receive the most comprehensive cardiac care in the Southeast, right here at Levine Children's," said Dr. Joseph Paolillo, interim division chief of pediatric cardiology at Atrium Health Levine Children's Hospital and Sanger Heart & Vascular Institute. "From new technologies and advancements, to additional space and patient rooms, to a growing team of dedicated specialists, this new pediatric heart center enables our team to provide collaborative, specialized heart care that supports all patients with congenital heart disease, from before birth through adulthood. With excellent survival rates from heart surgery and enhanced medical care over the last few decades, it is our goal to ensure our patient population survives and succeeds in life."
With a nearly 4-fold increased footprint from the previous clinic space, the HEARTest Yard Congenital Heart Center will allow for more patients to be seen in a timely and efficient manner. It will also facilitate specialty programs to accommodate patients who would benefit from multiple specialties serviced at Levine Children's during the same visit, including oncology, gastroenterology, neurology, pulmonology, nephrology and more. The congenital heart center is divided into "neighborhoods" for each subspecialty, offering a unique design to allow for easier and more efficient interactions between patients and their providers.
"With one of the largest adult congenital heart disease programs regionally, we have extensive experience guiding patients through the full spectrum of cardiovascular care as they transition into adulthood," said Dr. Geoffrey Rose, president of Atrium Health Sanger Heart & Vascular Institute. "The new comprehensive center will provide the means for adult congenital heart disease patients to have access to specialists in one location. Whether patients need surgery, high-risk pregnancy care or heart rhythm care, our teams will be there to guide them through new life milestones, ensuring easy access to follow-up specialty care throughout their lives."
Since opening in 2007, Levine Children's Hospital has been ranked among the top in the country by U.S. News & World Report for its pediatric cardiology and cardiac surgery program. Levine Children's renowned heart specialists deliver expert care for every pediatric congenital heart condition and offers the most complete pediatric heart care in the region. Click here to learn more about pediatric cardiology and heart surgery services at Atrium Health Levine Children's.
---
About Atrium Health
Atrium Health is a nationally recognized leader in shaping health outcomes through innovative research, education and compassionate patient care. Atrium Health is an integrated, nonprofit health system with more than 70,000 teammates serving patients at 42 hospitals and more than 1,500 care locations. It provides care under the Wake Forest Baptist Health name in the Winston-Salem, North Carolina, region and Navicent Health in Georgia. Atrium Health is renowned for its top-ranked pediatric, cancer and heart care, as well as organ transplants, burn treatments and specialized musculoskeletal programs. A recognized leader in experiential medical education and groundbreaking research, Wake Forest School of Medicine is the academic core of the enterprise, including Wake Forest Innovations, which is advancing new medical technologies and biomedical discoveries. Atrium Health is also a leading-edge innovator in virtual care and mobile medicine, providing care close to home and in the home. Ranked among U.S. News & World Report's Best Hospitals for cancer treatment and in eight pediatric specialties, Atrium Health has also received the American Hospital Association's Quest for Quality Prize and was the recipient of the 2020 Centers for Medicare & Medicaid Services Health Equity Award for its efforts to reduce racial and ethnic disparities in care. With a commitment to every community it serves, Atrium Health seeks to improve health, elevate hope and advance healing – for all, providing more than $2 billion per year in free and uncompensated care and other community benefits.