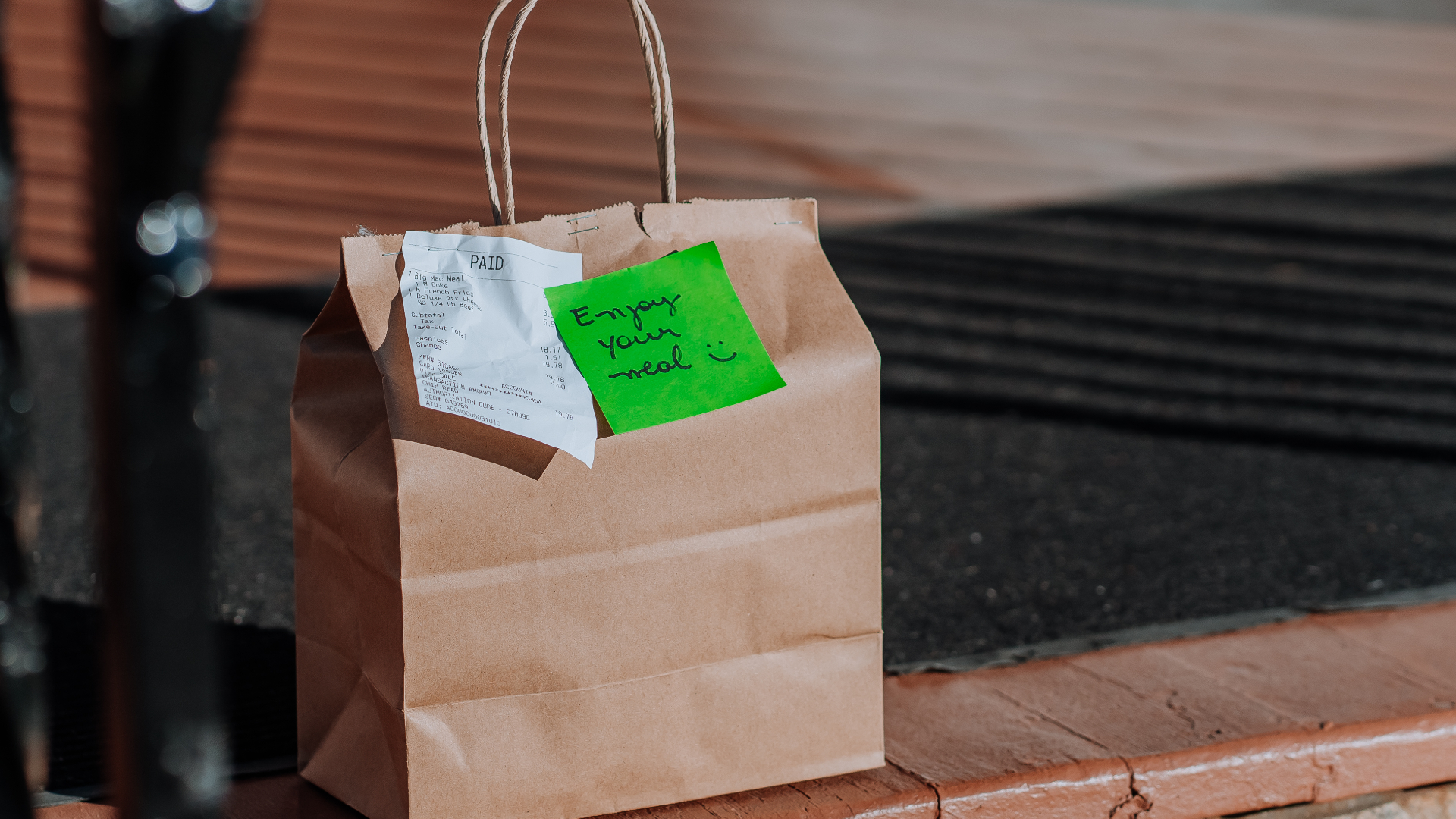 Atrium Health Invests $11 Million in Teammates and Local Restaurant Economy
01.27.2021
Atrium Health News
CHARLOTTE, N.C., Jan. 27, 2021 – For over 10 months, healthcare workers across the Atrium Health enterprise have tirelessly and selflessly cared for hundreds of thousands of patients while fighting a global pandemic. To provide both front-line workers and support staff throughout the system an opportunity to enjoy one or more nice, relaxing meals with their families at home in the coming weeks, as well as boost the local economy, Atrium Health is investing $11 million in meal vouchers from DoorDash.
Nearly 67,000 teammates who work for the Atrium Health enterprise, whether in the Charlotte region, or at Wake Forest Baptist Health or Atrium Health Navicent, in the Winston-Salem and Macon, Georgia, areas, respectively, have received vouchers worth $50 to $250, depending on their role, classification and full-time or part-time status. They will also receive free DashPass subscriptions for three months offering employees unlimited free delivery fees on DoorDash orders. System executives and physicians will not receive the vouchers, to maximize the impact among teammates who can benefit the most from them.
"This is a win-win for our healthcare heroes and for the economy of each community we are privileged to serve," said Eugene A. Woods, president and CEO of Atrium Health. "We continue to celebrate the daily sacrifices and commitment of our teammates – from our nurses in the ICU who are treating those suffering from this virus, to our environmental services teammates cleaning rooms, to those in critical support roles behind the scenes – we don't want a doubt left in any teammate's mind that we greatly appreciate the life-saving work they are doing.
"We're not only providing affordable and convenient meals for our teammates, we're also preserving jobs," Woods added. "Many restaurants stepped up throughout the pandemic to supply meals to our front-line workers. With this $11 million investment, our teammates can enjoy a night off from cooking, and continue to 'pay it forward' and help keep the doors open at local restaurants and businesses."
There are roughly 2,200 restaurants in metro-Charlotte, 500 in Winston-Salem and 330 in Macon, Georgia. If each of the more than 3,000 restaurants in the primary service areas of Atrium Health were to receive an equal share of the teammates' dining dollars, that would equate to more than $3,600 in increased sales per restaurant. With an $11 million infusion of purchasing power into local restaurants, Atrium Health aims to provide a boost to these restaurants toward pre-pandemic sales.
"Our DoorDash for Work program hopefully means one less worry for these valued healthcare heroes working around the clock in the service of others," said Broderick McClinton, head of DoorDash for Work, which is a DoorDash corporate meal solution. "We're proud to partner with Atrium Health to provide their employees with the peace of mind and convenience afforded by not having to plan or prepare meals for their families. They can choose their favorite cuisine, select from hundreds of restaurants near their home or workplace, and have it delivered to them in 30 minutes, giving them precious time back in their day."
Along with the vouchers, Atrium Health teammates will receive a 90-day subscription to DashPass for Work, which will provide $10 off their first two orders. Under the program, there is no delivery fee and a reduced service fee on all orders over $12 from participating restaurants. DoorDash also offers a selection of grocery stores, pharmacies and convenience stores, which teammates can order from as well, if they prefer.
"We are incredibly thankful for such an important investment into the families and lives of those who own and work at restaurants across our state," said Lynn Minges, president and CEO of the North Carolina Restaurant and Lodging Association. "The restaurant industry has been particularly hard hit by the pandemic, and with this tremendous investment by Atrium Health, it can literally be the difference of a family-owned business closing its doors forever or staying open. We're thrilled to see such an innovative way to support the many healthcare heroes and our restaurant workers at the same time."
This is another in a long list of examples of how Atrium Health continues to find innovative ways to invest into the lives and well-being of its teammates. Throughout the pandemic, when hundreds of thousands of organizations across the country faced significant financial hardships and laid off or furloughed its workers, Atrium Health ensured its employees maintained meaningful roles. Atrium Health worked tirelessly to ease the personal burdens that many of teammates faced by significantly enhancing childcare benefits, providing food and lodging options and creating a Caregiver Heroes Fund for employees with special financial needs caused by the coronavirus, to name a few. Atrium Health also created additional choices for teammates who were willing to take on alternative assignments during the pandemic. Additionally, in a novel partnership, Atrium Health invested $5 million into an affordable housing project with 50 units set aside for employees of the healthcare system.
Quick Facts:
To provide both front-line workers and support staff relaxing meals with their families, as well as boost the local economy, Atrium Health is investing $11 million in meal vouchers through DoorDash
Nearly 67,000 teammates who work for the Atrium Health enterprise will receive vouchers worth $50 to $250, depending on their role, classification and full-time or part-time status
Recipients include teammates in the Charlotte region, at Wake Forest Baptist Health, in the Winston-Salem area and at Atrium Health Navicent, in the Macon, Georgia, area
Eligible teammates will receive free DashPass subscriptions for three months, offering employees unlimited free delivery fees and reduced service fees from thousands of participating merchants on DoorDash orders over $12, in addition to receiving $10 off their first two orders
In addition to thousands of restaurants, the vouchers can also be used at select convenience stores, pharmacy chains and grocery stores
---
About Atrium Health
Atrium Health is a nationally recognized leader in shaping health outcomes through innovative research, education and compassionate patient care. Atrium Health is an integrated, nonprofit health system with more than 70,000 teammates serving patients at 42 hospitals and more than 1,500 care locations. It provides care under the Wake Forest Baptist Health name in the Winston-Salem, North Carolina, region and Atrium Health Navicent in Georgia. Atrium Health is renowned for its top-ranked pediatric, cancer and heart care, as well as organ transplants, burn treatments and specialized musculoskeletal programs. A recognized leader in experiential medical education and groundbreaking research, Wake Forest School of Medicine is the academic core of the enterprise, including Wake Forest Innovations, which is advancing new medical technologies and biomedical discoveries. Atrium Health is also a leading-edge innovator in virtual care and mobile medicine, providing care close to home and in the home. Ranked among U.S. News & World Report's Best Hospitals for cancer treatment and in eight pediatric specialties, Atrium Health has also received the American Hospital Association's Quest for Quality Prize and was the recipient of the 2020 Centers for Medicare & Medicaid Services Health Equity Award for its efforts to reduce racial and ethnic disparities in care. With a commitment to every community it serves, Atrium Health seeks to improve health, elevate hope and advance healing – for all, providing more than $2 billion per year in free and uncompensated care and other community benefits.
About DoorDash
DoorDash is a technology company that connects customers with their favorite local and national businesses in more than 4,000 cities and all 50 states across the United States, Canada, and Australia. Founded in 2013, DoorDash empowers merchants to grow their businesses by helping to solve mission-critical challenges, such as customer acquisition, on-demand delivery, insights and analytics, merchandising, payment processing, and customer support. By building the last-mile delivery logistics platform for local cities, DoorDash is bringing communities closer, one doorstep at a time. Read more on the DoorDash blog or at www.doordash.com.