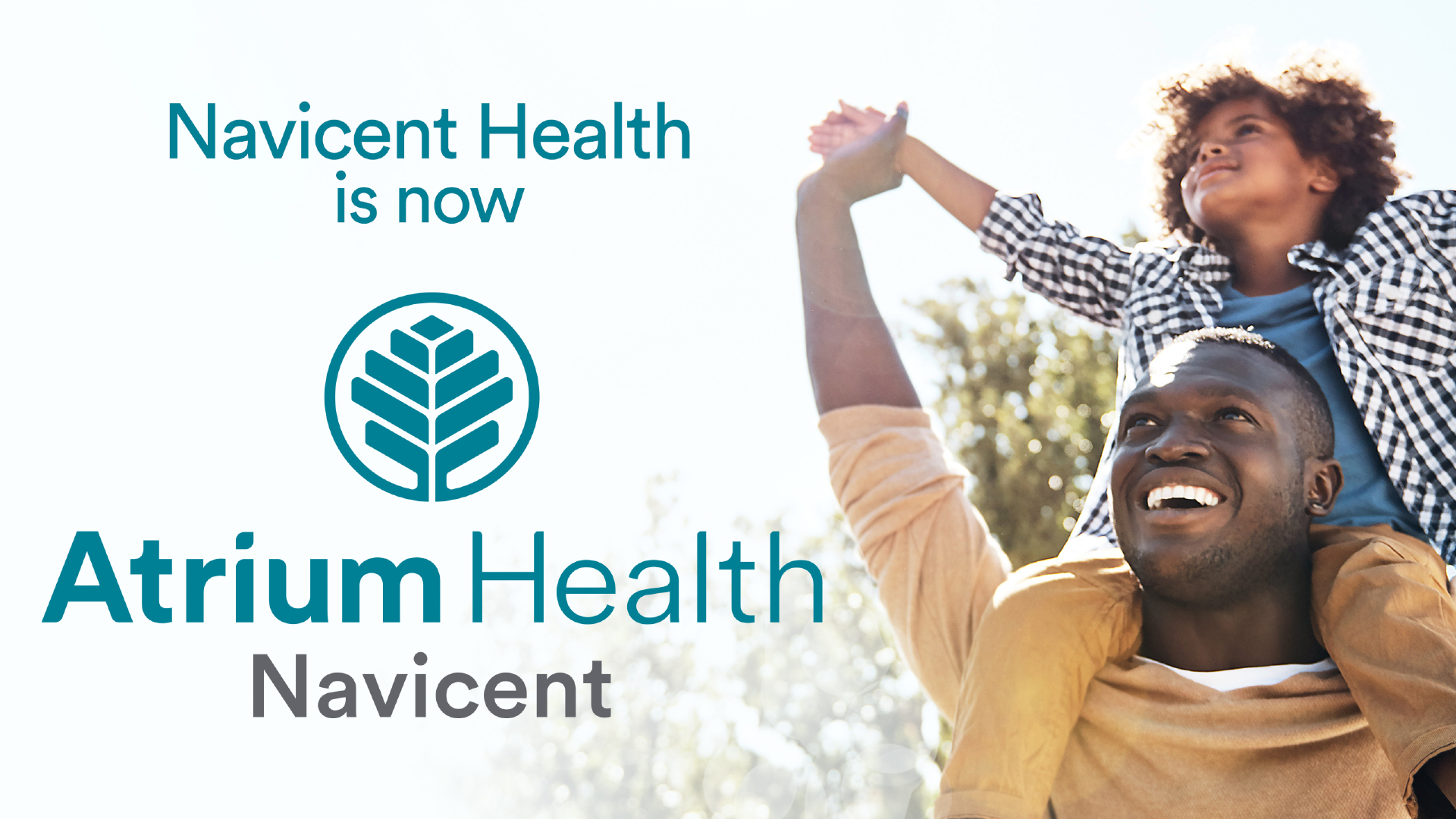 Navicent Health Announces New Brand Identity: Atrium Health Navicent
01.29.2021
Atrium Health News
MACON, Ga., and CHARLOTTE, N.C., Jan. 29, 2021 – Navicent Health, in collaboration with Charlotte, North Carolina-based Atrium Health, today announced its new brand identity. The Georgia health system, which includes the state's second largest hospital and more than 30 additional facilities, will now be known as Atrium Health Navicent. The new brand symbolizes the strategic partners' shared mission to improve health, elevate hope and advance healing for all.
"Today marks another incredible milestone that represents Atrium Health's commitment to improve health throughout communities in central and south Georgia," said Eugene A. Woods, president and CEO of Atrium Health. "When we began this journey, we knew that bringing our teams together would not only combine the brightest minds in medicine together but would give our communities access to the best care as well. Our commitment has really shined bright throughout the pandemic, as we've cared for the underserved in both urban and rural communities alike – such as delivering outstanding care close to home or in the home, through the expansion of our innovate virtual care platforms. I couldn't be excited about our future together and prouder of all we're doing to bring health, hope and healing FOR ALL."
The Atrium Health Navicent branding rollout comes two years after the partners launched their strategic combination. As a result, Navicent Health has become a hub for Atrium Health for central and south Georgia, allowing Atrium Health to expand its world-class services and economic benefit to the region and beyond. From the beginning, the partners pledged to improve access to care, bring the latest and most innovative care options to Georgians and to focus on care for the whole community – including vulnerable and underserved populations.
Atrium Health has invested capital and worked with Atrium Health Navicent clinical experts to enhance the depth and breadth of services provided to Georgians. Together, the partners have delivered on their pledge by:
Providing Georgians access to top experts and advanced treatments for cancer, heart and pediatric care, among others.
Launching a line of virtual care products – from Virtual Visits to the Virtual Care Delivery System – to provide Georgians the latest and most innovative care options.
Focusing on programs that help prevent disease and address social factors that impact health (like food insecurity and safe, affordable housing) to impact health outside the walls of healthcare facilities.
"Through rebranding, we are bringing together the stellar legacy Navicent Health has built over the past 125 years with our nationally renowned strategic partner, Atrium Health. The new name, Atrium Health Navicent, recognizes the opportunities we have to expand services and care to patients throughout the southeast – together, and for all," said Delvecchio Finley, president and CEO of Atrium Health Navicent.
In the coming weeks, the Georgia health system's branding will begin to reflect that of its Charlotte partner, including a move to the color teal and the "Tree of Life" logo. The Tree of Life is a graphic representation of the health system's values and mission, a symbol of hope and rejuvenation, preservation and regeneration of life, to which Atrium Health is dedicated. Each branch of the Tree of Life represents a guiding principle for how Atrium Health nourishes and enriches the overall quality of life for those living in the Southeast, including the Georgia market. The nine branches represent gentleness, justice, generosity, humility, prudence, wisdom, kindness, loyalty and courage. The name Atrium Health represents a place filled with light, diverse thinkers and the chambers of the heart, where every beat begins.
Atrium Health Navicent employs approximately 6,500 teammates, including 750 physicians and more than 100 best-in-class medical residents and fellows in training. These teammates are part of a proud population of 70,000 teammates throughout the greater Atrium Health enterprise.
---
About Atrium Health Navicent
Atrium Health Navicent, the leading provider of health care in central and south Georgia, is committed to its mission of elevating health and wellbeing through compassionate care. Providing more than 1,000 beds and offering care in 53 specialties at more than 50 facilities throughout the region, Atrium Health Navicent provides care for health care consumers' through an academic medical center; community, pediatric and rehabilitation hospitals; urgent care centers; physician practices; diagnostic centers; home health; hospice and palliative care; and a life plan community. Atrium Health Navicent is dedicated to enhancing health and wellness for individuals throughout the region through nationally recognized quality care, community health initiatives and collaborative partnerships. For more information, please visit www.NavicentHealth.org.
About Atrium Health
Atrium Health is a nationally recognized leader in shaping health outcomes through innovative research, education and compassionate patient care. Atrium Health is an integrated, nonprofit health system with more than 70,000 teammates serving patients at 42 hospitals and more than 1,500 care locations. It provides care under the Wake Forest Baptist Health name in the Winston-Salem, North Carolina, region and Atrium Health Navicent in Georgia. Atrium Health is renowned for its top-ranked pediatric, cancer and heart care, as well as organ transplants, burn treatments and specialized musculoskeletal programs. A recognized leader in experiential medical education and groundbreaking research, Wake Forest School of Medicine is the academic core of the enterprise, including Wake Forest Innovations, which is advancing new medical technologies and biomedical discoveries. Atrium Health is also a leading-edge innovator in virtual care and mobile medicine, providing care close to home and in the home. Ranked among U.S. News & World Report's Best Hospitals for cancer treatment and in eight pediatric specialties, Atrium Health has also received the American Hospital Association's Quest for Quality Prize and was the recipient of the 2020 Centers for Medicare & Medicaid Services Health Equity Award for its efforts to reduce racial and ethnic disparities in care. With a commitment to every community it serves, Atrium Health seeks to improve health, elevate hope and advance healing – for all, providing more than $2 billion per year in free and uncompensated care and other community benefits.