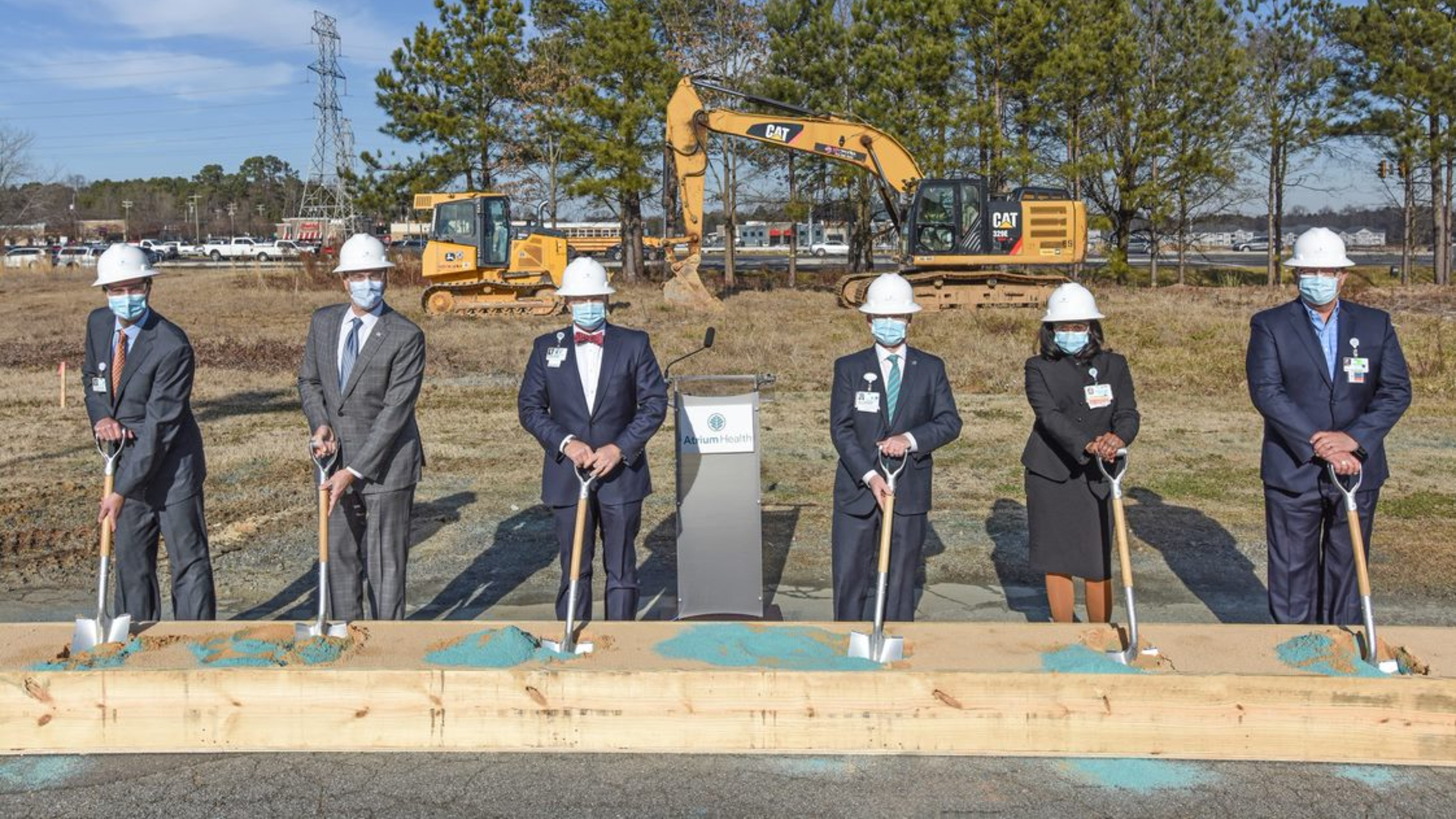 Atrium Health Celebrates Groundbreaking of Mountain Island Emergency Department
02.18.2021
Atrium Health News
Freestanding facility to bring high-quality emergency care closer to home for northwestern Mecklenburg County residents
CHARLOTTE, N.C., Feb. 18, 2021 – In order to bring high quality, convenient access to emergency care for the residents of northwestern Mecklenburg County, Atrium Health is breaking ground on a brand-new, freestanding emergency medical facility. Atrium Health Mountain Island Emergency Department will be conveniently located in Mountain Island, directly off Highway 16 and near I-485 in northwestern Mecklenburg County. This project is yet another step Atrium Health is taking to reduce barriers to care, by bringing a standalone location, thoughtfully designed and equipped with the latest technology and emergency medical resources to better serve nearby residents, closer to home.

Atrium Health Mountain Island Emergency Department is aligned with Atrium Health University City, sharing a leadership team and resources that will provide the emergency department everything it needs to allow patients to receive the convenience they desire and the highest quality and care they deserve.
"Being a facility of Atrium Health University City, this freestanding emergency department will have direct access to the exceptional healthcare that Atrium Health offers," said Bill Leonard, facility executive of Atrium Health University City. "We are very excited to be expanding our team to bring our well-established clinical excellence and care to this brand-new location in northwestern Mecklenburg County by the end of the year."
When the construction is complete, the 12,500 square foot standalone facility will be fully equipped with state-of-the-art technology in its six emergency department rooms and a trauma room. There is also a three-bay triage area, two observation beds, imaging services and a laboratory and pharmacy services to support the facility. Board-certified emergency medicine staff who are trained to deliver high-quality, immediate care for a range of medical needs – from broken bones and severe cuts, to heart attacks and strokes – will be available to care for patients 24/7.
Atrium Health Mountain Island will have direct access to Atrium Health University City, which has one of the highest patient safety ratings in the nation, with six consecutive grade A's in patient safety from The Leapfrog Group. Patients and care teams also have access to the advanced trauma services and resources at Atrium Health Carolinas Medical Center, Charlotte's only Level I Trauma Center. Seamless access to the entire Atrium Health enterprise will be easily accessible via a robust electronic medical record system, making any needed consultation just a click away.
"The Atrium Health Mountain Island care team will be dedicated and committed to providing a personalized, safe, patient-centered care approach," said Dr. Yalonda Herndon, medical director of Atrium Health Huntersville Emergency Department, a similar facility within the Atrium Health enterprise. "During a medical emergency, time is of the essence. The ability to access care close to home can make all the difference and, by the end of this year, Mountain Island and surrounding communities can take advantage of expert emergency care, just minutes away. We are ready and willing to bring the learnings and processes we have developed at Atrium Health Huntersville to help this location excel in every aspect of its operation."
Construction on the new emergency department is expected to take approximately 10-11 months, with a grand opening slated by the end of the year.
Upon opening, Atrium Health Mountain Island will strictly adhere to system-wide COVID-Safe standards, such as rigorous cleaning protocols, advanced screening processes, social distancing regulations in waiting rooms and separate areas for those suspected of having COVID-19. These standards have been put into place across the entire Atrium Health enterprise to ensure each facility is as safe as possible for all those who come in for care. People experiencing a medical emergency should not delay care out of fear of COVID-19.
---
About Atrium Health
Atrium Health is a nationally recognized leader in shaping health outcomes through innovative research, education and compassionate patient care. Atrium Health is an integrated, nonprofit health system with more than 70,000 teammates serving patients at 42 hospitals and more than 1,500 care locations. It provides care under the Wake Forest Baptist Health name in the Winston-Salem, North Carolina, region and Atrium Health Navicent in Georgia. Atrium Health is renowned for its top-ranked pediatric, cancer and heart care, as well as organ transplants, burn treatments and specialized musculoskeletal programs. A recognized leader in experiential medical education and groundbreaking research, Wake Forest School of Medicine is the academic core of the enterprise, including Wake Forest Innovations, which is advancing new medical technologies and biomedical discoveries. Atrium Health is also a leading-edge innovator in virtual care and mobile medicine, providing care close to home and in the home. Ranked among U.S. News & World Report's Best Hospitals for cancer treatment and in eight pediatric specialties, Atrium Health has also received the American Hospital Association's Quest for Quality Prize and was the recipient of the 2020 Centers for Medicare & Medicaid Services Health Equity Award for its efforts to reduce racial and ethnic disparities in care. With a commitment to every community it serves, Atrium Health seeks to improve health, elevate hope and advance healing – for all, providing more than $2 billion per year in free and uncompensated care and other community benefits.