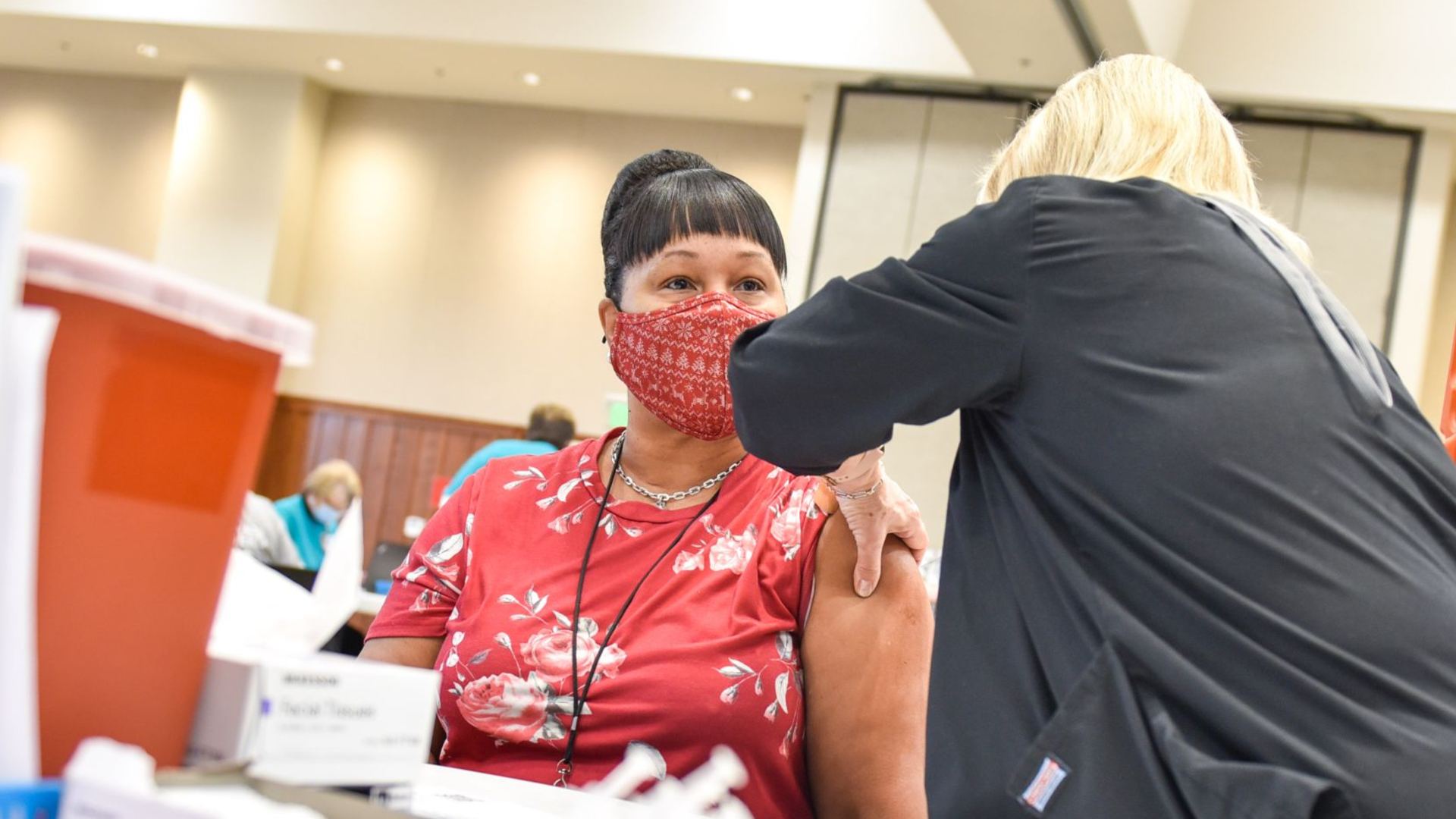 Atrium Health Announces Mass Vaccination Event at Johnson C. Smith University
03.11.2021
Atrium Health News
CHARLOTTE, N.C., March 10, 2021 – As another successful mass vaccination event continues at Bank of America Stadium, in Uptown Charlotte, this week, Atrium Health is partnering with Johnson C. Smith University (JCSU), the State of North Carolina and Mecklenburg County to host a mass vaccination event on the JCSU campus this weekend with a goal of vaccinating thousands of local teachers. Vaccinations will be administered, by appointment only, from 8 a.m. to 4 p.m. on Saturday, March 13, and Sunday, March 14, in the Jack S. Brayboy Gymnasium.
"Getting the COVID-19 vaccine is an educated decision," said Dr. Gary Little, chief medical officer for the Charlotte Region at Atrium Health. "What better place to provide this opportunity for teachers than an outstanding institution of higher learning like Johnson C. Smith University. With more than a dozen schools within a 3-mile radius of the campus, it's an ideal location for us to reach teachers and early childhood workers. As we think about a 'return to normal' in our society, having kids back in school is one of the most essential elements of that and we are proud to be able to help teachers protect their health by making the COVID-19 vaccine available at this event. It can be their 'spring break' from many of the worries they may have about the virus."
"Educators have a very important role in our society," said Clarence D. Armbrister, J.D., president of Johnson C. Smith University. "They have had to adapt to the ever-changing conditions and expectations brought on by the pandemic as they have worked tirelessly to deliver knowledge to the next generation. We can help alleviate some of their concerns about their safety and the safety of their students when they receive their vaccinations on campus this weekend."
Atrium Health plans to administer 6,000 doses of the vaccine at this weekend's event. All appointments have been filled. Atrium Health has worked in concert with the State of North Carolina and Mecklenburg County throughout its vaccination efforts. The county made a specific request to the state to help support this event and others taking place in the community supporting the vaccination of teachers and early childhood workers.
With the recent expansion of eligibility to receive vaccination, JCSU faculty and staff are among those newly eligible to be vaccinated. Current state eligibility guidance includes anyone over the age of 65 and essential, frontline workers in industries such as education, public safety, transportation and health care, among others. While the mass vaccination event is focused on teachers, any eligible person may sign up for available appointments.
Vaccination efforts are just one of the COVID-19 mitigation efforts taking place between Atrium Health and JCSU. As part of an ongoing partnership, Atrium Health is helping the university implement COVID-Safe standards for its workforce and student body. This includes health screening protocols, testing of students upon their return to campus, working with the JCSU athletic department to ensure compliance for student-athletes to be able to compete, and exposure management, in the event of a positive COVID-19 case among faculty, staff or students.

About Atrium Health
Atrium Healthis a nationally recognized leader in shaping health outcomes through innovative research, education and compassionate patient care. Atrium Health is an integrated, nonprofit health system with more than 70,000 teammates serving patients at 42 hospitals and more than 1,500 care locations. It provides care under the Wake Forest Baptist Healthname in the Winston-Salem, North Carolina, region and Navicent Health in Georgia. Atrium Health is renowned for its top-ranked pediatric, cancer and heart care, as well as organ transplants, burn treatments and specialized musculoskeletal programs. A recognized leader in experiential medical education and groundbreaking research,Wake Forest School of Medicine is the academic core of the enterprise, including Wake Forest Innovations, which is advancing new medical technologies and biomedical discoveries. Atrium Health is also a leading-edge innovator in virtual care and mobile medicine, providing care close to home and in the home. Ranked among U.S. News & World Report's Best Hospitals for cancer treatment and in eight pediatric specialties, Atrium Health has also received the American Hospital Association's Quest for Quality Prize and was the recipient of the 2020 Centers for Medicare & Medicaid Services Health Equity Award for its efforts to reduce racial and ethnic disparities in care. With a commitment to every community it serves, Atrium Health seeks to improve health, elevate hope and advance healing – for all, providing more than $2 billion per year in free and uncompensated care and other community benefits.
About Johnson C. Smith University
Founded in 1867, Johnson C. Smith University is an independent, urban historically Black university located in Charlotte, N.C. It has a growing national reputation for integrating the liberal arts with business, the sciences and technology in ways that empower tomorrow's diverse entrepreneurial citizens and leaders. Offering 23 fields of study, including a master's degree in social work, to more than 1,200 students from a variety of ethnic, socioeconomic and geographic backgrounds, the university's excellent academic programs focus on servant leadership, civic engagement and global responsibility. For more information about JCSU, visit www.jcsu.edu or follow the university on social media sites Facebook, Twitter, YouTube, LinkedIn and Pinterest.