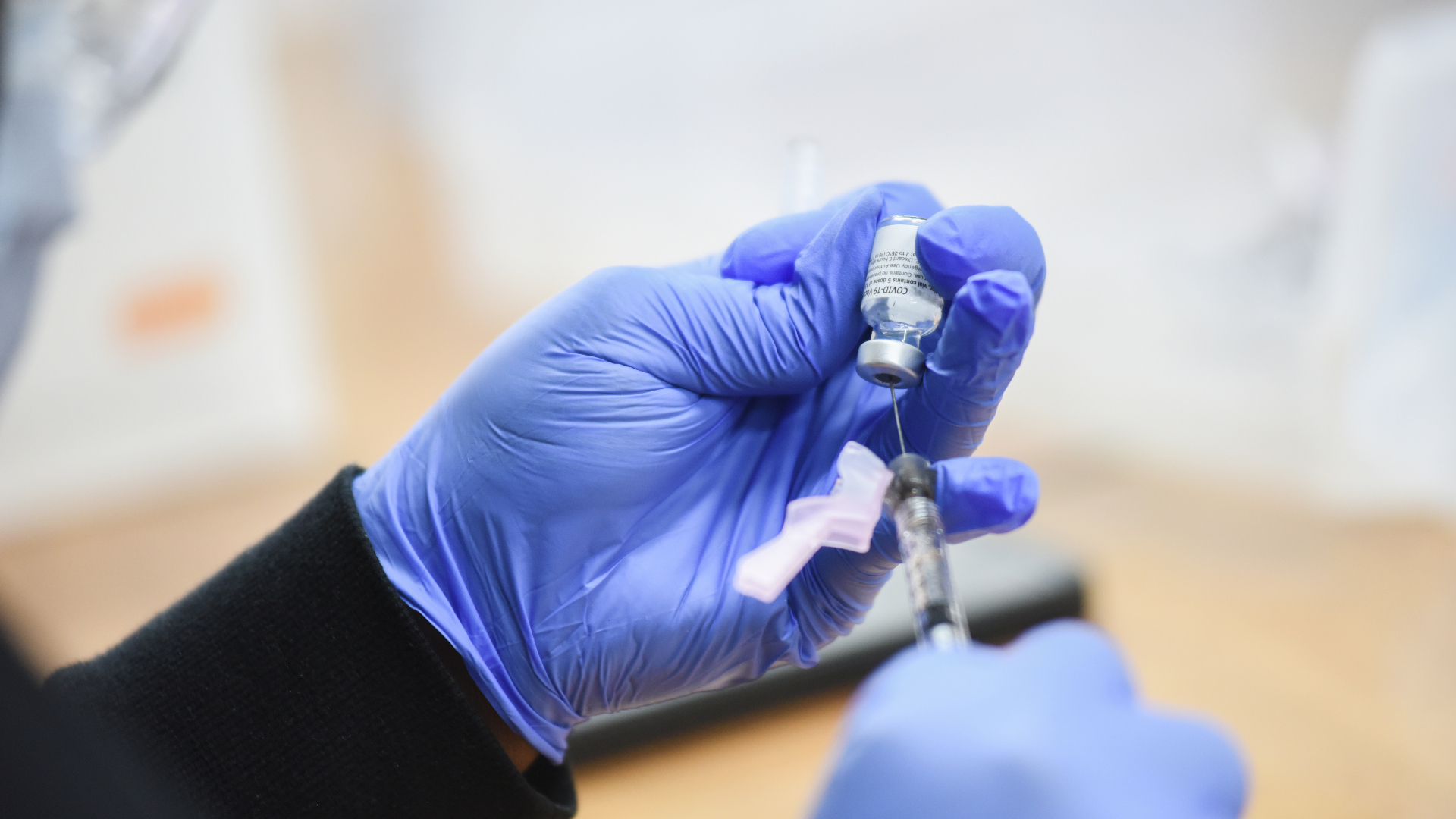 Atrium Health Mass Vaccination Event Arriving at Charlotte Douglas International Airport
03.16.2021
Atrium Health News
Transportation Workers Get On Board for Vaccinations at CLT
CHARLOTTE, N.C., March 16, 2021 – Over the past year, the aviation industry has taken steps to enhance cleaning practices and evolve safety protocols to safeguard customers throughout their travels. As an additional measure to improve safety and restore confidence, beginning tomorrow at Charlotte Douglas International Airport, airline employees and other transportation workers will take part in a mass vaccination event specifically tailored for their ease of access. Atrium Health is staging the two-day clinic, in partnership with the State of North Carolina, the City of Charlotte, Charlotte Douglas International Airport and American Airlines. The COVID-19 vaccination clinic is by appointment only. All appointments have been filled.
"Our airport is a gateway to the world – not just for Charlotte, but for people from all across North America," said Dr. Scott Rissmiller, executive vice president and chief physician executive for Atrium Health. "The men and women working there continue to work extra hard to keep us safe and healthy. They exemplify the essential, front line worker. It is exciting to know that we can upgrade them to first class, so to speak, with the protection the COVID-19 vaccine offers."
"This event demonstrates the power of public-private partnerships, particularly in challenging times like we are all experiencing," said Charlotte Mayor Vi Lyles. "I'm grateful to Atrium Health, American Airlines, our airport partners, the City team and particularly the Aviation team, for their diligent work to provide this opportunity for those who work at the airport, City teammates and the west side of Charlotte. Our community is making great progress on vaccinations and we've got to keep that momentum going. I encourage everyone to get their vaccination."
"American Airlines is proud to partner with Atrium Health, the CLT Airport and local officials to make the COVID-19 vaccine accessible for our team members who have been working diligently through the pandemic to keep the U.S. economy moving," said David Seymour, chief operating officer for American Airlines. "When combined with our comprehensive clean commitment, efforts like this help ensure our team's well-being while providing more customers the confidence to travel."
Atrium Health plans to administer more than 4,600 first dose vaccinations at the airport event, with recipients scheduled to come back for the required second dose in three weeks. The clinic is will provide vaccinations between 11:30 a.m. and 7 p.m. each day.
Rissmiller noted this event is yet another public-private partnership success story for the health system. Earlier this year, it announced a goal of providing 1 million doses of vaccine by the Fourth of July, in partnership with Honeywell, Tepper Sports & Entertainment and Charlotte Motor Speedway. To date, more than 250,000 of those shots have been administered.
---
About Atrium Health
Atrium Health is a nationally recognized leader in shaping health outcomes through innovative research, education and compassionate patient care. Atrium Health is an integrated, nonprofit health system with more than 70,000 teammates serving patients at 42 hospitals and more than 1,500 care locations. It provides care under the Wake Forest Baptist Health name in the Winston-Salem, North Carolina, region and Atrium Health Navicent in Georgia. Atrium Health is renowned for its top-ranked pediatric, cancer and heart care, as well as organ transplants, burn treatments and specialized musculoskeletal programs. A recognized leader in experiential medical education and groundbreaking research, Wake Forest School of Medicine is the academic core of the enterprise, including Wake Forest Innovations, which is advancing new medical technologies and biomedical discoveries. Atrium Health is also a leading-edge innovator in virtual care and mobile medicine, providing care close to home and in the home. Ranked among U.S. News & World Report's Best Hospitals for cancer treatment and in eight pediatric specialties, Atrium Health has also received the American Hospital Association's Quest for Quality Prize and was the recipient of the 2020 Centers for Medicare & Medicaid Services Health Equity Award for its efforts to reduce racial and ethnic disparities in care. With a commitment to every community it serves, Atrium Health seeks to improve health, elevate hope and advance healing – for all, providing more than $2 billion per year in free and uncompensated care and other community benefits.