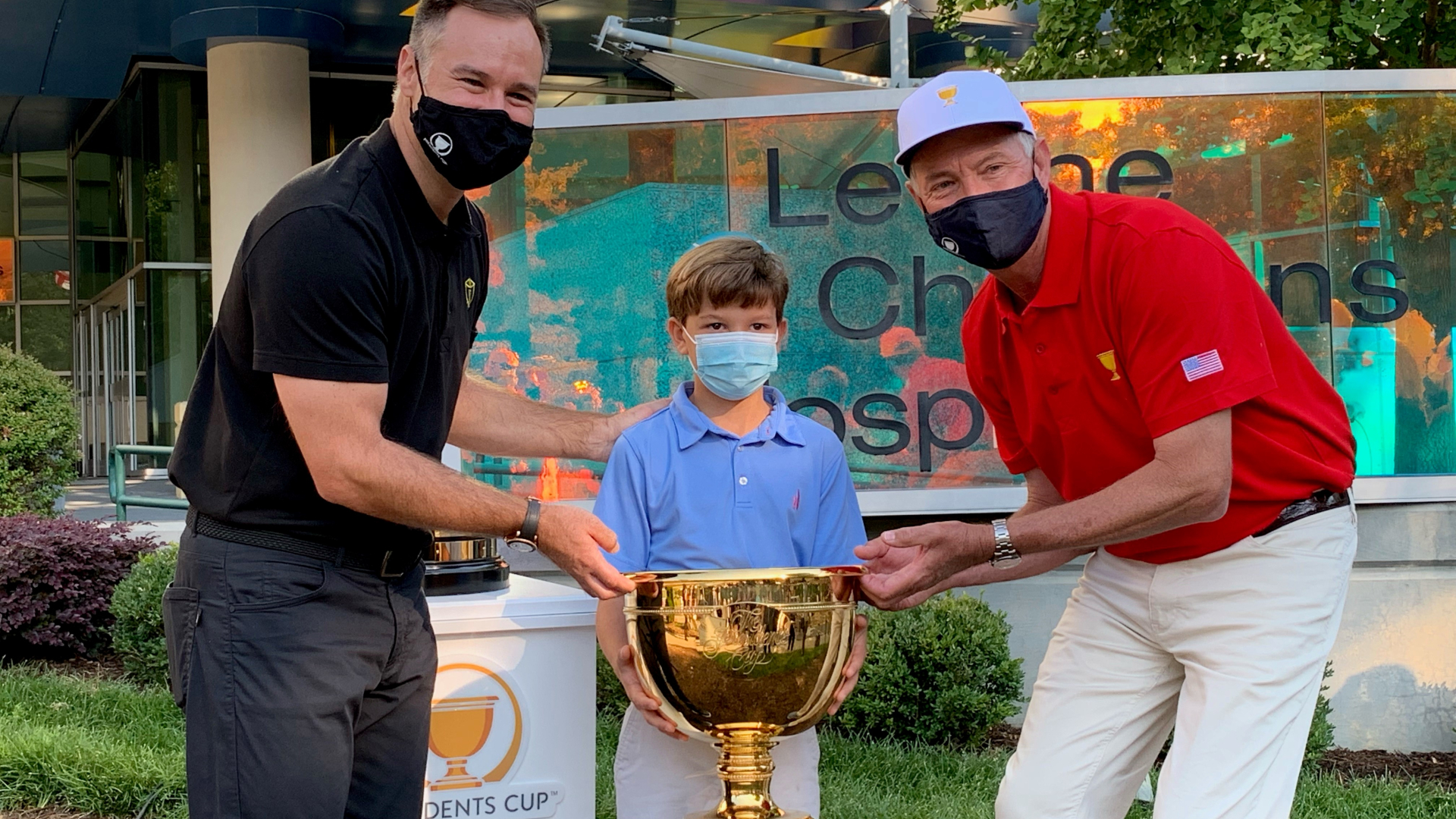 Atrium Health Announced As Official Health Care Provider of the 2022 Presidents Cup
09.29.2021
Atrium Health News
CHARLOTTE, North Carolina – The Presidents Cup today announced Atrium Health as the Official Health Care Provider of golf's premier global team event, to be held at Quail Hollow Club, in Charlotte, the week of Sept. 19-25, 2022. To commemorate the partnership, 2022 Presidents Cup Chair Johno Harris and Presidents Cup Executive Director Adam Sperling presented a $50,000 donation to Armando Chardiet, President, Atrium Health Foundation at an event at Atrium Health Levine Children's.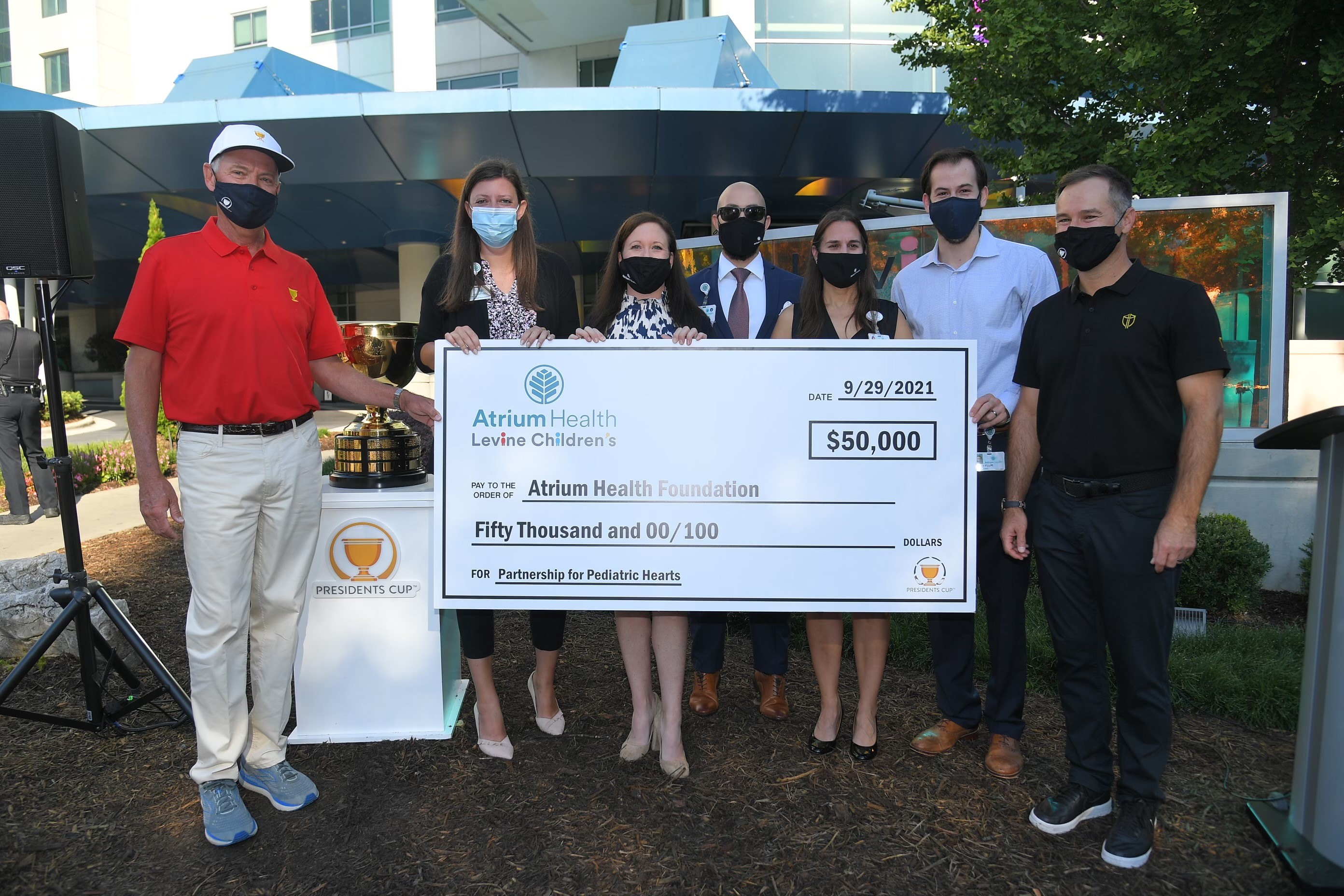 "We are deeply appreciative of the generosity of the Presidents Cup in support of Atrium Health Foundation, which will enhance pediatric cardiology research at Levine Children's," said Chardiet. "We're extremely excited to continue our long-standing partnership with the PGA TOUR as it brings the world's finest golfers to our community. It's important to us that we can help protect and ensure the health and well-being of the players and the spectators so that it can be a successful, fun and healthy event for all."
Atrium Health will provide on-site physicians and medical support teams to deliver care to spectators, volunteers, staff, players and caddies throughout tournament week. In addition, Atrium Health grandstands on No. 5 green / No. 6 tee, as well as No. 10 green, will provide shaded canopies for spectators, as well as educational elements tied to protecting spectators from the sun. They will also upfit an air-conditioned Family Care Suite on the grounds which will allow a comfortable area for parents to feed or change their babies.
"Atrium Health is not only the preeminent health system in the region, but is an innovative leader and trusted member of the greater Charlotte community," said Sperling. "We're excited to announce this partnership as we continue to work towards delivering a one-of-a-kind experience for fans at the 2022 Presidents Cup. Atrium Health's presence at Quail Hollow Club will ensure a safe and enjoyable experience for everyone onsite, while also delivering tremendous support for our players, partners and fans."
Quail Hollow Club will be the fifth golf course in the United States to host the Presidents Cup, dating back to 1994. Quail Hollow has hosted the Wells Fargo Championship since 2003 and brought the PGA Championship to Charlotte in 2017. The 2022 Wells Fargo Championship will be contested at TPC Potomac at Avenel Farm in Potomac, Maryland, just outside of Washington, D.C.
Tickets for the 2022 Presidents Cup will go on sale to the public Friday, Oct. 1, 2021, at 10 a.m. EDT. The ticket launch will feature options for General Admission (single day) as well as the upgraded Captains' Club (weekly and single day), and will be available by visiting PresidentsCup.com.
As a Global Partner, Citi will offer cardmembers exclusive first access to a pre-sale starting Monday, Sept. 20 through Oct. 1. Fans will also receive preferred pricing when using their Citi® card at time of purchase.
All tickets provide fans with access to several open-to-the-public venues, the ability to taste local fare from premier Charlotte-based restaurants and an opportunity to stand along the rope line to watch the world's top players compete for their respective teams.
Fans that are members of the Presidents Cup e-newsletter database will receive exclusive pre-sale access on Sept. 28. To sign up for the e-newsletter and get on the presale list, please visit PresidentsCup.com/tickets.
For more information about the Presidents Cup, please visit PresidentsCup.com.
For more information on Atrium Health, please visit AtriumHealth.org.
About Atrium Health
Atrium Health is a nationally recognized leader in shaping health outcomes through innovative research, education and compassionate patient care. Atrium Health is an integrated, nonprofit health system with more than 70,000 teammates serving patients at 40 hospitals and more than 1,400 care locations. It provides care under the Atrium Health Wake Forest Baptist name in the Winston-Salem, North Carolina, region, as well as Atrium Health Navicent and Floyd in Georgia and Alabama. A recognized leader in experiential medical education and groundbreaking research, Wake Forest School of Medicine is the academic core of the enterprise. Atrium Health is renowned for its top-ranked pediatric, cancer and heart care, as well as organ transplants, burn treatments and specialized musculoskeletal programs. It is also a leading-edge innovator in virtual care and mobile medicine, providing care close to home and in the home. Ranked among U.S. News & World Report's Best Hospitals in eight pediatric specialties, Atrium Health has also received the American Hospital Association's Quest for Quality Prize and its 2021 Carolyn Boone Lewis Equity of Care Award, as well as the 2020 Centers for Medicare & Medicaid Services Health Equity Award for its efforts to reduce racial and ethnic disparities in care. With a commitment to every community it serves, Atrium Health seeks to improve health, elevate hope and advance healing – for all, providing more than $2 billion per year in free and uncompensated care and other community benefits.
About the Presidents Cup
The Presidents Cup is a unique golf event in that there is no purse or prize money. Players are not paid for their participation, but each competitor allocates an equal portion of the funds generated to charities of his choice. Since the event's inception, more than $54.4 million has been raised for charity from event proceeds, as well as contributions made on behalf of the Presidents Cup, including a charitable donation of $5.3 million from the 2019 event alone.
Join us on Facebook at www.facebook.com/thepresidentscup, Twitter and Instagram at @presidentscup and sign up for the Presidents Cup e-newsletter.
Citi, Cognizant and Rolex are the exclusive Global Partners of the Presidents Cup.
About Citi
Citi, the leading global bank, has approximately 200 million customer accounts and does business in more than 160 countries and jurisdictions. Citi provides consumers, corporations, governments and institutions with a broad range of financial products and services, including consumer banking and credit, corporate and investment banking, securities brokerage, transaction services, and wealth management. Additional information may be found at www.citigroup.com | Twitter: @Citi | YouTube: www.youtube.com/citi | Blog: http://blog.citigroup.com | Facebook: www.facebook.com/citi | LinkedIn: www.linkedin.com/company/citi
About Cognizant
Cognizant (Nasdaq-100: CTSH) is one of the world's leading professional services companies, transforming clients' business, operating, and technology models for the digital era. Our unique industry-based, consultative approach helps clients envision, build, and run more innovative and efficient businesses. Headquartered in the U.S., Cognizant is ranked 194 on the Fortune 500 and is consistently listed among the most admired companies in the world. Learn how Cognizant helps clients lead with digital at www.cognizant.com or follow us @Cognizant.
About Rolex
An unrivalled reputation for quality and expertise
Rolex, a Swiss watch manufacture headquartered in Geneva, is recognized the world over for its expertise and the quality of its products. Its Oyster and Cellini watches, all certified as Superlative Chronometers for their precision, performance and reliability, are symbols of excellence, elegance and prestige. Founded by Hans Wilsdorf in 1905, the brand pioneered the development of the wristwatch and is at the origin of numerous major watchmaking innovations, such as the Oyster, the first waterproof wristwatch, launched in 1926, and the Perpetual rotor self-winding mechanism invented in 1931. Rolex has registered over 500 patents in the course of its history. A truly integrated and independent manufacturing company, Rolex designs, develops and produces in-house all the essential components of its watches, from the casting of the gold alloys to the machining, crafting, assembly and finishing of the movement, case, dial and bracelet. Through philanthropic programmes and a broad palette of sponsorship activities, Rolex is also actively involved in supporting the arts, sports and exploration, and encourages the spirit of enterprise, as well as the conservation of natural environments.