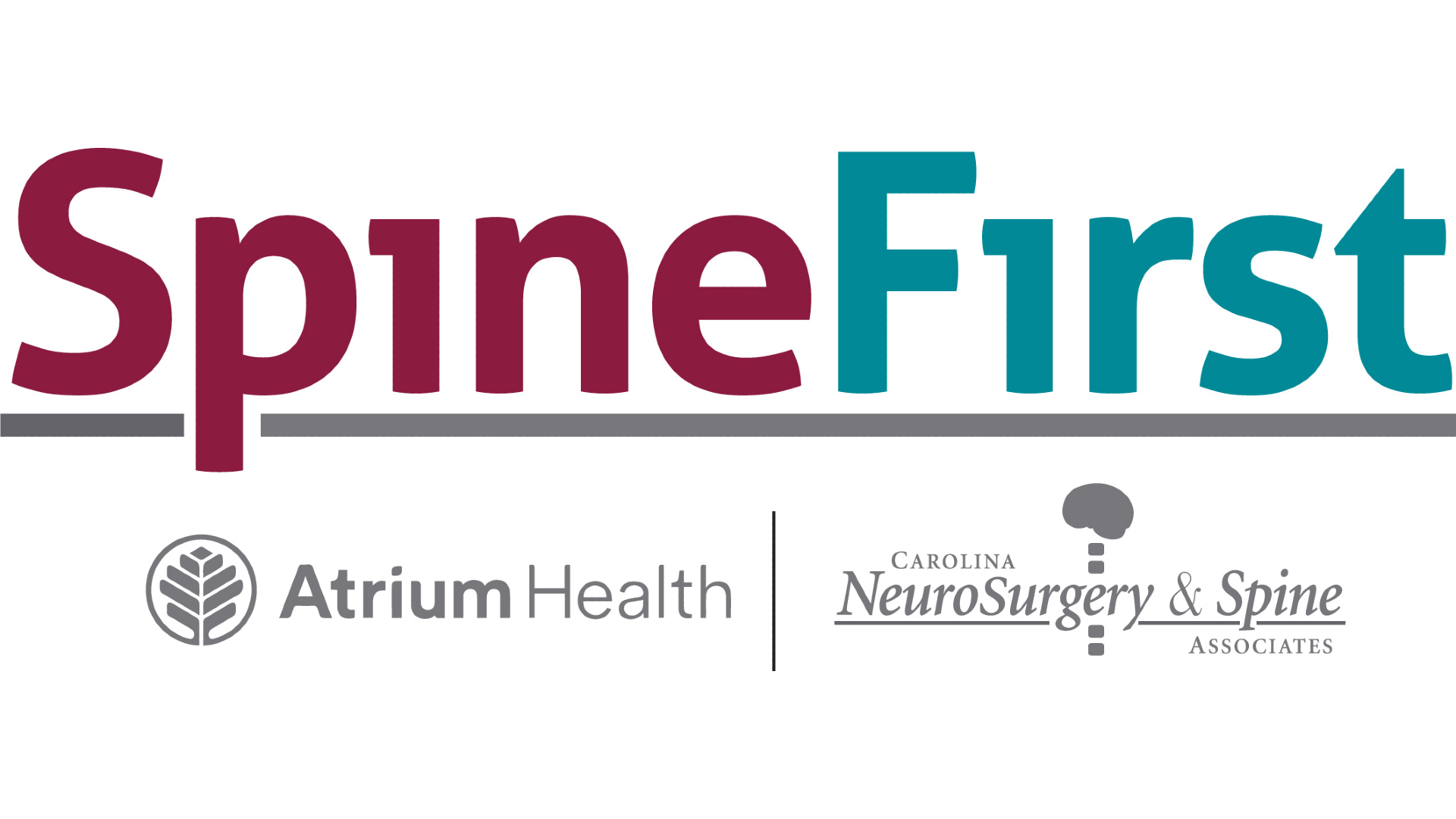 Atrium Health and Carolina NeuroSurgery & Spine Associates Announce a New Joint Venture to Revolutionize the Delivery of Spine Care in the Region
10.18.2021
Atrium Health News |
Musculoskeletal Institute
National Spine Care Leaders Combine Strengths to Enhance Delivery of Best Spine Care in the Region
Charlotte, N.C. — Two of the most respected and renowned health care organizations in the country — Atrium Health and Carolina NeuroSurgery & Spine Associates — have come together to establish SpineFirst, a new initiative that will revolutionize and elevate the delivery of spine care. SpineFirst is a joint venture, with equal partnership of the two Charlotte-based medical innovators, which are nationally known for creating and providing multidisciplinary treatments for complex spine ailments, including surgical and nonsurgical care.
The primary objective of SpineFirst is to significantly advance the manner in which best-in-class spine care is delivered. SpineFirst services range from non-operative treatment options and minimally invasive outpatient surgery to the most complex and life-altering surgical procedures. Every phase of care offered through SpineFirst is driven by a conservative, patient-centered approach, which begins with listening closely and understanding the specific needs of each patient.
"We believe SpineFirst offers patients the best spine program in the world," said neurosurgeon Dr. Dom Coric, of Carolina NeuroSurgery & Spine Associates and executive medical director of SpineFirst. "This collaboration to establish SpineFirst makes the existing bond between Carolina NeuroSurgery & Spine Associates and Atrium Health that much stronger, and our mutual commitment to thousands of patients with spine disorders that much more enduring."
SpineFirst will provide complete spine care through an established network that includes 37 experienced, board-certified spine specialists from the fields of neurosurgery, physiatry and orthopedic spine surgery who treat patients at the 14 Charlotte-region locations of Carolina NeuroSurgery & Spine Associates and Atrium Health Musculoskeletal Institute Sports Medicine. All SpineFirst surgical procedures are performed at four regional Atrium Health facilities and at Carolina Center For Specialty Surgery, in Charlotte, a joint venture ambulatory surgery center of the two partners.
"While Atrium Health and Carolina NeuroSurgery & Spine Associates remain separate entities, this joint venture will shepherd forward a unified effort to provide the absolute best and highest-level of spine care," said Dr. Claude T. Moorman, president of Atrium Health Musculoskeletal Institute. "SpineFirst patients will benefit from greater access and continuity of care throughout the entire treatment process."
A Historic Partnership
SpineFirst is a new focal point for two organizations that have collaborated extensively in providing spine care during their acclaimed histories. Both were established in 1940, with the founding of the practice that would become Carolina NeuroSurgery & Spine Associates and the opening of Charlotte Memorial Hospital, which would grow over the decades into Atrium Health. Shared accomplishments and milestones include:
Caring jointly for more than 40,000 patients who required surgical care over the past decade
Creating a joint-venture ambulatory surgical center, Carolina Center For Specialty Surgery, to provide a dedicated outpatient facility for minimally invasive spine procedures (2007)
Establishing a neurosurgical residency program to train new generations of neurosurgeons (2014)
First in the Southeast to earn advanced certification in spine surgery from the Joint Commission (2021)
Achieving the prestigious recognition as a Joint Commission facility with an advanced certification in spine surgery is just the most recent example of the cooperation that has existed for decades between Atrium Health and Carolina NeuroSurgery & Spine Associates. This certification ensures consistent communication and collaboration among all health care providers involved in a patient's care, at every stage of care — from the presurgical consultation with their spine surgeon to hospitalization or surgery center admission, rehabilitation activities and follow-up visit with the surgeon.
A Focus on Outcomes
The launch of SpineFirst is the result of an intensive collaboration between Atrium Health and Carolina NeuroSurgery & Spine Associates. The leadership team of SpineFirst includes pioneers in the national advancement of spinal surgery, research and patient outcomes. Neurosurgeons from Carolina NeuroSurgery & Spine Associates were the first in the country to establish the Quality Outcomes Database (QOD), where surgeons throughout the United States can compare the effectiveness of different spine treatment options. The QOD evolved into the American Spine Registry (ASR), a collaborative effort of the American Association of Neurological Surgeons (AANS) and the American Academy of Orthopaedic Surgeons (AAOS). SpineFirst doctors contribute to and use this shared, quality data-collection platform to deliver the evidence-based care that will be most effective for patients with spine disorders.
Greater Access to Spine Care
SpineFirst will make it easier than ever for patients and their physicians to have access to the best possible spine care provided by the region's largest team of spine specialists, which has over 80 years of experience. To learn more about SpineFirst, visit SpineFirst.com. To make an appointment with a SpineFirst provider, call 704-831-4000.
---
About Atrium Health
Atrium Health is a nationally recognized leader in shaping health outcomes through innovative research, education and compassionate patient care. Based in Charlotte, North Carolina, Atrium Health is an integrated, nonprofit health system with more than 70,000 teammates serving patients at 38 hospitals and more than 1,400 care locations. It provides care under the Atrium Health Wake Forest Baptist name in the Winston-Salem, North Carolina, region, as well as Atrium Health Navicent and Floyd in Georgia and Alabama. Atrium Health is renowned for its top-ranked pediatric, cancer and heart care, as well as organ transplants, burn treatments and specialized musculoskeletal programs. A recognized leader in experiential medical education and groundbreaking research, Wake Forest School of Medicine is the academic core of the enterprise, including Wake Forest Innovations, which is advancing new medical technologies and biomedical discoveries. Atrium Health is also a leading-edge innovator in virtual care and mobile medicine, providing care close to home and in the home. Ranked nationally among U.S. News & World Report's Best Hospitals in eight pediatric specialties and for rehabilitation, Atrium Health has also received the American Hospital Association's Quest for Quality Prize and its 2021 Carolyn Boone Lewis Equity of Care Award, as well as the 2020 Centers for Medicare & Medicaid Services Health Equity Award for its efforts to reduce racial and ethnic disparities in care. With a commitment to every community it serves, Atrium Health seeks to improve health, elevate hope and advance healing – for all, providing more than $2 billion per year in free and uncompensated care and other community benefits.
About Carolina NeuroSurgery & Spine Associates
Carolina NeuroSurgery & Spine Associates was established in 1940 and is the largest neurosurgery practice in the country. The group includes 48 physicians and has 10 offices in the Charlotte and Greensboro areas. Carolina NeuroSurgery & Spine Associates features physicians in the specialty areas of neurosurgery, physical medicine & rehabilitation (physiatry) and pain management. The group offers advanced surgical and nonsurgical treatment for the entire spectrum of brain, spine and peripheral nerve disorders, including brain tumors, spine injuries, degenerative spine disorders, stroke, aneurysms and movement disorders. The practice has offices in Charlotte, Concord, Huntersville, Matthews, Mooresville, Rock Hill, Ballantyne, Gastonia, Greensboro and Kernersville. To learn more about Carolina NeuroSurgery & Spine Associates, go to www.cnsa.com or call 704-376-1605.