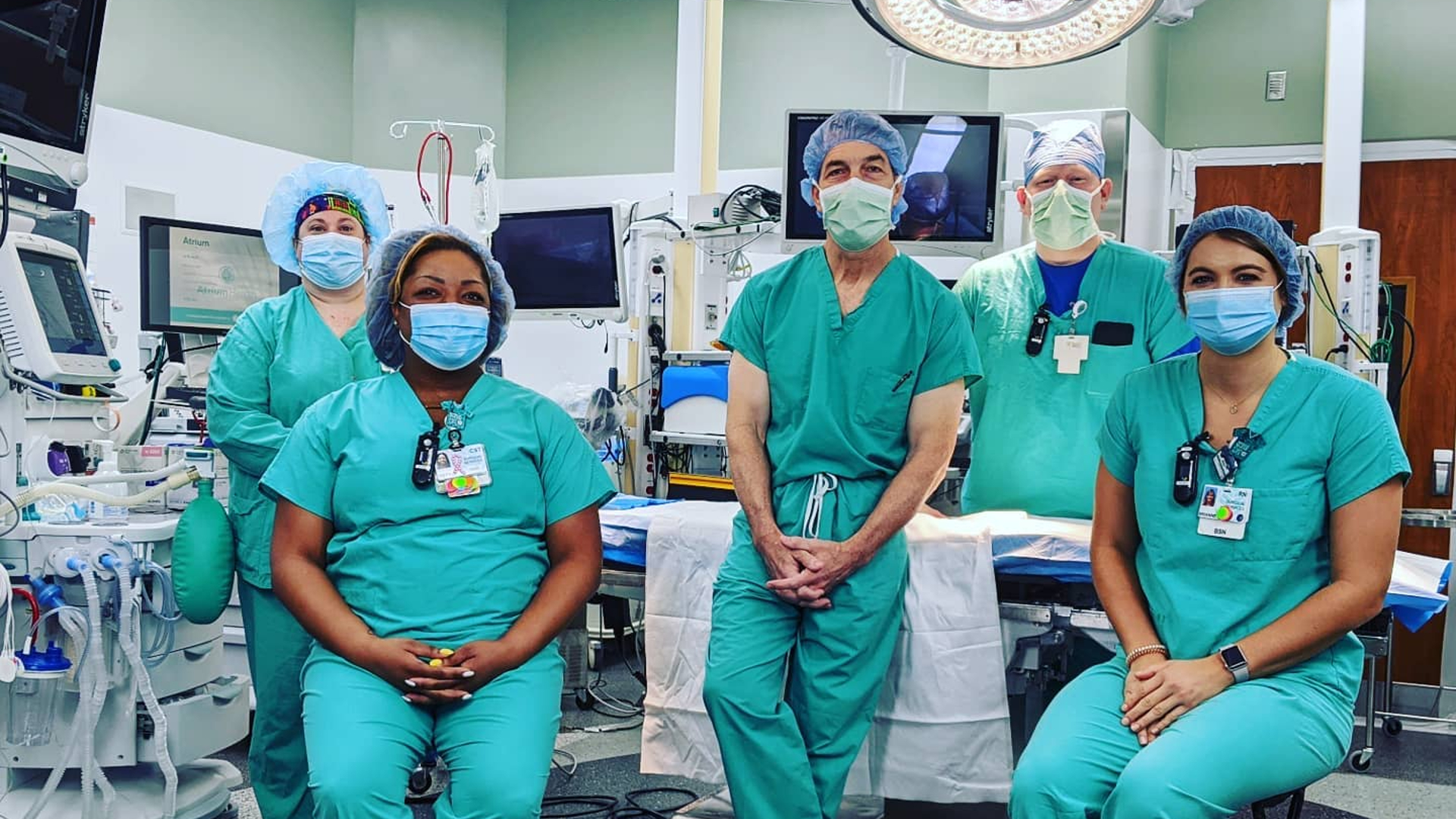 Atrium Health Named to 2021 Joy in Medicine™ Health System Recognition Program
10.07.2021
Atrium Health News
Program recognizes health system efforts to support physician well-being and reduce burnout 
CHARLOTTE, N.C., October 7, 2021 – The American Medical Association (AMA) today announced Atrium Health is one of 44 health systems named to the 2021 Joy in Medicine™ Recognition Program. This distinction recognizes the Atrium Health enterprise – including the greater Charlotte area, Atrium Health Wake Forest Baptist in Winston-Salem, North Carolina, Atrium Health Navicent in Macon, Georgia and Floyd health system in Rome, Georgia – for its demonstrated commitment to preserving the well-being of healthcare team members by engaging in proven efforts to combat work-related stress and burnout.
"This recognition is a testament to Atrium Health's dedication to its clinicians' well-being, especially during the pandemic," said Dr. Scott Rissmiller, executive vice president and chief physician executive for Atrium Health. "By encouraging multidisciplinary teamwork, promoting innovation and fostering emotional resilience, our physicians and advanced practice providers can continue to provide outstanding care for our patients every day. We are honored to be named among the best in the nation for our commitment to our colleagues' professional and mental health."
A national study examining the self-reported experiences of physicians and other providers who worked in healthcare systems during the COVID-19 pandemic found that 38% experienced anxiety or depression, 43% suffered from work overload and 49% had burnout.
"Since early last year, the COVID-19 pandemic has placed extraordinary stress on health care professionals," said Dr. Kevin High, president of Atrium Health Wake Forest Baptist. "Health systems have experienced unprecedented challenges. It is more important than ever to focus on the well-being of care teams and to combat higher rates of work overload, anxiety and depression. Atrium Health is proud to lead in promoting an organizational culture that empowers and supports our clinicians."
Candidates for the Joy in Medicine Health System Recognition Program were evaluated according to their documented efforts to reduce work-related burnout through system-level drivers. Scoring criteria was based on demonstrated competencies in commitment, assessment, leadership, efficiency of practice environment, teamwork and support.
Atrium Health formed its "Best Place to Care" initiative to empower physicians to maximize their passion, potential and performance as they live out the organization's mission to improve health, elevate hope and advance healing for all. The group's focus on well-being has resulted in numerous initiatives, including:
E

xecuting a w

orkforce manager system

in

ambulatory practices to

ensure clinicians have

adequate

staffing support

;

Providing a w

ell-being helpline

, available

24/7

,

to facilitate peer-to-peer, EAP, mental health and

c

haplain services

;

Establishing

PeerNet

, a system staffed by

faculty members

to help clinicians

dealing with adverse clinical events

as well as

p

rocesses to reduce administrative burdens

.
"This award validates what we've seen by implementing 'Best Place to Care'," said Dr. Patrice Walker, chief medical officer at Atrium Health Navicent."Atrium Health is a leader in understanding the needs of clinicians and working to create the best environment possible."
Launched in 2019, the Joy in Medicine Health System Recognition Program is a component of the AMA's practice transformation efforts, an ambitious initiative to advance evidence-based solutions that fill the knowledge gap in effective solutions to the physician burnout crisis. View the full list of Joy in Medicine Health System Recognition Program recipients here.
About Atrium Health 
Atrium Health is a nationally recognized leader in shaping health outcomes through innovative research, education and compassionate patient care. Based in Charlotte, North Carolina, Atrium Health is an integrated, nonprofit health system with more than 70,000 teammates serving patients at 38 hospitals and more than 1,400 care locations. It provides care under the Atrium Health Wake Forest Baptist name in the Winston-Salem, North Carolina, region, as well as Atrium Health Navicent and Floyd in Georgia and Alabama. Atrium Health is renowned for its top-ranked pediatric, cancer and heart care, as well as organ transplants, burn treatments and specialized musculoskeletal programs. A recognized leader in experiential medical education and groundbreaking research, Wake Forest School of Medicine is the academic core of the enterprise, including Wake Forest Innovations, which is advancing new medical technologies and biomedical discoveries. Atrium Health is also a leading-edge innovator in virtual care and mobile medicine, providing care close to home and in the home. Ranked nationally among U.S. News & World Report's Best Hospitals in eight pediatric specialties and for rehabilitation, Atrium Health has also received the American Hospital Association's Quest for Quality Prize and its 2021 Carolyn Boone Lewis Equity of Care Award, as well as the 2020 Centers for Medicare & Medicaid Services Health Equity Award for its efforts to reduce racial and ethnic disparities in care. With a commitment to every community it serves, Atrium Health seeks to improve health, elevate hope and advance healing – for all, providing more than $2 billion per year in free and uncompensated care and other community benefits.