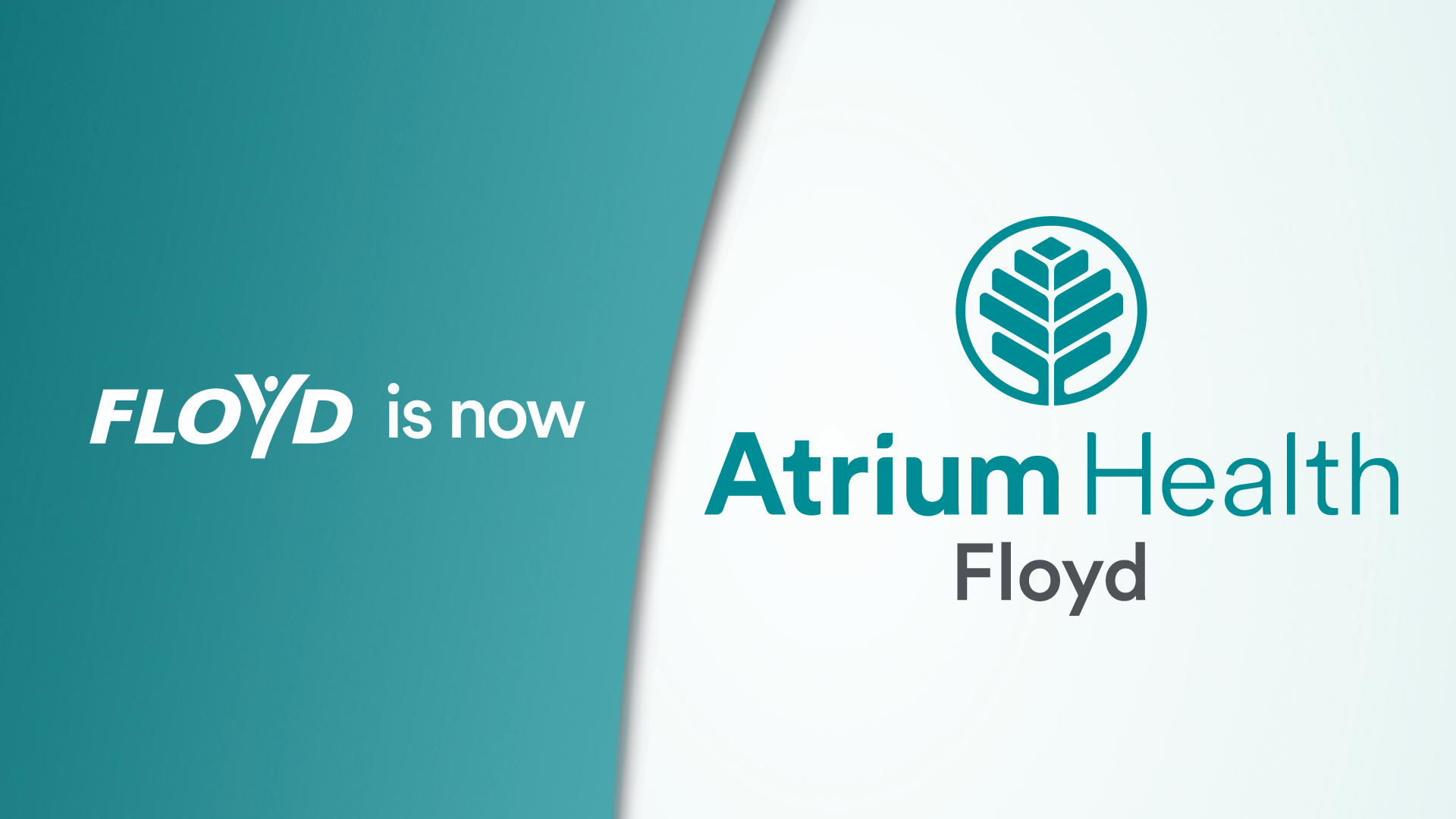 Floyd is Now Atrium Health Floyd
10.28.2021
Atrium Health News
ROME, Ga. (Oct. 28, 2021) – Floyd is now officially Atrium Health Floyd. Today marks the introduction of a new brand resulting from the strategic combination of the Floyd health system and Charlotte, North Carolina-based Atrium Health.
The new Atrium Health Floyd brand reflects and acknowledges the importance of each organization's legacy and strength, as well as Floyd's and Atrium Health's joint commitment to be the preeminent health care provider in northwest Georgia and northeast Alabama.
"This is another milestone in our strategic combination," said Kurt Stuenkel, executive vice president of Atrium Health and CEO of Atrium Health Floyd. "We are pleased our legacy brand name, Floyd, will remain part of our identity, given its significance which is so important to our region. At the same time, the addition of Atrium Health to our name underscores the investment Atrium Health is making into our communities and the wealth of resources now available to our patients and our community. Together, with our colleagues at Atrium Health, we will work to address disparities of care and add new services and technologies that will further enhance the already great health care services available."
"In just a few short months since our official combination, we've already shown just how extraordinary we can be together," said Michael Parkerson, chief marketing and communications officer for Atrium Health. "As rural health care faces many challenges, together, as one, we have a unique opportunity to enrich the lives of people in northwest Georgia and northeast Alabama by ensuring continued access to outstanding clinical care. We're just getting started on a mission that will improve health, elevate hope and advance healing – for all."
Patients, Atrium Health Floyd teammates and members of the community will see a measured rollout of the new brand in the communities across our service area, beginning with a series of public communications and changes to the health system's website, www.floyd.org. Over the course of the next year, signage, fleet identification, identification badges and promotional materials will also begin to reflect the Atrium Health Floyd brand.
About Atrium Health
Atrium Health is a nationally recognized leader in shaping health outcomes through innovative research, education and compassionate patient care. Based in Charlotte, North Carolina, Atrium Health is an integrated, nonprofit health system with more than 70,000 teammates serving patients at 40 hospitals and more than 1,400 care locations. It provides care under the Atrium Health Wake Forest Baptist name in the Winston-Salem, North Carolina, region, as well as Atrium Health Navicent and Atrium Health Floyd in Georgia and Alabama. Atrium Health is renowned for its top-ranked pediatric, cancer and heart care, as well as organ transplants, burn treatments and specialized musculoskeletal programs. A recognized leader in experiential medical education and groundbreaking research, Wake Forest School of Medicine is the academic core of the enterprise, including Wake Forest Innovations, which is advancing new medical technologies and biomedical discoveries. Atrium Health is also a leading-edge innovator in virtual care and mobile medicine, providing care close to home and in the home. Ranked nationally among U.S. News & World Report's Best Hospitals in eight pediatric specialties and for rehabilitation, Atrium Health has also received the American Hospital Association's Quest for Quality Prize and its 2021 Carolyn Boone Lewis Equity of Care Award, as well as the 2020 Centers for Medicare & Medicaid Services Health Equity Award for its efforts to reduce racial and ethnic disparities in care. With a commitment to every community it serves, Atrium Health seeks to improve health, elevate hope and advance healing – for all, providing more than $2 billion per year in free and uncompensated care and other community benefits.
About Atrium Health Floyd
Atrium Health Floyd is a leading medical provider and economic force in northwest Georgia and northeast Alabama. As part of the largest, integrated, nonprofit health system in the Southeast, it is also able to tap into some of the nation's leading medical experts and specialists with Atrium Health, allowing it to provide the best care close to home – including advanced innovations in virtual medicine and care. At the hub of these services is Floyd Medical Center, a 304-bed full-service, acute care hospital and regional referral center. Atrium Health Floyd employs more than 3,400 employees who provide care in over 40 medical specialties at three hospitals: Floyd Medical Center in Rome, Georgia; Floyd Cherokee Medical Center in Centre, Alabama; Floyd Polk Medical Center in Cedartown, Georgia, as well as Floyd Behavioral Health Center, a freestanding 53-bed behavioral health facility, also in Rome; and a primary care and urgent care network with locations throughout the service area of northwest Georgia and northeast Alabama.