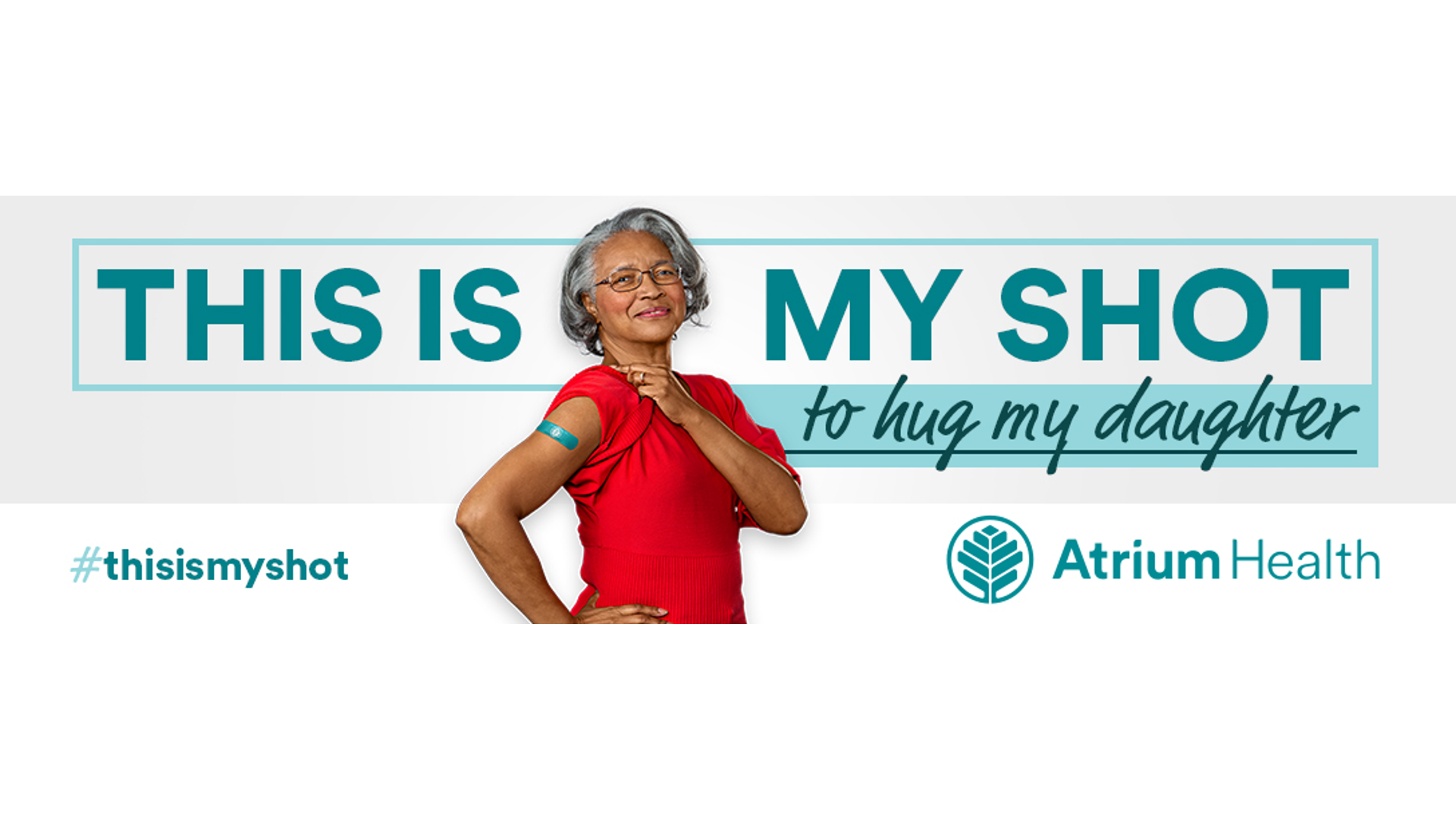 Atrium Health Communications and Marketing Teams Win National and Local Awards
11.05.2021
Atrium Health News
CHARLOTTE, N.C., Nov. 5, 2021 – The Atrium Health Marketing, Communications and Consumer (MCC) team has received top honors in Modern Healthcare's 2021 Healthcare Marketing Impact Awards and the Queen City PR (QCPR) Awards.
Members of the MCC division earned Modern Healthcare's Gold Award as the Integrated Campaign of the Year for its mass vaccinations campaign. The winners were announced on Saturday, Oct. 30, 2021. The Healthcare Marketing Impact Award program identifies and recognizes outstanding healthcare marketing campaigns that are impacting the industry, addressing the ever-changing challenges in healthcare and are reinventing the way audiences receive and retain healthcare information.
"I am extremely proud of all the teammates in our Marketing, Communications and Consumer division for their amazing work. They flooded media and social media with information as the vaccinations first became available to the public and have sustained their efforts to inform our communities about the safety, effectiveness and benefits of becoming vaccinated to this day," said Michael Parkerson, senior vice president and chief marketing and communications officer for Atrium Health. "From inception to rollout, there was never a doubt that Atrium Health would be the national leader in mass vaccination events. This team put in countless hours, employing new and innovative ways to tell the stories and capture the moments that helped build momentum and awareness for where and how people could get their vaccination. I'm especially proud of how they were able to reach underserved audiences and ensure equity in access to the vaccine."
From a walk in the park where the mass vaccination concepts would be first conceptualized by Atrium Health's President and CEO Eugene A. Woods and other Charlotte area business leaders, to the first sleeves rolled up and delivering a shot every four seconds at Bank of America Stadium and Charlotte Motor Speedway, it was always clear who was providing the all-important vaccine and where people could get it. This was accomplished with local and national television appearances by Atrium Health executives and doctors, as well as billboards and unique branding at the events that included the original hashtags #IGotTheShot and #ThisIsMyShot for social media posts. The team was so successful with mass vaccination events that, in cooperation with its partners in the public-private partnership that was forged, it created a playbook to help other cities host their own mass vaccination events. The playbook was distributed to the White House, all 50 state governors and posted online.
As part of its efforts to vaccinate the masses, Atrium Health also launched the "Community Immunity for All" collaborative, using culturally responsive vaccine education materials to help Blacks and Hispanics make informed decisions to best protect their health and well-being, using smaller-scale, neighborhood-based events to have the greatest impact.
Atrium Health and other national award winners in the other categories are featured in the Nov. 1 print edition of Modern Healthcare.
At a virtual ceremony on Friday, Nov. 5, 2021, the Atrium Health Enterprise Communications team and its team leader also earned top awards at the QCPR Awards, a highly competitive program recognizing the excellent work of Charlotte-area public relations practitioners. The Charlotte chapter of the Public Relations Society of America hosts the event annually.
Chris Berger, vice president and head of enterprise communications for Atrium Health, received this year's QCPR Infinity Award. Established in 1975, the Infinity Award is the highest honor that the chapter gives to a public relations professional whose character, career and service represent the highest standards and who excels in the practice. Berger's Enterprise Communications team led the way nationally in healthcare communications during the COVID-19 pandemic, keeping the public informed about the best safety practices, learning about vaccines and where to get tested, and earned a nationwide respect for Atrium Health's vaccine response.
"I am truly honored to accept this award on behalf of our entire Enterprise Communications team at Atrium Health for what we've been able to accomplish together – which has been highlighted more than ever during this pandemic. It's especially humbling knowing the honor roll of professionals who have been recognized in past years with this award," said Berger.
"These past few years have been some of the most trying, yet also most rewarding times of my nearly 25-year communications career," he added. "I'm so proud of each member of our communications team, as I've seen firsthand the incredible support they've provided and what teamwork can do to elevate Atrium Health to new heights, while making a meaningful impact in protecting the health of each of the communities we are privileged to serve."
A graduate of Oral Roberts University, in Tulsa, Oklahoma, Berger has led communications for Atrium Health since the beginning of 2017, having previously served in various senior level communications roles for Walmart, in Bentonville, Arkansas, leading large-scale change and programs. He also has experience in the government, banking and financial services communication sectors.
The Atrium Health Enterprise Communications team received one Crown Award and two Awards of Excellence at the QCPR Awards presentation. In the Brand Journalism category, Atrium Health earned the first-place Crown Award for "New Atrium Health Plaza Increases Services for Region's Heart, Specialty Patients" while "Hernia Surgery COVID-safe Re-Entry" received an Award of Excellence. Atrium Health's "This is My Shot" vaccine campaign was recognized with an Award of Excellence for Integrated Communications.
About Atrium Health
Atrium Health is a nationally recognized leader in shaping health outcomes through innovative research, education and compassionate patient care. Based in Charlotte, North Carolina, Atrium Health is an integrated, nonprofit health system with more than 70,000 teammates serving patients at 40 hospitals and more than 1,400 care locations. It provides care under the Atrium Health Wake Forest Baptist name in the Winston-Salem, North Carolina, region, as well as Atrium Health Navicent and Atrium Health Floyd in Georgia and Alabama. Atrium Health is renowned for its top-ranked pediatric, cancer and heart care, as well as organ transplants, burn treatments and specialized musculoskeletal programs. A recognized leader in experiential medical education and groundbreaking research, Wake Forest School of Medicine is the academic core of the enterprise, including Wake Forest Innovations, which is advancing new medical technologies and biomedical discoveries. Atrium Health is also a leading-edge innovator in virtual care and mobile medicine, providing care close to home and in the home. Ranked nationally among U.S. News & World Report's Best Hospitals in eight pediatric specialties and for rehabilitation, Atrium Health has also received the American Hospital Association's Quest for Quality Prize and its 2021 Carolyn Boone Lewis Equity of Care Award, as well as the 2020 Centers for Medicare & Medicaid Services Health Equity Award for its efforts to reduce racial and ethnic disparities in care. With a commitment to every community it serves, Atrium Health seeks to improve health, elevate hope and advance healing – for all, providing more than $2 billion per year in free and uncompensated care and other community benefits.