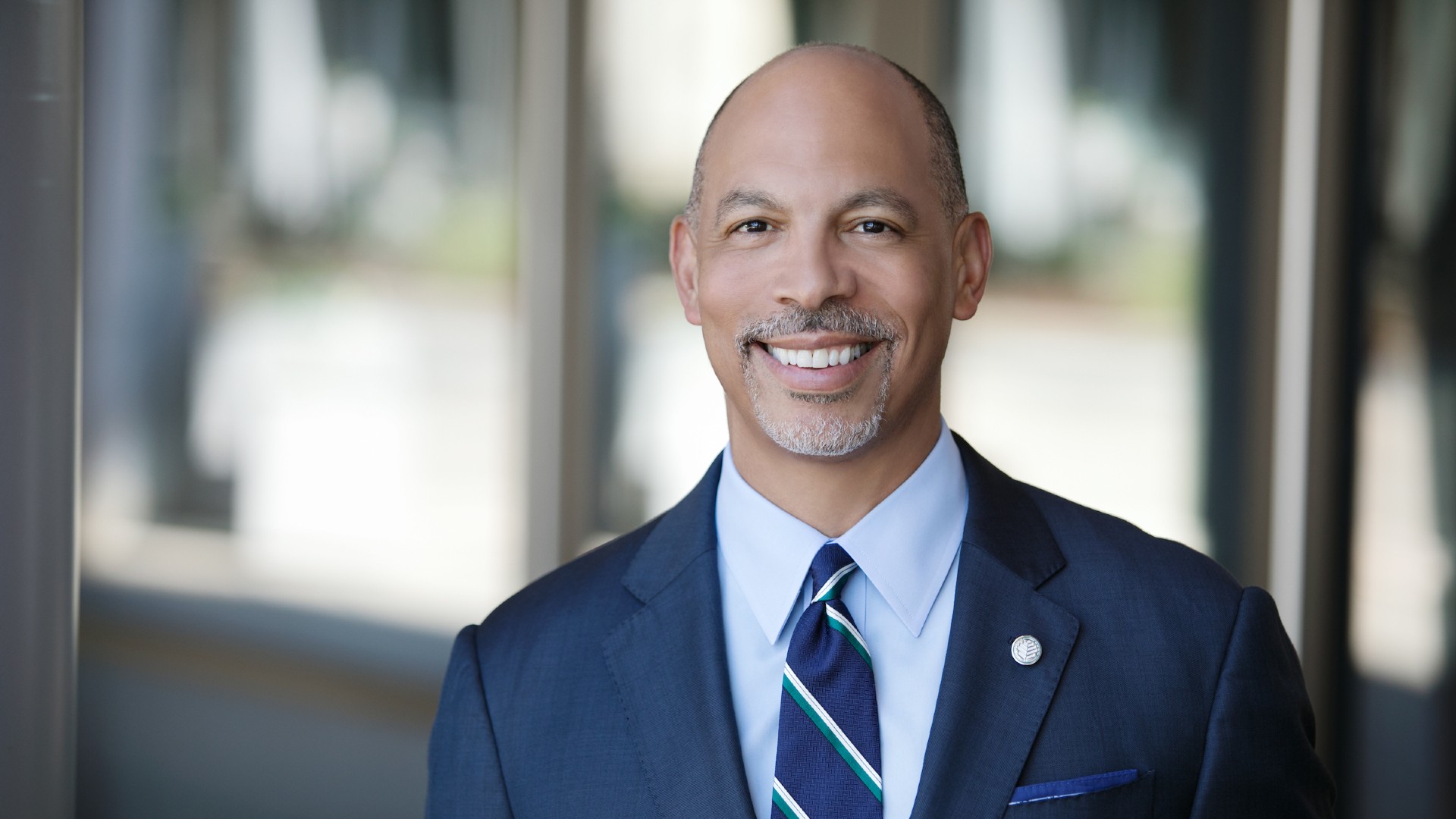 Eugene A. Woods Named as One of the Most Admired CEOs
11.19.2021
Atrium Health News
Atrium Health President and CEO Adds to List of Honors
CHARLOTTE, N.C., Nov. 19, 2021 – Atrium Health President and CEO Eugene A. Woods was named one of Charlotte's "Most Admired CEOs" by the Charlotte Business Journal at a ceremony held at the JW Marriott Charlotte Thursday evening. The Most Admired CEO Awards program recognizes established local leaders who have a strong vision for their companies, have shown commitment to culture in the workplace and made significant contributions to the Charlotte community.
"I accept this recognition humbly on behalf of the 70,000 most amazing healthcare heroes I'm privileged to serve with every day," said Woods. "They continue to demonstrate tremendous resilience as they pour their hearts and souls into caring for our communities in times of greatest need. Mostly, I feel tremendous gratitude for the countless, tangible ways they continue to breathe life into our mission: to improve health, elevate hope and advance healing – for all."
Just as 2020 was largely defined by the ongoing COVID-19 pandemic, the same has held true for 2021. Under the leadership of Woods, Atrium Health has been at the forefront of mass vaccination events, where thousands of patients were vaccinated daily. These events helped control the spread of COVID-19 and reduce the number of people needing to be hospitalized due to the effects of the virus.
To ensure greater access to the vaccine, Woods encouraged and supported new initiatives that included vaccination events at non-traditional locations such as places of worship, homeless shelters, local breweries, outpatient mental health clinics, local sporting locations, rural farms and teammate events. These efforts reached many in the community who may not otherwise have chosen to be vaccinated. He has also been a vocal advocate for underserved communities and succeeded in eliminating racial disparities in COVID testing and vaccinations, while improving access to care for at-risk populations.
Beyond the walls of each hospital and care facility, Woods continues to be a champion for the underserved communities Atrium Health is privileged to serve. He is co-leading the 2025 Charlotte Mecklenburg Housing & Homelessness Strategy, the first comprehensive effort to address housing instability and homelessness in the community and involves public, private and non-profit sectors. As part of a long-term strategy to address homelessness, Atrium Health partnered with Roof Above for a low interest loan to purchase an apartment complex that will provide affordable housing units, including some dedicated specifically for Atrium Health teammates. It also recently announced plans to donate a 14-acre tract of land for the development of affordable housing.
Woods also has a passion for supporting Atrium Health's teammates. He created an innovative recognition program for tens of thousands of Atrium Health teammates during the height of the COVID patient surges earlier this year. Atrium Health provided its workforce with $11 million in restaurant delivery service vouchers for them to have nice, relaxing meals with their families. Woods has also made a personal donation of $1 million to the Atrium Health Teammate Emergency Care Fund and has used his musical talents to record music video tributes to inspire and energize the frontline medical professionals who continue to care for the community in its time of need.
In addition to this year's honor from the Charlotte Business Journal, Woods was recognized by the publication as the 2020 Charlotte Businessperson of the Year. He has been honored for five consecutive years as one of Modern Healthcare's 100 Most Influential People in Healthcare. In 2020, he moved into the top-10, ranking seventh. Woods was also named a Luminary among Modern Healthcare's Diversity Leaders in Healthcare. Additionally, Woods was recently recognized by the Office of the Secretary of Defense with the highly regarded Patriot Award for supporting employee participation in America's National Guard and Reserve Forces.
During Woods' tenure, Atrium Health has also been recognized as: one of the best employers for diversity, for veterans, for new grads and for women by Forbes; number one on the list of Best Places to Work for Women & Diverse Managers by DiversityMBA; one of the 150 Top Places to Work in Healthcare by Becker's Healthcare; and the number one military-friendly employer in the country. In addition, the organization has been recognized by U.S. News & World Report, Leapfrog Group and the American Nurses Credentialing Center as among the very best in the nation and was honored by the American Hospital Association with the Equity of Care Award and one of the first-ever Quest for Quality honors for its rehabilitation hospital. Most recently, Atrium Health was recognized by the Centers for Medicare & Medicaid Services (CMS) as a 2020 CMS Health Equity Award recipient for its dedication to health equity by reducing disparities and enabling communities to achieve the highest level of health.
Included among many industry and civic involvements, Woods is a member of the North Carolina Economic Recovery Task Force as well as the Governor's Andrea Harris Social, Economic, Environmental and Health Equity Task Force. He is an executive member of the Charlotte Executive Leadership Council, a board member for Best Buy Co., Inc., and is chair of the board at the Federal Reserve Bank of Richmond.
---
About Atrium Health
Atrium Health is a nationally recognized leader in shaping health outcomes through innovative research, education and compassionate patient care. Based in Charlotte, North Carolina, Atrium Health is an integrated, nonprofit health system with more than 70,000 teammates serving patients at 40 hospitals and more than 1,400 care locations. It provides care under the Atrium Health Wake Forest Baptist name in the Winston-Salem, North Carolina, region, as well as Atrium Health Navicent and Atrium Health Floyd in Georgia and Alabama. Atrium Health is renowned for its top-ranked pediatric, cancer and heart care, as well as organ transplants, burn treatments and specialized musculoskeletal programs. A recognized leader in experiential medical education and groundbreaking research, Wake Forest University School of Medicine is the academic core of the enterprise, including Wake Forest Innovations, which is advancing new medical technologies and biomedical discoveries. Atrium Health is also a leading-edge innovator in virtual care and mobile medicine, providing care close to home and in the home. Ranked nationally among U.S. News & World Report's Best Hospitals in eight pediatric specialties and for rehabilitation, Atrium Health has also received the American Hospital Association's Quest for Quality Prize and its 2021 Carolyn Boone Lewis Equity of Care Award, as well as the 2020 Centers for Medicare & Medicaid Services Health Equity Award for its efforts to reduce racial and ethnic disparities in care. With a commitment to every community it serves, Atrium Health seeks to improve health, elevate hope and advance healing – for all, providing more than $2 billion per year in free and uncompensated care and other community benefits.