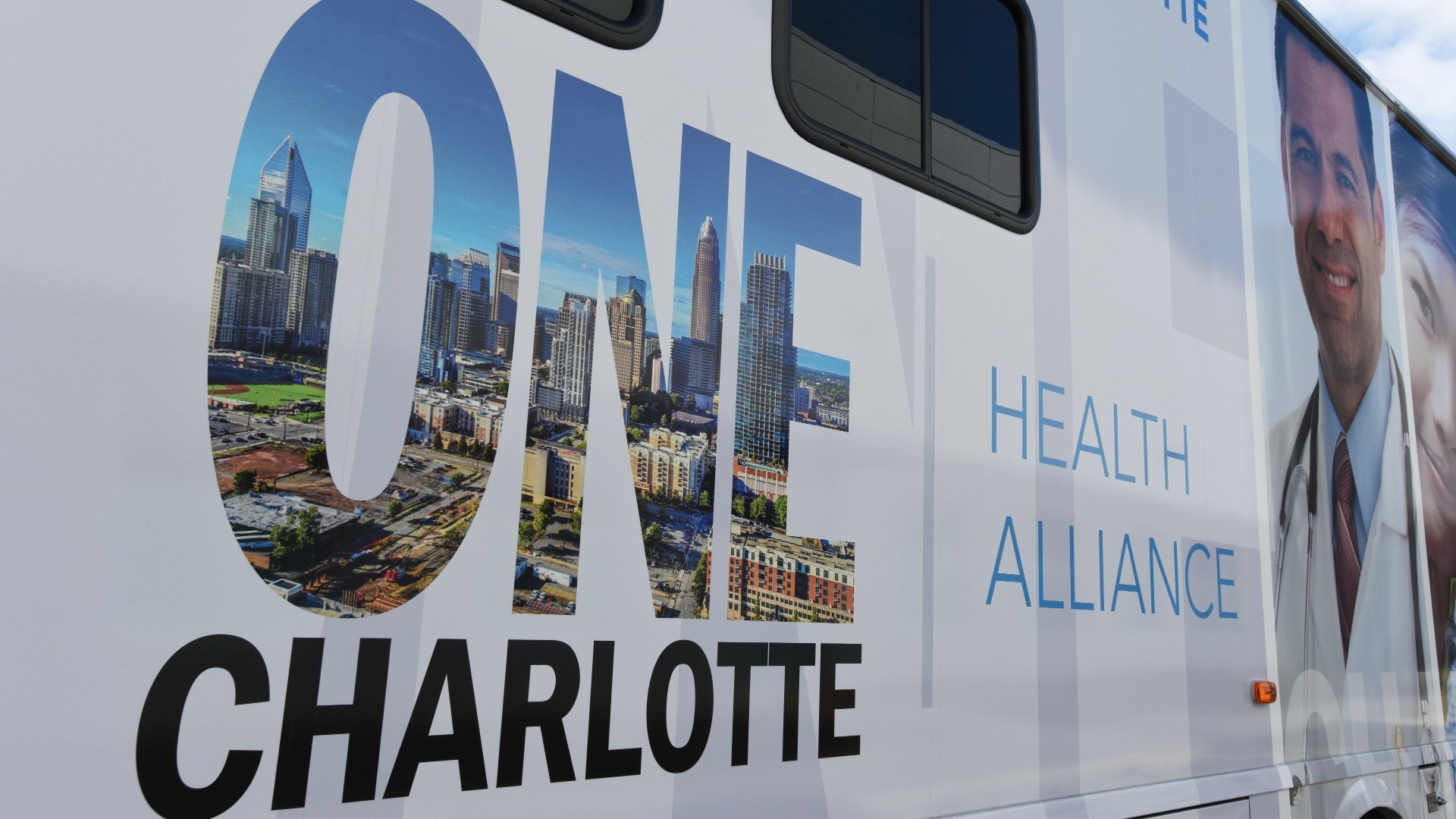 ONE Charlotte Health Alliance Partners Provide Update on Scholarship Program Promoting Career and Economic Advancement
11.30.2021
Atrium Health News
CHARLOTTE, N.C., Nov.30, 2021 – ONE Charlotte Health Alliance today announced that more than 75 employees of Atrium Health and Novant Health have received, or are receiving, opportunities to become a registered nurse through its nursing scholarship programs, the RN Educational Assistance Program at Atrium Health and the Upward Mobility RN Scholarship Program at Novant Health.
In 2018, Atrium Health and Novant Health announced an initiative through ONE Charlotte Health Alliance to support the professional development and advancement of certified nursing assistants (CNAs) employed at the health systemsto become registered nurses (RN).In the three years since the initiative began, 36 participants have completed the scholarship program,nearly 90% of participants continue to work at the participating health systems. Another 47 participants are currently enrolled in the program.
As the national nursing shortage continues to be further exacerbated by the COVID-19 pandemic, these scholarships enable ONE Charlotte Health Alliance partners to continue to build a workforce pipeline while simultaneously addressing and improving economic mobility for their employees and increasing diversity within the workforce. Since the initial CNA-to-RN upward mobility scholarship pilot, both health systems have expanded their programs to benefit any eligible employee who is interested in becoming a registered nurse.
"At Novant Health, we continue to identify ways to invest in our team members and provide professional advancement opportunities," said Carmen Canales, senior vice president and chief people officer, Novant Health. "Due to the success of our Upward Mobility RN Scholarship Program in Charlotte, we've since expanded this scholarship opportunity across the Novant Health system and have participants enrolled in nursing schools in every community we serve. I'm proud to share that some of our graduates now hold leadership positions across the organization," said Canales.
 "As the largest employer in North Carolina, we are committed to supporting professional development opportunities that improve financial well-being and support our teammates' advancement in their careers," said Jim Dunn, enterprise executive vice president, chief people and culture officer for Atrium Health. "We are incredibly proud of the progress we've made through this scholarship program to date by celebrating internal advancement for teammates and will continue to invest in our teammates to pursue their educational goals and excel now and in the future."
The scholarships provide up to two years of upfront coverage of tuition and fees for nursing school, leading to licensure as a registered nurse. Participants are offered the flexibility of working a reduced schedule without a reduction in current compensation and benefits to meet academic requirements and are also paired with a mentor for career coaching.
"As a mother of four little kids, finances would have been my greatest setback in achieving my dream of becoming a nurse, but being a recipient of the Atrium Health RN Educational Assistance Program lifted this burden off my shoulders," said Jennifer Awuruonye, a registered nurse at Atrium Health. "Not only did they pay my tuition and supplies through school, but the physical and emotional support that I received from my coach was second to none. The coaches were there to listen and always circling around to ensure I had all the resources I needed to succeed. This program was a total package and I can beat my chest so hard to say that I became a registered nurse because of the support I received from Atrium Health," said Awuruonye.
"I've dreamed of becoming a nurse since I was a little girl, but the road I took had a lot of obstacles – including two unsuccessful attempts at a nursing degree," said Brittany Samuels, a Novant Health Upward Mobility RN Scholarship recipient. "With the flexibility of working a reduced schedule to focus on my studies, this scholarship program made it possible for me to achieve my goal of becoming a nurse. In addition to the flexible work hours, the scholarship also provided invaluable mental health support, life navigation to help me process the challenges of life and career coaching that assisted me in identifying the steps I needed to take to advance my career. I completed the program in 2019 and have since gone on to complete my bachelor's degree in nursing." 
This program is designed to promote individual professional development, while advancing both health systems' organizational goals of addressing future nursing needs, engaging team members, identifying top talent and increasing diversity. 
 Together, Atrium Health and Novant Health continue to support ONE Charlotte Health Alliance's mission to strengthen Charlotte communities and promote the economic advancement of all Charlotte residents. The ONE Charlotte Health Alliance is part of the ONE Charlotte initiative, designed to provide holistic support in education, jobs, health and justice by integrating programs and services to meet the needs of underserved communities in Charlotte.
---
About Atrium Health
Atrium Health is a nationally recognized leader in shaping health outcomes through innovative research, education and compassionate patient care. Based in Charlotte, North Carolina, Atrium Health is an integrated, nonprofit health system with more than 70,000 teammates serving patients at 40 hospitals and more than 1,400 care locations. It provides care under the Atrium Health Wake Forest Baptist name in the Winston-Salem, North Carolina, region, as well as Atrium Health Navicent and Atrium Health Floyd in Georgia and Alabama. Atrium Health is renowned for its top-ranked pediatric, cancer and heart care, as well as organ transplants, burn treatments and specialized musculoskeletal programs. A recognized leader in experiential medical education and groundbreaking research, Wake Forest University School of Medicineis the academic core of the enterprise, including Wake Forest Innovations, which is advancing new medical technologies and biomedical discoveries. Atrium Health is also a leading-edge innovator in virtual care and mobile medicine, providing care close to home and in the home. Ranked nationally among U.S. News & World Report's Best Hospitals in eight pediatric specialties and for rehabilitation, Atrium Health has also received the American Hospital Association's Quest for Quality Prize and its 2021 Carolyn Boone Lewis Equity of Care Award, as well as the 2020 Centers for Medicare & Medicaid Services Health Equity Award for its efforts to reduce racial and ethnic disparities in care. With a commitment to every community it serves, Atrium Health seeks to improve health, elevate hope and advance healing – for all, providing more than $2 billion per year in free and uncompensated care and other community benefits.
About Novant Health
Novant Health is an integrated network of physician clinics, outpatient facilities and hospitals that delivers a seamless and convenient healthcare experience to communities in North Carolina, South Carolina, and Georgia. The Novant Health network consists of more than 1,800 physicians and over 35,000 employees who provide care at nearly 800 locations, including 15 hospitals and hundreds of outpatient facilities and physician clinics. In 2021, Novant Health was the highest-ranking healthcare system in North Carolina to be included on Forbes' Best Employers for Diversity list. Diversity MBA Magazine ranked Novant Health first in the nation on its 2021 list of "Best Places for Women & Diverse Managers to Work." In 2020, Novant Health provided more than $1.02 billion in community benefit, including financial assistance and services. 
For more information, please visit our website at NovantHealth.org. You can also follow us on Twitter and Facebook. 
About ONE Charlotte Health Alliance
The ONE Charlotte Health Alliance was launched by Atrium Health, Mecklenburg County Public Health and Novant Health to build upon the conversations around investments to address the community's critical needs, specifically barriers to health care. ONE Charlotte Health Alliance intends to foster partnerships and create new opportunities to improve access to coordinated health services and resources in the communities that need it most. Learn more about the ONE Charlotte Health Alliance by visiting www.oneclthealth.org and follow ONE Charlotte Health Alliance on Twitter and Facebook at @oneclthealth.