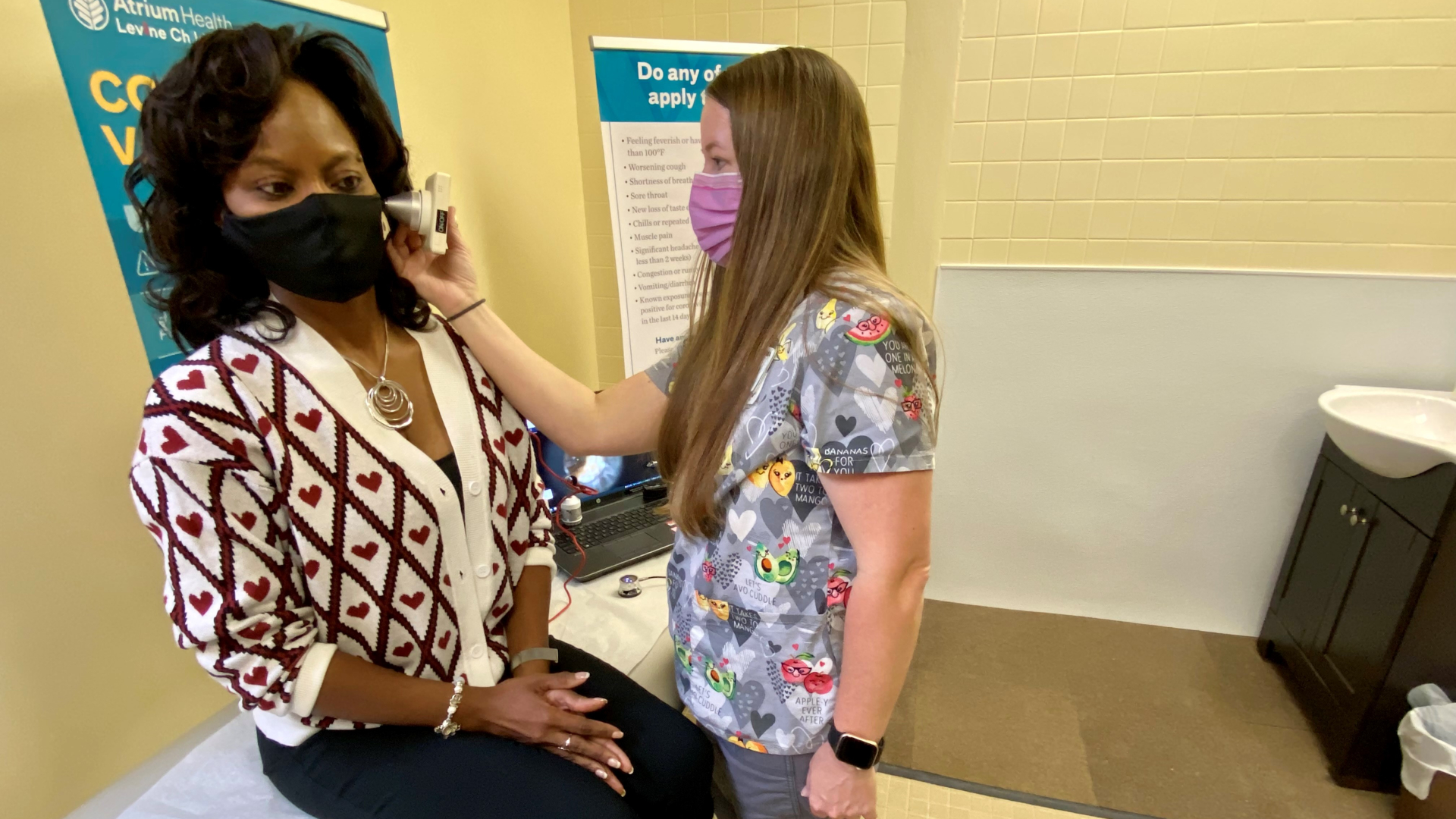 Atrium Health Brings Community Based Virtual Care to Shelby
12.13.2021
Atrium Health News
New virtual clinic will provide better access to medical care for residents in Shelby
CHARLOTTE, N.C., December 13, 2021 – Atrium Health is eliminating the inconvenience of having to travel far, delaying getting medical care or enduring lengthy wait times for non-emergency medical needs for those living in rural communities. Atrium Health is bringing community-based virtual care to the area with the creation of a new clinic at Mt. Calvary Baptist Church's Community Life Center's Robertsdale Campus. The virtual care clinic, located at 1205 Northside Drive, in Shelby, gives people who may not have a primary care physician or access to video livestream capabilities the opportunity to have a virtual visit with an Atrium Health physician or advanced practice provider.
This clinic is part of Atrium Health's ongoing efforts to improve health equity among communities that have historically struggled with access to care.
"For many families in North Carolina, access to health care can be a struggle due to the lack of primary care doctors, transportation challenges, inflexible work schedules and other economic barriers associated with poverty and unemployment," said Dr. Patty Grinton, medical director for Atrium Health Community Based Virtual Care. "These barriers are even more pronounced for residents of rural counties. Community Based Virtual Care allows our community members to access medical care within their rhythm of life. We are breaking down those barriers by meeting people where they are – in their community – to help improve health for all and provide access to high quality health care close to home and delivered by the expert clinicians at Atrium Health."
Here's how it works. With Atrium Health Community Based Virtual Care, people can make an appointment or walk right into the clinic, where telemedicine equipment is set up for their use. An Atrium Health medical assistant at the Community Life Center helps the patient connect virtually to a remotely located Atrium Health physician or advanced practice provider. Using special technology, including a tele-stethoscope, tele-otoscope and a high-resolution camera, the provider is able to diagnose and treat minor conditions like allergies, sore throat, ear pain or stomachache. The provider can send in prescriptions, if needed, and will send notes about the visit to the patient's primary care doctor if they have one.
Locally and nationally, many non-emergency primary care needs end up being evaluated in the emergency room due to lack of access to a primary care provider. This is not only more expensive, it also typically results in less follow-up and care continuity that would normally occur when a patient visits their family physician.
"The community-based virtual care clinic will help improve health outcomes for our friends and neighbors in this community," said the Rev. Lamont Littlejohn, servant pastor and teacher at Mt. Calvary. "Their health and well-being matter and Atrium Health recognizes the importance of making it easy for everyone to access the care they need."
Atrium Health Community Based Virtual Care has grown from a pilot program at Cleveland County's Graham Elementary School to include more than 70 locations in four counties: Cabarrus, Cleveland, Lincoln and Mecklenburg. Its locations are primarily located in schools but has extended into community outreach centers such as faith-based organizations, youth clubs and a daycare facility.
Many insurance plans now cover virtual care services, however virtual visits may still be subject to co-pays and deductibles, depending on the plan. Financial assistance may be available for people without insurance.
The virtual clinic will be open Monday through Friday from 8 a.m. to 4 p.m. To make an appointment, patients should call 704-487-7784. Walk-ins are also welcome.
About Atrium Health
Atrium Health is a nationally recognized leader in shaping health outcomes through innovative research, education and compassionate patient care. Based in Charlotte, North Carolina, Atrium Health is an integrated, nonprofit health system with more than 70,000 teammates serving patients at 40 hospitals and more than 1,400 care locations. It provides care under the Atrium Health Wake Forest Baptist name in the Winston-Salem, North Carolina, region, as well as Atrium Health Navicent and Atrium Health Floyd in Georgia and Alabama. Atrium Health is renowned for its top-ranked pediatric, cancer and heart care, as well as organ transplants, burn treatments and specialized musculoskeletal programs. A recognized leader in experiential medical education and groundbreaking research, Wake Forest University School of Medicine is the academic core of the enterprise, including Wake Forest Innovations, which is advancing new medical technologies and biomedical discoveries. Atrium Health is also a leading-edge innovator in virtual care and mobile medicine, providing care close to home and in the home. Ranked nationally among U.S. News & World Report's Best Hospitals in eight pediatric specialties and for rehabilitation, Atrium Health has also received the American Hospital Association's Quest for Quality Prize and its 2021 Carolyn Boone Lewis Equity of Care Award, as well as the 2020 Centers for Medicare & Medicaid Services Health Equity Award for its efforts to reduce racial and ethnic disparities in care. With a commitment to every community it serves, Atrium Health seeks to improve health, elevate hope and advance healing – for all, providing more than $2 billion per year in free and uncompensated care and other community benefits.