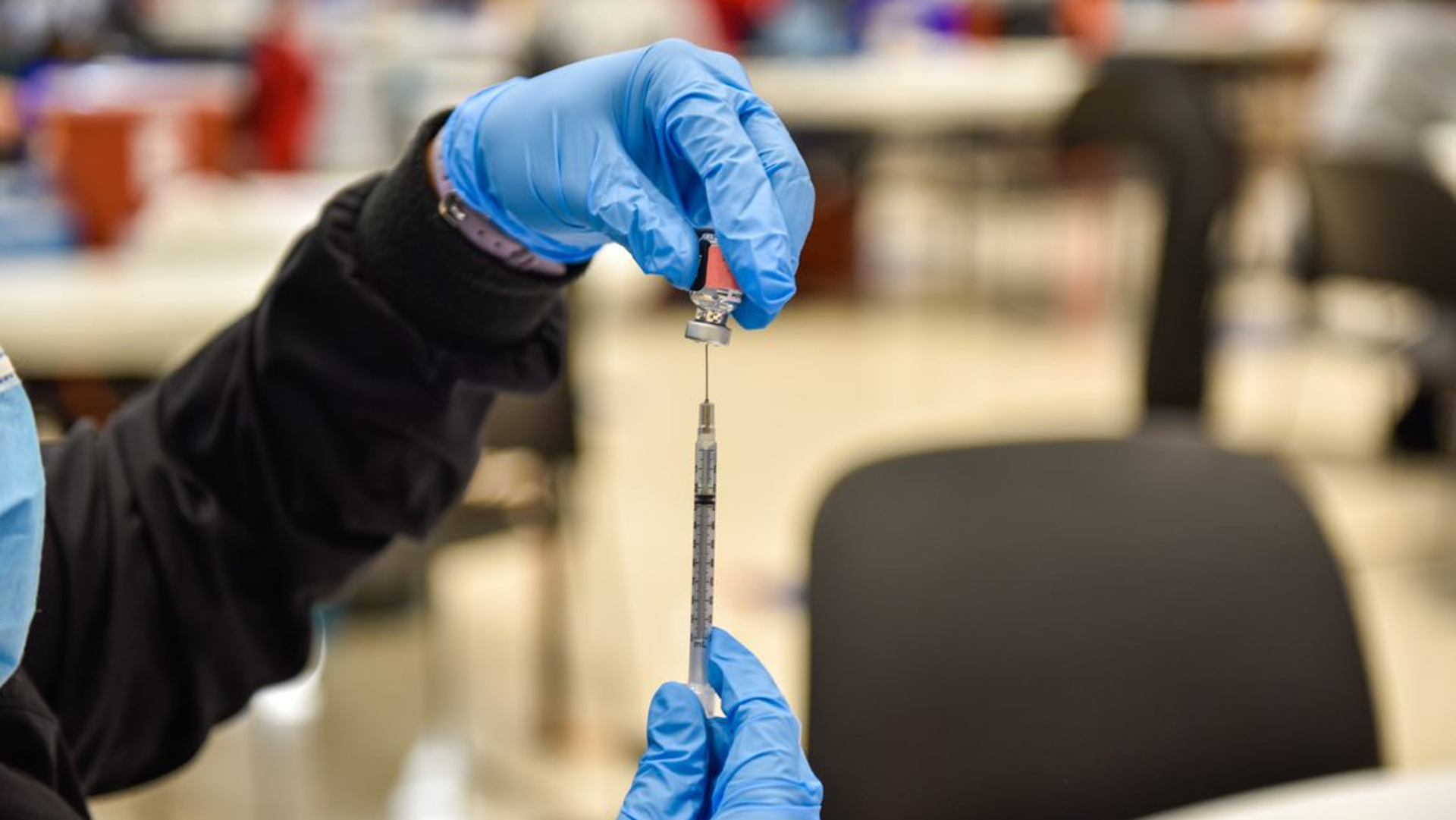 One Year Later: Atrium Health Marks Historical Milestone with COVID-19 Vaccinations
12.14.2021
Atrium Health News
First health system in N.C. to administer vaccine celebrates year of safe, equitable and effective distribution of vaccines
CHARLOTTE, N.C., December 14, 2021 – Doctors, nurses and other Atrium Health teammates are proudly reflecting back and celebrating a milestone that happened a year ago Tuesday. It has been exactly one year since Dr. Katie Passaretti, vice president and enterprise chief epidemiologist at Atrium Health, became the first person in North Carolina to receive the COVID-19 vaccine, setting the stage for an ongoing effort to extend the life-saving protection of the vaccines to the community.
"I remember crying on my way to get the vaccine because so many things were running through my head," said Passaretti. "I was so honored to be the first in North Carolina to receive the vaccine, but also I felt full of hope and excitement for our patients, our health care workers and our communities to know they would have access to another layer of protection against this deadly disease."
At the time, vaccinations were just recently approved by the FDA, CDC and state department of health and human services on an emergency authorization. Who was eligible to receive one was dictated by the state and federal government. Health care workers were considered the highest priority and therefore had first access to the life-saving vaccine.
In the short span of one year, and with the help of community partners, Atrium Health has been able to:
Create mass vaccination events, including at Bank of America Stadium, Charlotte Motor Speedway, Charlotte-Douglas International Airport, Johnson C. Smith University and the University of North Carolina at Charlotte, among others
Create "Community Immunity for All" to ensure equitable access to the vaccine in communities disproportionately impacted by COVID-19
Rollout and administer vaccinations based on eligibility requirements including the elderly, essential workers, educators, teens and young children, among others
Begin third dose and booster shots for all who qualified
Create and share a mass vaccination playbook with members of the health care industry, the nation's governors and members of Congress as a guide to successfully replicate mass vaccination events
"As we pause to recognize this monumental milestone for our health system, it's incredible to reflect on the efforts of our caregivers who have led the fight against COVID-19, including putting hundreds of thousands of shots in arms," said Eugene A. Woods, president and CEO of Atrium Health. "Whether at one of our mass vaccination events, on the grounds of construction sites or in local church parking lots, we have worked tirelessly to ensure the safety and protection of our community from this virus. We will continue to be a leader in advocating for all community members to get vaccinated and receive a booster, so we can end this pandemic once and for all."
The COVID-19 vaccines have proven to be lifesaving and are highly effective to help keep people from catching the deadly disease. As with many vaccines, the amount of protection against the illness can decrease over time, but the approved COVID-19 vaccines have been found to be effective in protecting against severe illness, hospitalizations and even death. In addition, a booster shot, given as recommended, offers another layer of protection against illness.
Although vaccines have been around for a year providing much needed protection, there is still more to be done. Millions of Americans still need to get vaccinated to help prevent the virus from mutating more, such as what has happened with the Delta and Omicron variant. Atrium Health will continue leading the fight against COVID-19 through innovative research, education and compassionate patient care to end this pandemic and ensure everyone can get back to doing what they love most.
About Atrium Health
Atrium Health is a nationally recognized leader in shaping health outcomes through innovative research, education and compassionate patient care. Based in Charlotte, North Carolina, Atrium Health is an integrated, nonprofit health system with more than 70,000 teammates serving patients at 40 hospitals and more than 1,400 care locations. It provides care under the Atrium Health Wake Forest Baptist name in the Winston-Salem, North Carolina, region, as well as Atrium Health Navicent and Atrium Health Floyd in Georgia and Alabama. Atrium Health is renowned for its top-ranked pediatric, cancer and heart care, as well as organ transplants, burn treatments and specialized musculoskeletal programs. A recognized leader in experiential medical education and groundbreaking research, Wake Forest University School of Medicine is the academic core of the enterprise, including Wake Forest Innovations, which is advancing new medical technologies and biomedical discoveries. Atrium Health is also a leading-edge innovator in virtual care and mobile medicine, providing care close to home and in the home. Ranked nationally among U.S. News & World Report's Best Hospitals in eight pediatric specialties and for rehabilitation, Atrium Health has also received the American Hospital Association's Quest for Quality Prize and its 2021 Carolyn Boone Lewis Equity of Care Award, as well as the 2020 Centers for Medicare & Medicaid Services Health Equity Award for its efforts to reduce racial and ethnic disparities in care. With a commitment to every community it serves, Atrium Health seeks to improve health, elevate hope and advance healing – for all, providing more than $2 billion per year in free and uncompensated care and other community benefits.