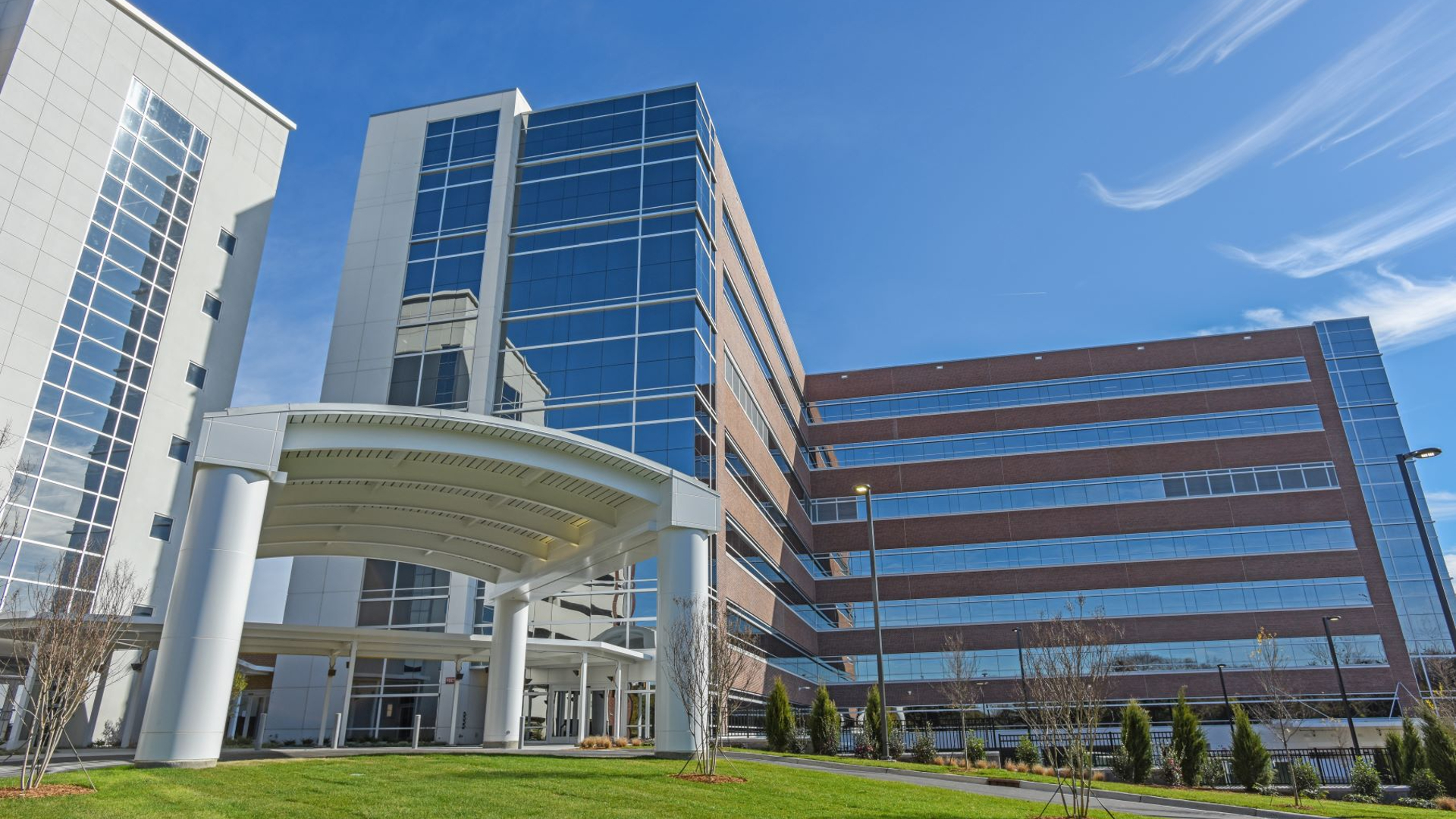 Atrium Health Pineville Celebrates Opening of New Bed Tower
12.08.2021
Atrium Health News
Additional beds improve access to care and services throughout the region
CHARLOTTE, N.C., Dec. 8, 2021 – Atrium Health Pineville opened its latest expansion today when it moved patients into the newly constructed Palmetto Tower. The addition of the tower will provide patients from the Pineville area and surrounding regions with greater and easier access to high quality care.
The newly constructed, eight-story, 236,000-square-foot patient tower will increase capacity from the current 262 licensed beds to 307. Each room will have the ability to transition between a variety of levels of care, from an acute care room to an intensive care unit (ICU) to rehabilitation care. When needed, there will be room for future expansion with the top two floors of the new tower remaining open.
"The Palmetto Tower will provide Atrium Health Pineville with the opportunity that we have been seeking to expand our care opportunities and better serve this growing region," said Mike Lutes, senior vice president and president of South Market for Atrium Health. "We look forward to continuing to help the residents in the area with all of their medical needs. The hospital is growing in size and complexity with the population to remain the destination of choice for medical decisions."
Since 1987, the hospital has been providing medical care and services to patients in the region. What began as a free-standing urgent care is now an advanced tertiary hospital that has since brought specialized medical care to the area, such as Atrium Health Sanger Heart & Vascular Institute, Atrium Health Levine Cancer Institute, Atrium Health Musculoskeletal Institute and women's care. In the past year, Atrium Health Pineville has added even more advanced services, including colon surgery, pelvic surgery, robotic cardiothoracic surgery, epilepsy monitoring and maternal fetal monitoring.
"As facility executive for Atrium Health Pineville, I am thrilled that this expansion opens up more medical care opportunities for the communities surrounding the hospital," said Alicia Campbell, Atrium Health vice president and facility executive. "Our expertise and reputation have grown from the time the hospital opened as an urgent care in what was, at the time, an area of wide-open fields. We now have the specialists and staff that can treat most unique medical situations that are presented to us. The Palmetto Tower is going to be the key to offering even more complexity of services."
Recently, Atrium Health Pineville won its fourth consecutive Fortune/IBM Watson Health 50 Top Cardiovascular Hospitals award. The hospital has also been honored by U.S. News & World Report as high performing in heart attack, heart failure, diabetes/endocrinology, nephrology, knee replacement and chronic obstructive pulmonary disease (COPD). Earlier this week, the hospital was recognized on U.S. News & World Report's inaugural Best Hospitals for Maternity list.
To celebrate the opening of the Palmetto Tower, VIPs, community members, teammates and medical staff were treated to a special virtual ceremony and ribbon cutting.
For more information about the Palmetto Tower, visit the Atrium Health Pineville website.
About Atrium Health
Atrium Health is a nationally recognized leader in shaping health outcomes through innovative research, education and compassionate patient care. Based in Charlotte, North Carolina, Atrium Health is an integrated, nonprofit health system with more than 70,000 teammates serving patients at 40 hospitals and more than 1,400 care locations. It provides care under the Atrium Health Wake Forest Baptist name in the Winston-Salem, North Carolina, region, as well as Atrium Health Navicent and Atrium Health Floyd in Georgia and Alabama. Atrium Health is renowned for its top-ranked pediatric, cancer and heart care, as well as organ transplants, burn treatments and specialized musculoskeletal programs. A recognized leader in experiential medical education and groundbreaking research, Wake Forest School of Medicine is the academic core of the enterprise, including Wake Forest Innovations, which is advancing new medical technologies and biomedical discoveries. Atrium Health is also a leading-edge innovator in virtual care and mobile medicine, providing care close to home and in the home. Ranked nationally among U.S. News & World Report's Best Hospitals in eight pediatric specialties and for rehabilitation, Atrium Health has also received the American Hospital Association's Quest for Quality Prize and its 2021 Carolyn Boone Lewis Equity of Care Award, as well as the 2020 Centers for Medicare & Medicaid Services Health Equity Award for its efforts to reduce racial and ethnic disparities in care. With a commitment to every community it serves, Atrium Health seeks to improve health, elevate hope and advance healing – for all, providing more than $2 billion per year in free and uncompensated care and other community benefits.