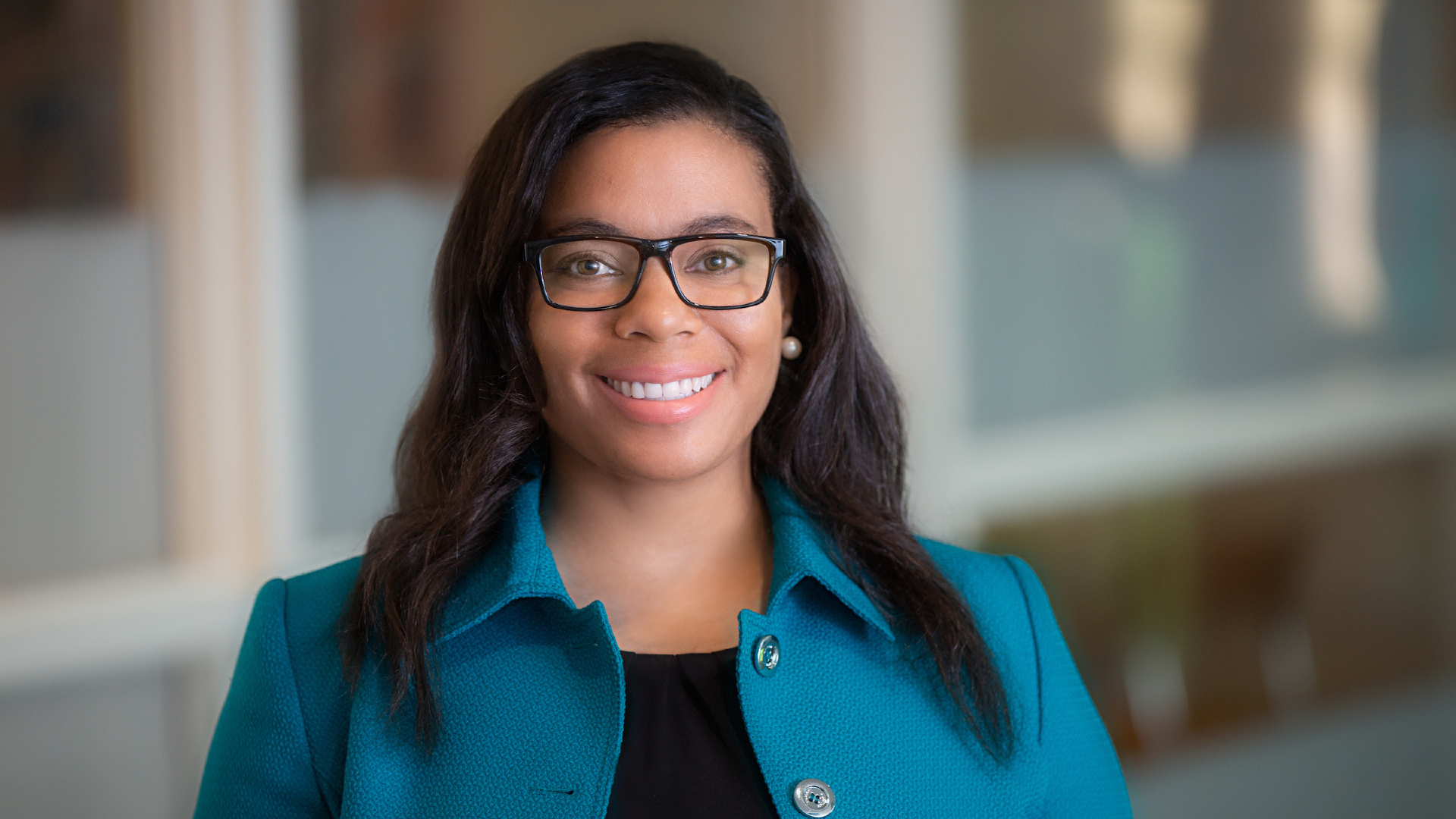 Atrium Health Selects Angie Vincent-Hamacher as New Chair of Board of Commissioners
12.07.2021
Atrium Health News
First woman and person of color to hold position, succeeding long-time chair Edward J. Brown III
CHARLOTTE, N.C., Dec. 7, 2021 – The Charlotte-Mecklenburg Hospital Authority (CMHA) Board of Commissioners has a new chair, Angelique "Angie" Vincent-Hamacher. CMHA elected Vincent-Hamacher to the role at its meeting December 7, 2021, and is effective immediately. She succeeds Edward J. Brown III, who had held the position since 2013. Brown will remain part of the CMHA board, as well as the chair of the Atrium Health, Inc., board of directors, which includes Atrium Health Wake Forest Baptist.
Vincent-Hamacher has been a member of the CMHA board since 2014, most recently serving as vice chair of the board, as well as chair of the Quality and Equity of Care Committee, focused on ensuring the highest quality and safest care possible is provided to patients at Atrium Health. Prior to being appointed to the CMHA board, she served on the Board of Advisors.
Vincent-Hamacher is a highly regarded attorney with Robinson Bradshaw, where she is a shareholder and member of the firm's board of directors. She co-chairs both the firm's Employment & Labor Practice Group and its Diversity, Equity & Inclusion Committee and has been with the firm since 2000.
"As Angie takes the gavel, it is significant to mention that beyond her immense qualifications, her selection to lead our board represents the types of opportunity Atrium Health stands for, becoming the first woman and the first person of color to chair the Board of Commissioners," said Brown. "The entire board and I are extremely excited about how Atrium Health can continue to build upon its successes with Angie as chair."
"Angie has been a tremendous force for the growth and advancement of Atrium Health," said Eugene A. Woods, president and CEO of Atrium Health. "Her deep experience in human resources and employment law, mediation, and diversity, equity and inclusion have helped us shape our organizational philosophies to truly make Atrium Health the 'best place to care' for our teammates."
"I believe it is our shared responsibility to help those in need and give back to our community," said Vincent-Hamacher. "While serving Atrium Health for more than a decade, I've seen what we are capable of – especially over the past few years during the pandemic – when our teammates reaffirmed Atrium Health as the preeminent source of health, hope and healing. With our 'for all' mission, we have a unique opportunity to continue to reshape the landscape of access to care and equity of care for people in rural and underserved areas, as well as for people of color.
"I'm honored to have been chosen for this role and look forward to working closely with the entire Board of Commissioners and Atrium Health leadership team as we continue to drive for excellence, positively impacting the communities we serve," she said.
Vincent-Hamacher has a long list of career accomplishments and milestones including repeat recognition from "Best Lawyers in America," as selected by peers; designation as a North Carolina "Super Lawyer" and a Benchmark Litigation "Labor & Employment Star"; and inclusion on Business North Carolina's "Legal Elite" and "Dynamic Diversity" lists.
Vincent-Hamacher received her bachelor's degree in psychology from Duke University, in Durham, North Carolina, and her juris doctorate from Harvard Law School, in Cambridge, Massachusetts.
About Atrium Health
Atrium Health is a nationally recognized leader in shaping health outcomes through innovative research, education and compassionate patient care. Based in Charlotte, North Carolina, Atrium Health is an integrated, nonprofit health system with more than 70,000 teammates serving patients at 40 hospitals and more than 1,400 care locations. It provides care under the Atrium Health Wake Forest Baptist name in the Winston-Salem, North Carolina, region, as well as Atrium Health Navicent and Atrium Health Floyd in Georgia and Alabama. Atrium Health is renowned for its top-ranked pediatric, cancer and heart care, as well as organ transplants, burn treatments and specialized musculoskeletal programs. A recognized leader in experiential medical education and groundbreaking research, Wake Forest University School of Medicineis the academic core of the enterprise, including Wake Forest Innovations, which is advancing new medical technologies and biomedical discoveries. Atrium Health is also a leading-edge innovator in virtual care and mobile medicine, providing care close to home and in the home. Ranked nationally among U.S. News & World Report's Best Hospitals in eight pediatric specialties and for rehabilitation, Atrium Health has also received the American Hospital Association's Quest for Quality Prize and its 2021 Carolyn Boone Lewis Equity of Care Award, as well as the 2020 Centers for Medicare & Medicaid Services Health Equity Award for its efforts to reduce racial and ethnic disparities in care. With a commitment to every community it serves, Atrium Health seeks to improve health, elevate hope and advance healing – for all, providing more than $2 billion per year in free and uncompensated care and other community benefits.