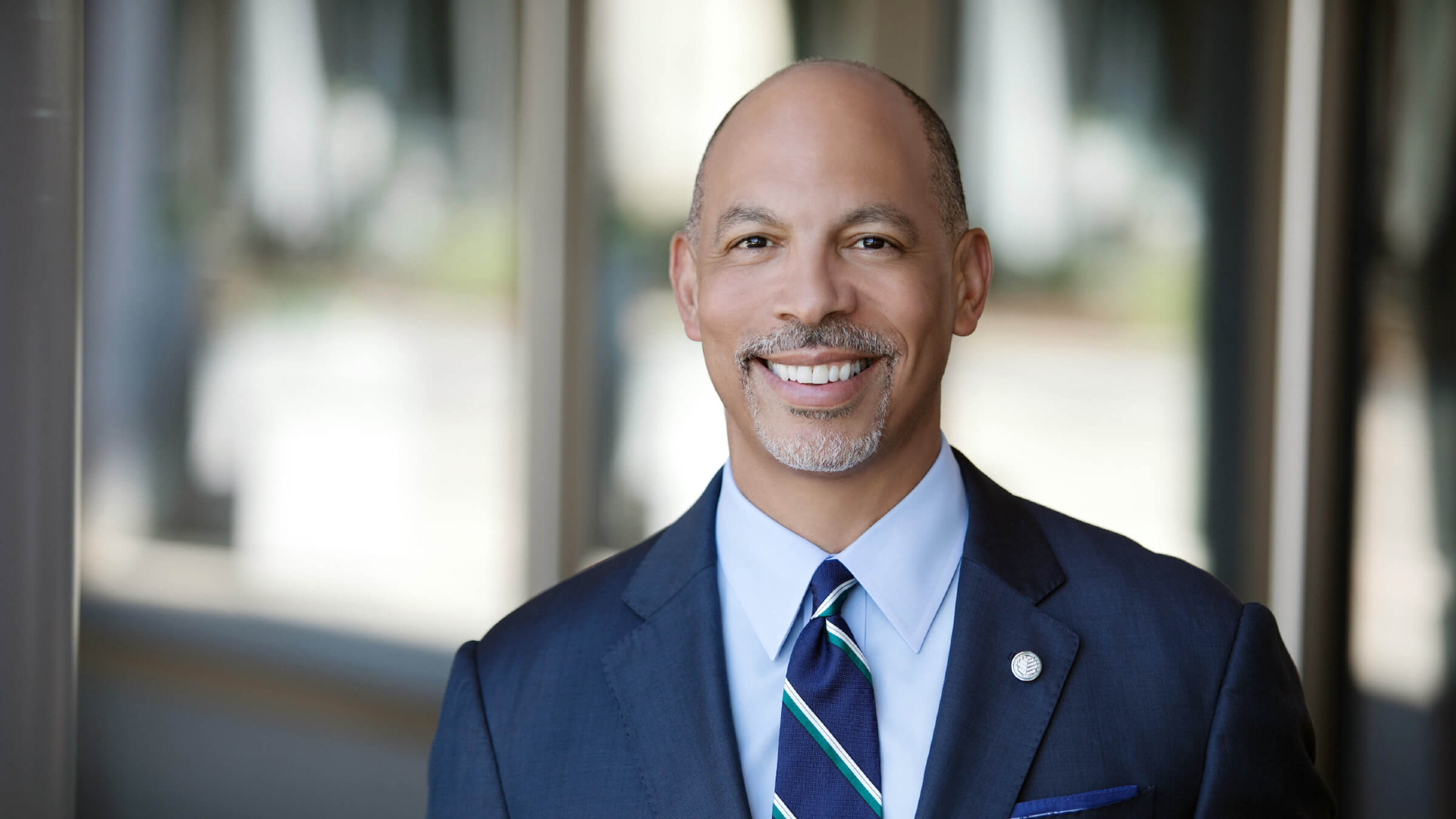 Atrium Health's President & CEO No. 4 on "100 Most Influential People in Healthcare" List
12.20.2021
Atrium Health News
Modern Healthcare recognizes Eugene A. Woods alongside global leaders
CHARLOTTE, N.C., Dec. 20, 2021 – For the sixth consecutive year, Atrium Health President and CEO Eugene A. Woods has been honored as one of Modern Healthcare's "100 Most Influential People in Healthcare," rising to No. 4 on this year's prestigious who's who list which includes government administrators and executives, elected officials, academics and thought-leaders, as well as senior-level executives within the health care field. Honorees are chosen by their peers and the senior editors of Modern Healthcare as being among the most influential in the industry, in terms of leadership and impact. Last year, Woods ranked seventh on the list.
"As you survey the commitment to excellence throughout Atrium Health and the prominent role within the communities we serve, it is because of the tireless effort put forth by teammates every day," said Edward J. Brown III, chair of the Atrium Health Enterprise Board of Directors. "The incredible outcomes we continue to see are a reflection of purposeful and impactful leadership.
"In just a few short years, Gene has positioned Atrium Health as a rising star within health care," Brown said. "Whether it is the vision of how to provide mass vaccinations or seeing what the future can be through medical education and innovation within the life sciences space, Gene continues to lead the way, helping to reshape health care and how it is approached across the entire nation."
Modern Healthcare noted Woods' commitment to access for the underserved as a leading factor for his selection, along with his push to create a synergistic innovation district adjacent to the soon-to-be-constructed Wake Forest University School of Medicine Charlotte in midtown Charlotte.
"Last year's complexity is reflected in our 2021 Most Influential People in Healthcare honorees," said Modern Healthcare editor Aurora Aguilar. "The year was dominated with vaccines that promised a return to normal. But that treatment faced ire and rejection from some, creating divisions in communities and even the healthcare workforce."
The CEOs of Pfizer and Moderna were named No. 1 and No. 2, respectively, given the importance of vaccination during 2021. Other notable names on the list include Dr. Anthony Fauci, House Speaker Nancy Pelosi and President Joe Biden. Michael Alkire, president and CEO of Charlotte-based Premier – an Atrium Health partner organization – was No. 91.
Woods was previously named as one of the Top 25 Minority Executives in Healthcare, as well as being one of only five "Luminaries," honored for their career-defining work in reshaping the industry, by Modern Healthcare. He has also been named as the Charlotte Post Foundation's 2022 Luminary Award honoree; a Charlotte Business Journal's 2021 Most Admired CEO and, last year, was its Charlotte Businessperson of the Year. He was also recently recognized by the Office of the Secretary of Defense with the highly regarded Patriot Award for supporting employee participation in America's National Guard and Reserve Forces.
Woods previously served as chairman of the American Hospital Association board of trustees and is currently chair of the Nominating Committee as well as a member of the Health, Strategy and Innovation Committee. Woods serves on the Becker's Healthcare's Advisory Board, Scottsdale Institute's Board of Directors, the executive committee of the Healthcare Leadership Council and the Best Buy Co., Inc., board of directors. Woods is also chair of the board of the Federal Reserve Bank of Richmond and the upcoming vice chair of the 2022 Conference of Chairs executive committee for the Bank.
About Atrium Health
Atrium Health is a nationally recognized leader in shaping health outcomes through innovative research, education and compassionate patient care. Based in Charlotte, North Carolina, Atrium Health is an integrated, nonprofit health system with more than 70,000 teammates serving patients at 40 hospitals and more than 1,400 care locations. It provides care under the Atrium Health Wake Forest Baptist name in the Winston-Salem, North Carolina, region, as well as Atrium Health Navicent and Atrium Health Floyd in Georgia and Alabama. Atrium Health is renowned for its top-ranked pediatric, cancer and heart care, as well as organ transplants, burn treatments and specialized musculoskeletal programs. A recognized leader in experiential medical education and groundbreaking research, Wake Forest University School of Medicine is the academic core of the enterprise, including Wake Forest Innovations, which is advancing new medical technologies and biomedical discoveries. Atrium Health is also a leading-edge innovator in virtual care and mobile medicine, providing care close to home and in the home. Ranked nationally among U.S. News & World Report's Best Hospitals in eight pediatric specialties and for rehabilitation, Atrium Health has also received the American Hospital Association's Quest for Quality Prize and its 2021 Carolyn Boone Lewis Equity of Care Award, as well as the 2020 Centers for Medicare & Medicaid Services Health Equity Award for its efforts to reduce racial and ethnic disparities in care. With a commitment to every community it serves, Atrium Health seeks to improve health, elevate hope and advance healing – for all, providing more than $2 billion per year in free and uncompensated care and other community benefits.