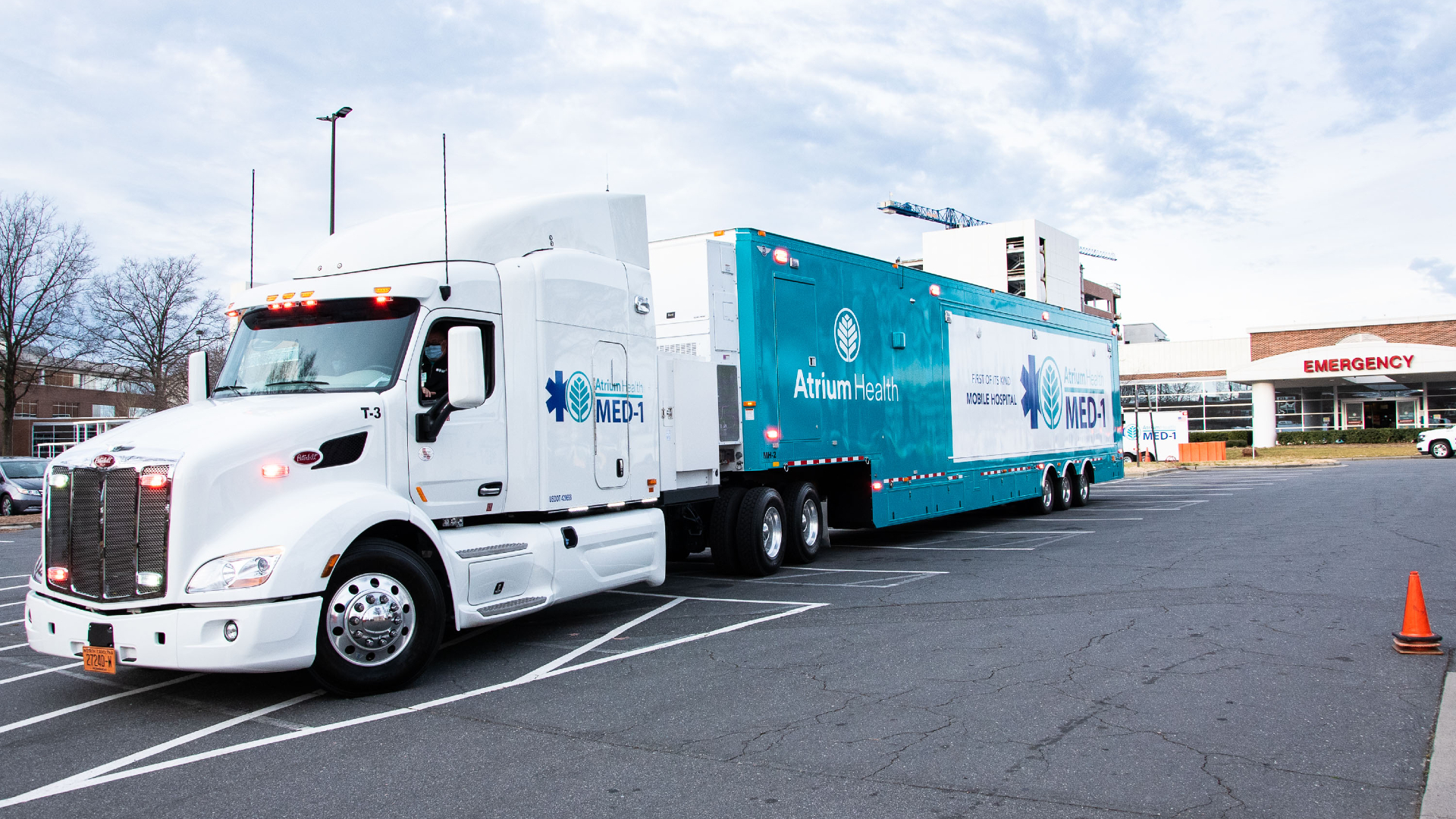 Atrium Health MED-1 Mobile Hospital Marks Milestone
01.26.2022
Atrium Health News
Innovative mobile hospital has spent a year treating thousands of patients at Atrium Health Pineville
CHARLOTTE, N.C., January 26, 2022 – Atrium Health and the entire Mobile Medicine team paused this weekend to recognize a historic milestone for Atrium Health MED-1, the health system's state-of-the-art emergency department on wheels. The mobile hospital marked 365-days of being deployed to Atrium Health Pineville on Saturday, January 22, the longest self-deployment in MED-1 history. As COVID-19 surges have created capacity challenges for hospitals across the nation, Atrium Health deployed MED-1to help treat less critical patients, providing added bed space at its Pineville hospital. Located in South Mecklenburg County and given its proximity to the South Carolina border, Atrium Health Pineville provides convenient access to high-quality care to patients throughout the region.
"Knowing we have a resource like Atrium Health MED-1 in our system, that was able to deploy and do so quickly, gives me a sense of pride that we were able to help come together and use our resources to better serve our community," said Alicia Campbell, facility executive at Atrium Health Pineville. "The value of having a mini-hospital come set up, and do it so quickly, it's difficult to put into words and is nothing less than impressive."
Atrium Health MED-1 has been stationed near the emergency department to help treat a number of illnesses, including but not limited to rashes, ear pain, lacerations and minor sprains. Although patients suspected of having COVID-19 are not treated in the mobile hospital, the additional 14 beds have been especially helpful during busy times, such as while the Delta and Omicron variants have driven patient census numbers to capacity. The additional emergency room space allows continued treatment of other, non-critical patients while the emergency department handles the COVID surge.
"Atrium Health MED-1 is equipped to handle just about everything you would see in an emergency room," said Robyn Neely, assistant vice president and associate chief nurse officer with Mobile Medicine at Atrium Health. "We are fortunate to have two of these specialized units in our fleet, allowing us to stay close to home, like we have at Atrium Health Pineville, but also allowing us to respond simultaneously if the need were to arise elsewhere. Not many hospitals systems can say that."
The mobile hospital deployed to Atrium Health Pineville is the newest mobile emergency room in the fleet and is almost identical to the first. Either of the Atrium Health MED-1 units can be ready to deploy within hours and is self-sustaining for the first 72 hours of operation, if needed. Most well-known for disaster deployments, the time at Atrium Health Pineville has proven invaluable to helping an emergency department care for patients in a timely manner, while keeping the focus on high-quality and compassionate care, and extending the hospital's mission to improve health, elevate hope and advance healing – for all.  
Owned by Atrium Health and based in Charlotte, N.C., Atrium Health MED-1 was first deployed in 2005 for nearly two months to coastal Mississippi, following Hurricane Katrina. During that deployment, more than 7,500 patients were treated for everything from heart attacks and strokes to serious infections. More recently, in late 2018, Atrium Health MED-1 assisted the Pender County, N.C., community recover after Hurricane Florence forced Pender Memorial Hospital to temporarily close. 
MED-1 is an acronym for Mobile Emergency Department. 

Atrium Health MED-1 was first developed in 2000 and has 14 acute care beds and a two-bed operating room. 

This unique mobile hospital includes digital X-ray, ultrasound, lab, pharmacy and much




more equipment that is needed to operate an emergency department.  

Atrium Health teammates often deploy with the mobile hospital, including nurses, doctors, trauma surgeons, paramedics, certified registered nurse anesthetist (CRNA), information services support personnel and other staff including, but not limited to, the emergency, intensive care unit and surgical departments.  
About Atrium Health
Atrium Health is a nationally recognized leader in shaping health outcomes through innovative research, education and compassionate patient care. Based in Charlotte, North Carolina, Atrium Health is an integrated, nonprofit health system with more than 70,000 teammates serving patients at 40 hospitals and more than 1,400 care locations. It provides care under the Atrium Health Wake Forest Baptist name in the Winston-Salem, North Carolina, region, as well as Atrium Health Navicent and Atrium Health Floyd in Georgia and Alabama. Atrium Health is renowned for its top-ranked pediatric, cancer and heart care, as well as organ transplants, burn treatments and specialized musculoskeletal programs. A recognized leader in experiential medical education and groundbreaking research, Wake Forest University School of Medicine is the academic core of the enterprise, including Wake Forest Innovations, which is advancing new medical technologies and biomedical discoveries. Atrium Health is also a leading-edge innovator in virtual care and mobile medicine, providing care close to home and in the home. Ranked nationally among U.S. News & World Report's Best Hospitals in eight pediatric specialties and for rehabilitation, Atrium Health has also received the American Hospital Association's Quest for Quality Prize and its 2021 Carolyn Boone Lewis Equity of Care Award, as well as the 2020 Centers for Medicare & Medicaid Services Health Equity Award for its efforts to reduce racial and ethnic disparities in care. With a commitment to every community it serves, Atrium Health seeks to improve health, elevate hope and advance healing – for all, providing more than $2 billion per year in free and uncompensated care and other community benefits.