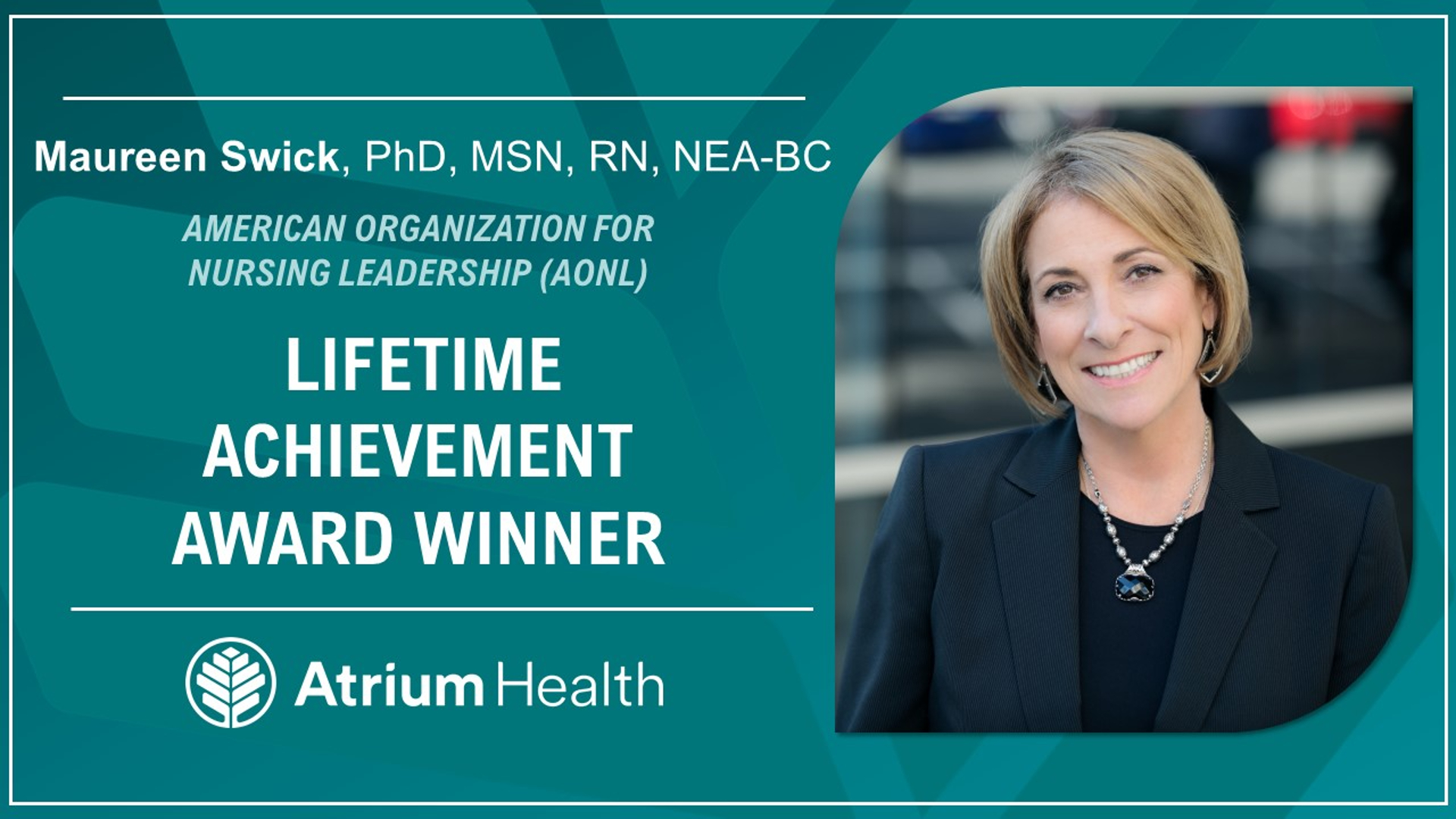 American Organization for Nursing Leadership Honors Atrium Health's Maureen Swick with Lifetime Achievement Award
02.17.2022
Atrium Health News
Prestigious honor recognizes contributions to nursing profession
CHARLOTTE, N.C., Feb. 17, 2022 – The American Organization for Nursing Leadership (AONL) is recognizing Maureen Swick, of Atrium Health, with its Lifetime Achievement Award. As Atrium Health's senior vice president of nursing and pharmacy and enterprise nurse executive, Swick leads nursing strategy for one of the largest health systems in the southeastern U.S., which includes 40 hospitals and more than 1,400 care locations. In her years of service, she has driven significant nursing advancements that have positively impacted nurses in multiple practice environments as well as millions of patients.
The AONL's Lifetime Achievement Award is the highest and most prestigious award given to a member of the organization, recognized by the broader nursing community as a significant leader in the nursing profession. Selection for this honor recognizes an individual's outstanding and sustained contributions to the nursing profession and AONL, as well as exemplary professional practice and nursing leadership.
"Maureen Swick is an extraordinary clinical and operational leader," said Eugene A. Woods, president and CEO of Atrium Health. "She gives a voice to nurses, nationwide, who provide care to millions of patients every day. Her ability to understand, by listening to, investing in and mentoring nurses and her skill in collaboration with all allied health colleagues has improved nursing excellence, physician confidence and, ultimately, the quality and safety of patients on a national scale."
Swick has nearly 40 years of experience in health care and has been with Atrium Health since 2017. Previously, she served as the chief executive officer of the American Organization of Nurse Executives (AONE). Additional leadership positions held throughout her career include senior vice president and chief nursing officer of the American Hospital Association (AHA) and senior vice president and chief nurse executive for Inova, a not-for-profit health care system based in northern Virginia. Swick also served as a board member for both AONE and the AHA, and she most recently served as past president of AONE's board.

"I am both humbled and honored to be selected for this recognition," said Swick. "My selection is truly a reflection of the great work of all the nurses I've had the pleasure of working with and learning from in my career – especially my fellow nurses at Atrium Health, as we have worked to provide health, hope and healing for all who walk through our doors."
The impact of Swick's leadership throughout her career has been felt not only within the organizations in which she has worked, but also nationally and globally as she has represented state, regional and national organizations through AONE/AONL. In recent years, she has worked passionately supporting innovation, reduction of workplace violence and the creation of new nursing leadership roles throughout the Atrium Health enterprise.
Throughout her career, Swick has received numerous awards, including the 2011 Outstanding Achievement Award-Nursing Spectrum and the AONE National Award in Leadership Informatics. Swick is a widely published author and national speaker on a variety of topics, including nursing, leadership and quality. Her studies include strategically looking at research and patient populations to translate evidence into practice, thus informing policy and improving patient outcomes on a national scale.
Swick holds a doctorate in health care administration from Kennedy Western University (now known as Warren National University), in Cheyenne, Wyoming. She received her bachelor's degree in nursing from Monmouth University, in West Long Branch, New Jersey, and a master's degree in nursing from Columbia University in New York.
About Atrium Health 
Atrium Health is a nationally recognized leader in shaping health outcomes through innovative research, education and compassionate patient care. Based in Charlotte, North Carolina, Atrium Health is an integrated, nonprofit health system with more than 70,000 teammates serving patients at 40 hospitals and more than 1,400 care locations. It provides care under the Atrium Health Wake Forest Baptist name in the Winston-Salem, North Carolina, region, as well as Atrium Health Navicent and Atrium Health Floyd in Georgia and Alabama. Atrium Health is renowned for its top-ranked pediatric, cancer and heart care, as well as organ transplants, burn treatments and specialized musculoskeletal programs. A recognized leader in experiential medical education and groundbreaking research, Wake Forest University School of Medicine is the academic core of the enterprise, including Wake Forest Innovations, which is advancing new medical technologies and biomedical discoveries. Atrium Health is also a leading-edge innovator in virtual care and mobile medicine, providing care close to home and in the home. Ranked nationally among U.S. News & World Report's Best Hospitals in eight pediatric specialties and for rehabilitation, Atrium Health has also received the American Hospital Association's Quest for Quality Prize and its 2021 Carolyn Boone Lewis Equity of Care Award, as well as the 2020 Centers for Medicare & Medicaid Services Health Equity Award for its efforts to reduce racial and ethnic disparities in care. With a commitment to every community it serves, Atrium Health seeks to improve health, elevate hope and advance healing – for all, providing more than $2 billion per year in free and uncompensated care and other community benefits.