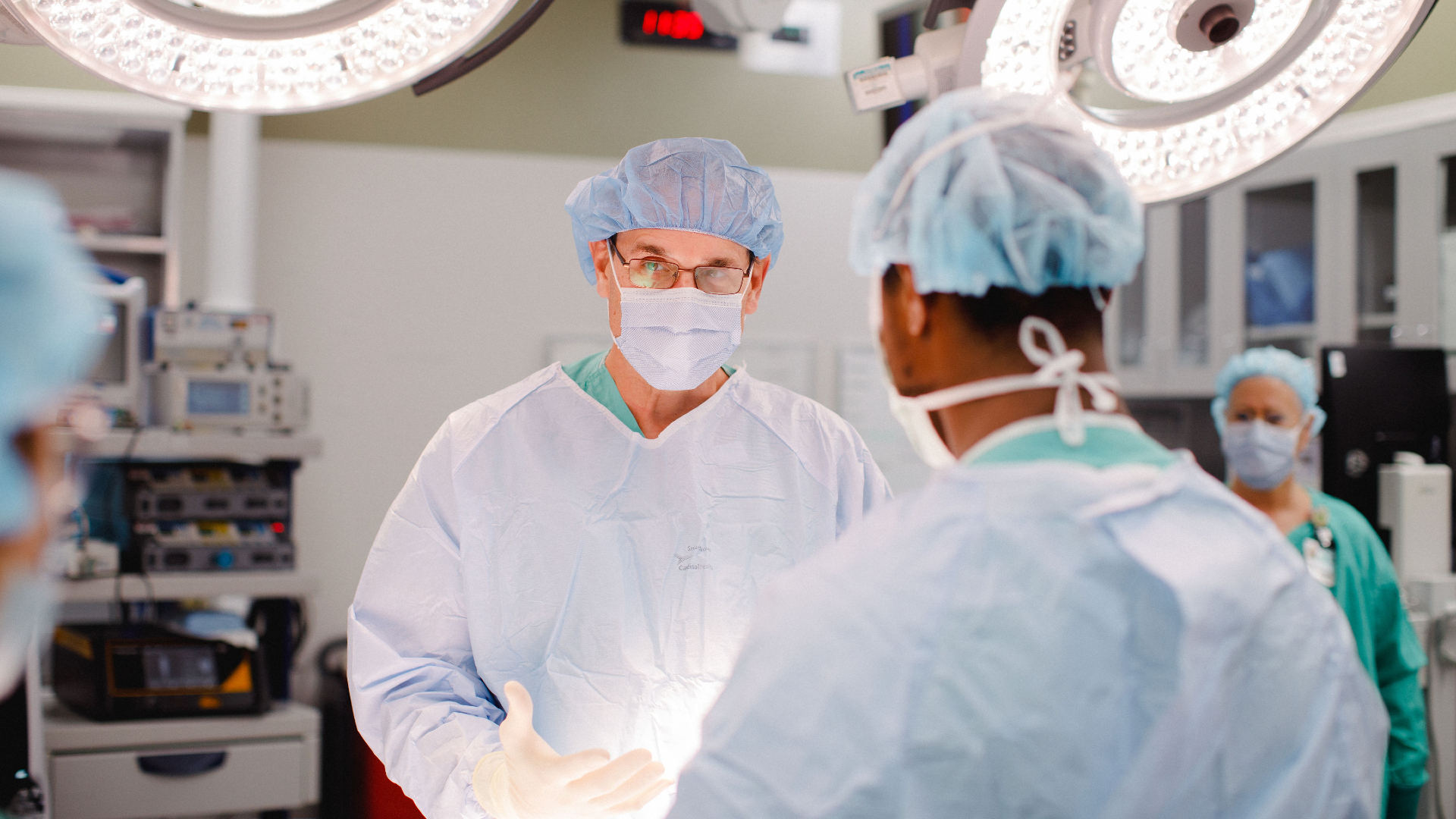 SpineFirst Leader Promotes Patient Advocacy and State-of-the-Art Technologies at 2022 Spine Summit
03.10.2022
Atrium Health News |
Musculoskeletal Institute
As a leader in patient advocacy and surgical excellence, Dr. Domagoj Coric, Executive Medical Director of SpineFirst and Chair of the AANS/CNS Joint Spine Section delivered key presentations as part of the scientific and educational program at this year's Spine Summit.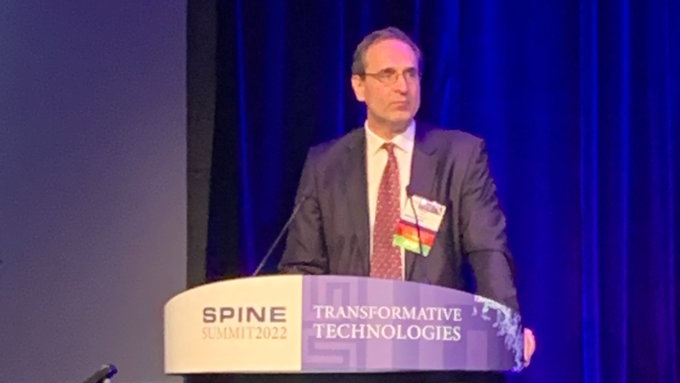 Spine surgery is the largest subspecialty section of neurosurgery, accounting for about 70% of all neurosurgeries in the U.S. The Spine Summit represented two leading neurosurgery associations: AANS and CNS. Attendees included neurosurgical and orthopedic spine surgeons as well as other allied medical professionals and industry representatives..
"As surgeons, we are the number one advocate for patients and try to be patient oriented in everything we do," explained Coric. "The majority of the conference was dedicated to advanced surgical technologies as well as patient advocacy and patient reported outcome measures. "We specifically discussed transformative technologies and relationships and their impact on patient care and spine health."
Coric shared that the goal of the summit is to continue to elevate the field of spine surgery and improve patient outcomes. "We accomplish this by ensuring all patients have access to evidence-based technologies, including minimally invasive procedures and motion-preserving techniques."
Conference details
The 2022 Spine Summit was held Feb. 23-26, 2022 at Caesars Palace in Las Vegas, Nevada. In harmony with this year's theme "Transformative Technologies, the conference focused on technologies that transformed spine surgery over the past two decades and how these are expected to evolve in the future.
Over 1,000 attended the event, which included 550 spine surgeons and medical attendees as well as industry representatives. The large exhibitor floor tradeshow featured 75 companies showcasing the newest technologies and instrumentation for attendees to evaluate.
The educational program included special courses that focused on deformity surgery for scoliosis, tumors and trauma. Attendees learned about state-of-the-art technologies, such as motion-preserving techniques.
Educational presentations
During the event, Coric presented a dinner seminar titled "Evolution of Private Practice and Future Trends and Directions." The presentation focused on the nuances of incorporating new technologies into a spine practice as well as the barriers that are inevitably encountered.
Coric also delivered the chair's address, which focused on "Transformative Technologies." He discussed upcoming technologies in spine surgery and the need to ensure safety and efficacy for patients. "New devices and techniques need to be evaluated through a critical lens and only adopted when a firm evidence-basis for safety and efficacy is established."
"Everything we do in spine surgery needs to be proven effective for patients – not just from a surgeon's perspective," Coric noted. "We need patient-reported outcomes that reveal an improved quality of life after surgery."
Expanded leadership roles
In 2021, Coric expanded his spine surgery leadership by taking on two new positions. First, he was named chair of the AANS/CNS Joint Section of Disorders of Spine and Peripheral Nerves. Second, he was elected president of the International Society for the Advancement of Spine Surgery (ISASS), which consists of neurosurgical and orthopedic spine surgeons from 78 countries.
"It's an honor to represent the membership as Chair of the AANS/CNS Joint Spine Section," he explained. "But it's also an honor to be able to serve patients and their families. I'm excited to oversee such a talented group of surgeons, with the goal of improving quality and access to care."
By assuming these roles, Coric has continued to advocate for patients and provide access to high-quality, evidence-based spine surgery. As a SpineFirst physician, the roles also allow him to advance the field of spine surgery in terms of cutting-edge technologies.
"We're keeping spine surgery on the cusp of leading-edge technology, working to provide minimally invasive techniques, motion-preserving technologies and interoperative navigation, including robotic-assisted surgery," Coric said.
Superior spine care
As a SpineFirst surgeon, Coric is dedicated to providing comprehensive spine care and improved patient outcomes. SpineFirst combines the expertise of Carolina NeuroSurgery & Spine Associates (CNSA), the largest neurosurgical practice in the U.S., with Atrium Health, a nationally recognized leader in shaping health outcomes through research, education and compassionate patient care, both surgical and nonsurgical.
"Instead of operating in silos, this joint venture allows us to affect change in private practice and hospital settings as we deliver continuity of care in order to improve patient access and outcomes," Coric explained. "We have two organizations, each with a history of providing excellent spine care, coming together to form one body that breaks down traditional barriers and provides patients with a single entity responsible for every facet of spine care, non-surgical and surgical as well as pre-operative, intra-operative and post-operative."
Historically, hospitals have been recognized by the Joint Commission with advanced accreditation in certain subspecialties, such as total joint replacement surgery. Recently, the Joint Commission announced that, for the first time, they would award advanced accreditation for spine surgery. In 2021, Atrium Health Carolinas Medical Center, in partnership with CNSA, earned the Southeast region's first, and only the second nationwide, Joint Commission Advanced Certification for Spine Surgery.
To earn this Joint Commission accreditation, Carolinas Medical Center provided evidence of protocols and pathways for treating spine patients, including those related to preoperative, intraoperative and postoperative care. They had to prove that these protocols improved care for spine patients using patient-reported outcome measures as evidenced by participation in the American Spine Registry (ASR). Both Coric and his partner, Dr. Anthony Asher, serve on the executive committee of the ASR and Dr. Asher has been instrumental in implementing organized spine registries in the neurosurgical and orthopedic communities.
"We know that quality care is being delivered when a patient reports a procedure improved their quality of life and overall functioning, changing their life for the better," noted Coric.
SpineFirst has also been researching additional minimally invasive surgery options for patients, including innovative spine motion-preserving and disc repair technologies.
Learn more
Learn more about how Atrium Health and CNSA deliver the highest level of surgical and nonsurgical spine care to patients through SpineFirst. Connect with SpineFirst on Twitter.